Stack Petals to Create a 3-D Applique Belt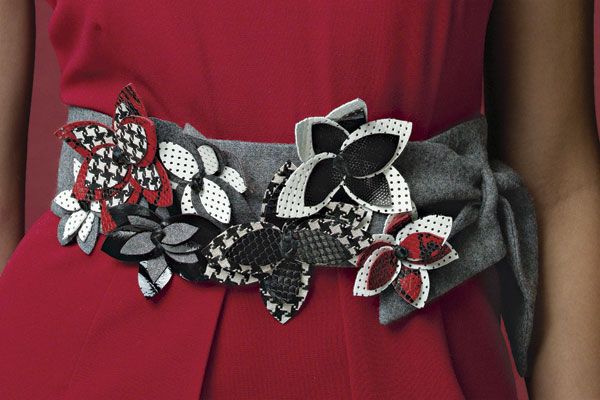 Create several rosette appliqués from petals of different sizes and textures in leather and fabric. Layer and bundle the petals into flowers, then hand-sew the appliqués to a belt.
1. Plan, cut, and reinforce the belt. The belt is the background for the appliqué and should offer firm support. I interfaced felt fabric, basting it to buckram and then catchstitching the seam allowances. You'll line the back of the belt with fabric or leather after the appliqués are attached.

2. Cut and combine the petals into rosettes. I used quilting templates to create petal shapes, cutting several sizes and color combinations from leather and fabric. (I glued leather to the wrong side of the houndstooth fabric and cut the petals. The leather added support, and the fabric did not need edge finishing.) You'll layer smaller petals on top of larger petals, then layer sets of petals together to form a rosette.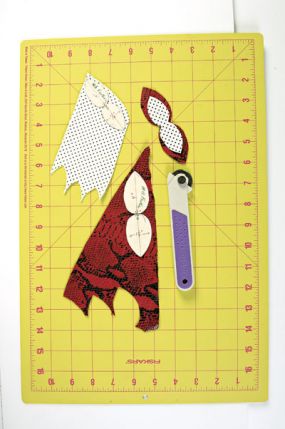 Double-petal forms, inspired by quilting templates.

3. Bundle the layers together. For a flower center, cut a leather or fabric strip 1⁄4-inch wide and 9 inches long. Stretch the strip slightly to take out the ease, and tie a figure-eight knot at center. Tie this knot around the middle of one double petal. Cinch the other petal sections by tying thread around the middle of each. Then I fanned three petal sets into a rosette (the one with the leather knot is on top) and stitched through the center.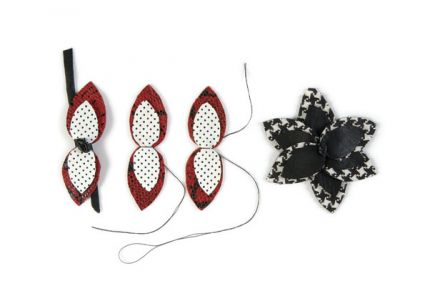 Layer and fan three sets of petals to form one rosette.
4. Attach the appliqué and finish the belt. Once you've created the rosettes, arrange and hand-sew them to the belt. Cover the belt's wrong side with lining, and add the closure of your choice. In this case, I placed two 11⁄4-inch buttonholes parallel on one end and threaded the belt's other end through them.
excerpted from "3-D Appliqué" by Anna Mazur
Threads #152, p.37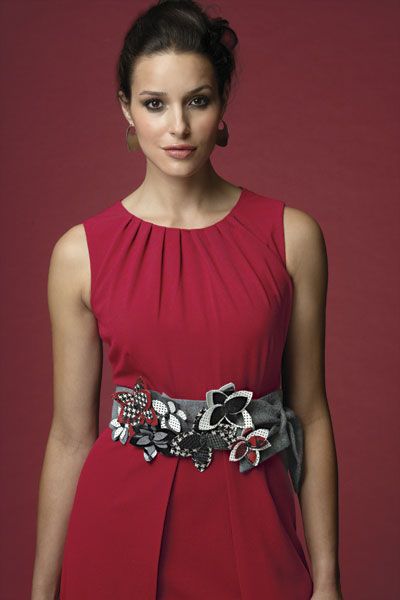 Rosette appliqués are featured on a belt designed by the author. The trapezoid-shaped belt is reinforced with buckram.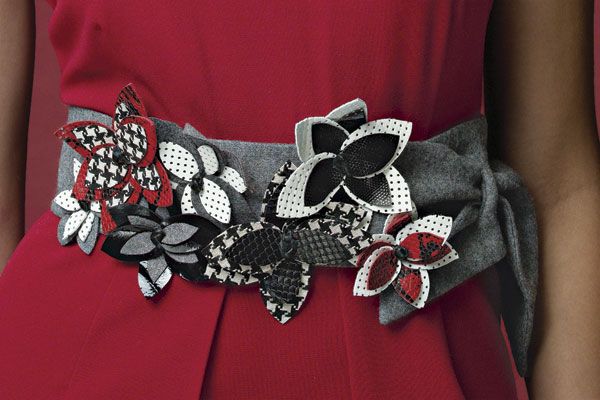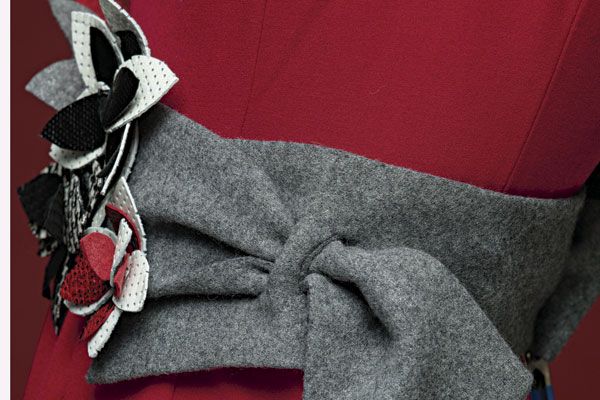 The belt end is drawn through buttonholes.