Braided Belt: The Next Generation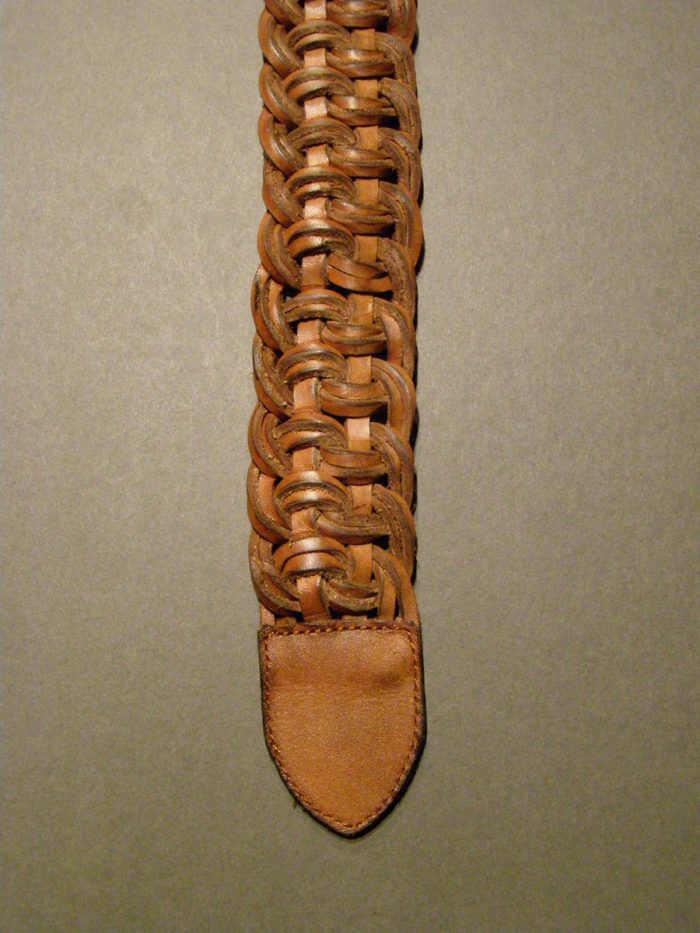 I do a lot of cruising in thrift stores and flea markets, to find inspiration for myself. Unlikely items seem to catch my attention, and this belt is one of those.
I found this leather belt recently, and wanted to figure out how it went together.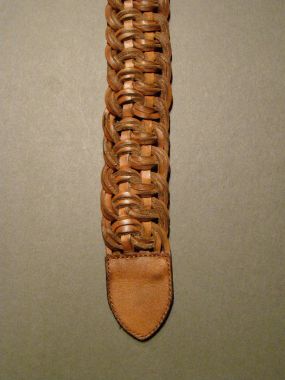 It looks more complex than it is. The double rows of leather criss-crossing the single rows of leather in the center of the belt, make it look more difficult than it is.
I'm going to use four different colors of cord for this demonstration. The blue and orange cords will be the foundation that the knotting attaches to. When deciding how long these are, you have a 1:1 ratio-these will be the finished length. (Add a few inches for finishing.)
I've sewn these to two other cords-the turquoise (I will refer to it as the left cord), and green (which I will refer to as the right cord), which will be the cords that do all the work. When determining the length of these cords, it's a 5:1 ratio-you will need to cut these five times the finished length, to have enough.
After sewing these all together, attach the blue and orange cords by pinning down both ends to a corkboard or other device. You want to hold them straight, with some tension, to make your work easier. Begin with the left cord. Pass it under the blue cord, then over the blue cord, then back under itself. Take the right cord; pass it first through the loop formed by the left cord, then under the orange cord, then up over itself. Pull both loops, as directed with the arrows, to close the knots. Repeat the process-pass the left cord under the blue cord, over the blue cord, and then back under itself.…
Start your 14-day FREE trial to access this story.
Start your FREE trial today and get instant access to this article plus access to all Threads Insider content.
Start Your Free Trial
Already an Insider? Log in