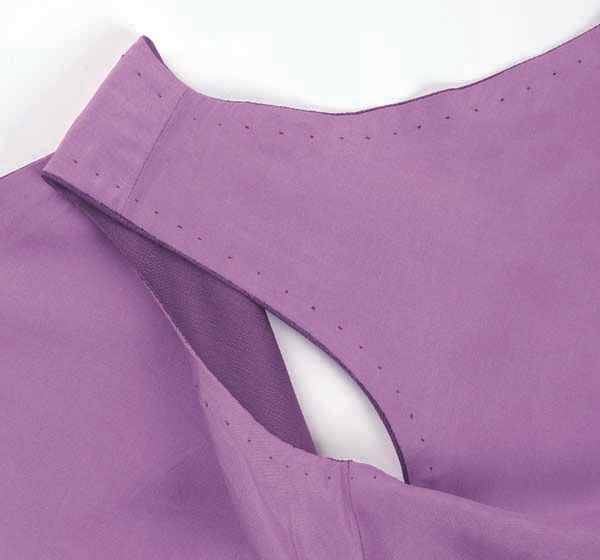 There are subtle differences between garments that are hand-understitched and those understitched by machine. We're getting really picky here, but there is a softness and a pliability that only hand stitching can supply. This process can be applied to garments that are underlined and have either a facing or a lining.
Understitching is not just for necklines. This garment is understitched around the armhole as well.
1) Sew the facing to the garment. Press the facing toward the seam allowances; work your way along the seamline, a little at a time. In addition to orienting the seam allowances, this establishes a nice curve before you clip.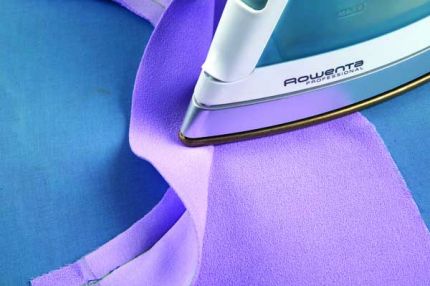 2) Clip the seam allowances perpendicular to the stitching line. Clip as much as is needed to allow the facing to lie flat against the garment. More clips are better than fewer clips-they release the curved seam's tension, and the resulting edge is smoother.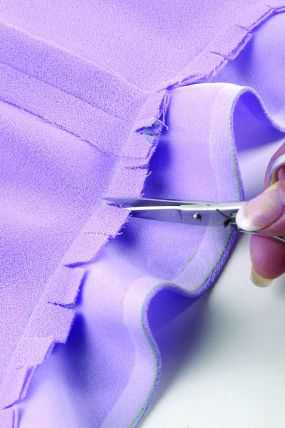 3) For the understitches, use a pickstitch, which is a tiny backstitch. With the inside of the garment facing you, place the stitches about 1⁄2 inch from the garment's edge and about the same distance from one another. Stitch through all layers except the outermost. You can use pins to mark even placement. With practice, though, your stitches will form evenly.
4) To make a pickstitch, stitch right to left (reverse if you're left-handed). Anchor the stitch between layers and emerge on the facing side. Take a tiny backstitch through the facing and the seam allowance, and then slide between the layers and repeat for the next stitch.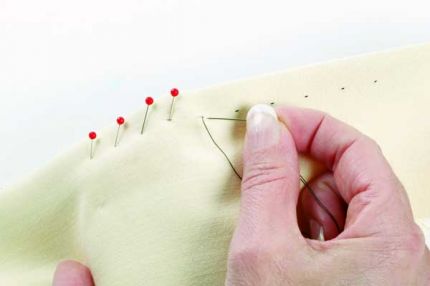 Stitch back to form tiny pickstitches.
5) Maintain even, dotlike stitches. If you draw the needle too far backward, you'll form a dash. If you don't go back far enough, you may go into the hole the thread came out of, and the…
Start your 14-day FREE trial to access this story.
Start your FREE trial today and get instant access to this article plus access to all Threads Insider content.
Start Your Free Trial
Already an Insider? Log in