The Work of Weaver Teresa Kennard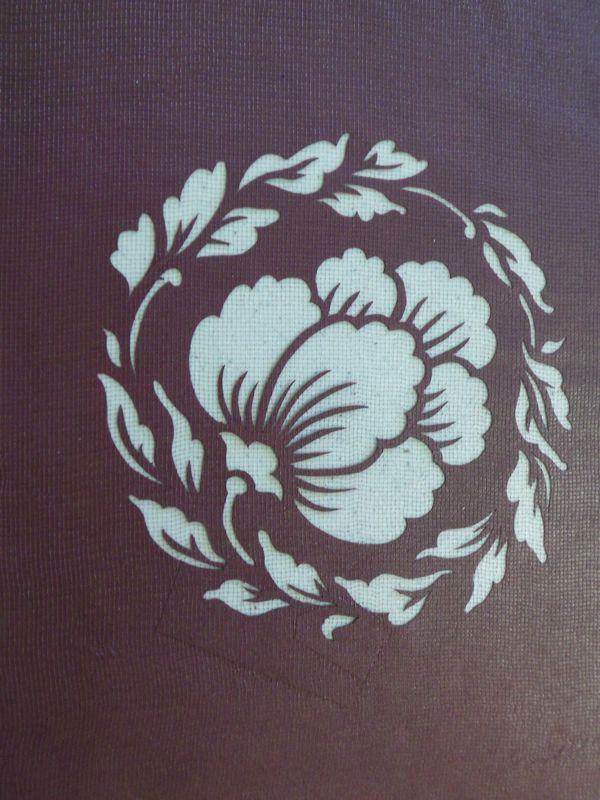 I'm sure you've seen, as have I, garments made from one-of-a-kind fabrics. They're often fairly simple in shape – ponchos come to mind – so it was a huge treat to see some of the work of my student Teresa Kennard the other day at a class in Denver. Her garments are detailed, well thought-out, and beautifully put together.
Teresa's an award-winning weaver – her work has been featured countless times in Handwoven Magazine and in juried exhibitions. Her list of awards is long, and most recently, her work was chosen for a very prestigious exhibit in Sweden. Clearly, she's awfully good at what she does.
During the class, she worked on a dress woven from this fabric….the fiber content is wool and stainless steel, amazingly enough. It was beautifully light and pretty cooperative – we backed it with silk organza to lend a little bit of gentle stability behind-the-scenes. All I can tell you about the design is that it was beautifully draped….and I'd show you the dress, but it's being entered in a competition, so that will have to wait!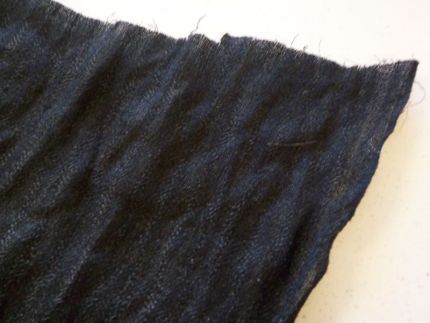 Here's another beautiful fabric she's woven.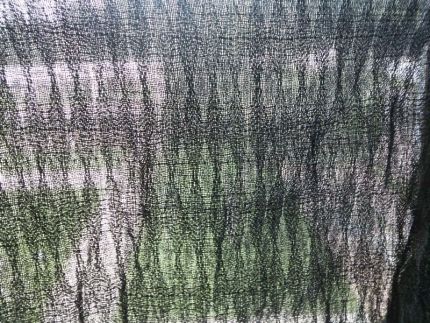 Teresa often works with stencils. The first two pictured below were hand-carved using an ancient Japanese tehcnique that was taught to Teresa by Elda Kohls of Ft. Collins, CO. As you can see, this technique allows for very intricate and detailed designs.
Here's Teresa's explanation of the process:
"The Japanese stencil-making process involves first curing numerous thin sheets of hand-made mulberry paper called shibugami with persimmon tannin; it's then smoked. This process acts as a preservative, and gives the paper a wonderful smokey aroma. Unfortunately, I'm told that the making of this hand-made paper is coming to an end and it will shortly not be available. The pattern is drawn on the surface of the cured paper and then cut with a sharp blade. Next, a woven silk gauze called sha is attached to the front side with a process called lacquering. The end result is a stencil of unparalleled sharpness, supported by a fine silk grid that neither impedes the application of rice paste nor thickens dyes.
The fabric is first cut out and then stenciled. The stencils, which have been soaked in water for about twenty minutes, are placed over each garment section to be dyed. The soaking of the stencils makes them maleable and prevents the dye from soaking into the paper. For this garment, I used thickened 'silk' dyes. The dyes are set by steam, and then each garment section is very gently washed to remove the thickening agent."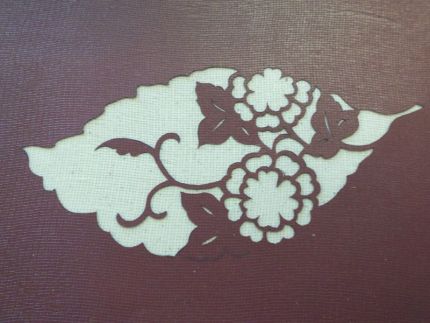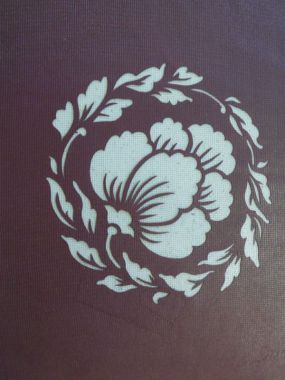 This antique stencil is from Teresa's collection.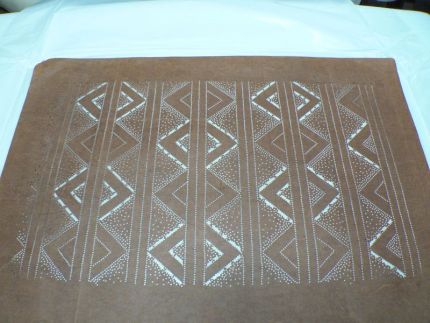 Here's one of her ensembles – a nightgown and a matching robe. The handwoven fabric is wool and cashmere (and beautifully soft, I might add). The technique is a combination of woven shibori which is done on a loom, and then felt-resisted off the loom to give the fabric an open-lacey appearance. The fabric was then stenciled using a hand-carved stencil.
I asked Terea about the outfit – and here's what she had to say:
"I inherited my love for beautiful nightgowns and robes from my mother. This garment was constructed with the thought of minimal care. All the seams and hems are sewn so that they will not require ironing after cleaning. The ribbons for the straps and robe ties are made of hand-dyed silk ribbons."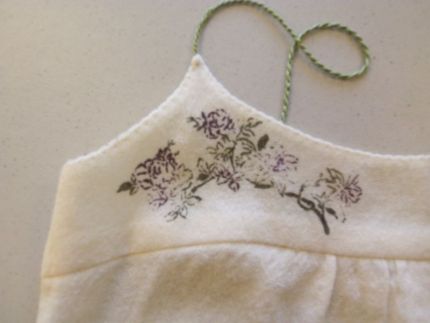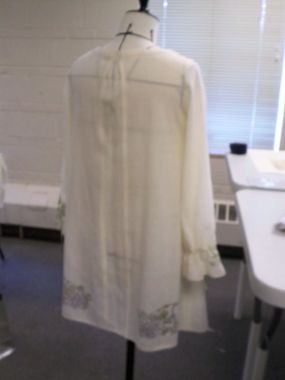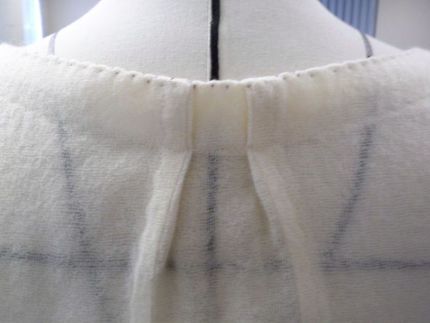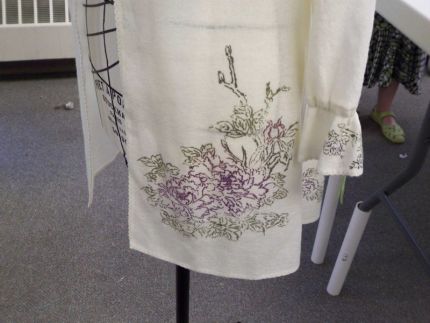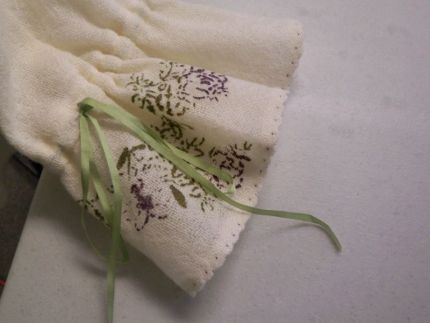 The edges have been zig-zagged with pale green thread on the outside and ivory on the inside.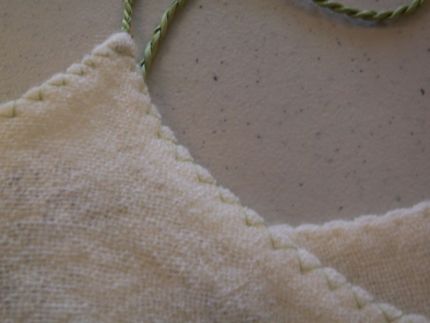 Rows of undulating stitches hold the seam allowances in place: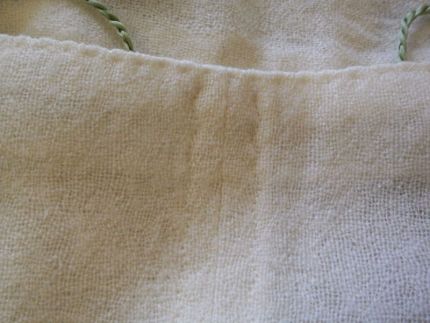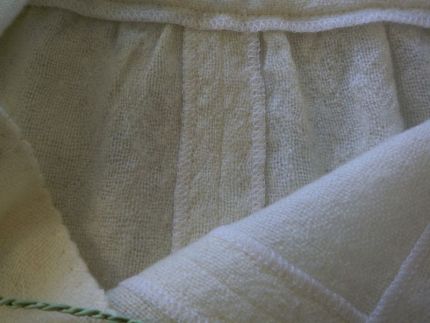 Teresa describes what she's currently working on:
"I am in the process of weaving yardage for a knee-length coat. The yarn is silk in the warp and for the weft I'm using the same silk as well as a copper thread and a high-twist crepe. I'm actually attempting to weave it in such a way that it will collapse at the waist and at the shoulders for shaping. The fabric for a slip dress to go with it is still undecided – I keep changing my mind. I also want to weave a fabric to go with my stainless steel dress for a 'shrug' or a jacket. Haven't decided on that yet, either!"
If you'd like to learn more about Teresa's lovely work, you can contact her at [email protected].