Chat with Claire Shaeffer on Facebook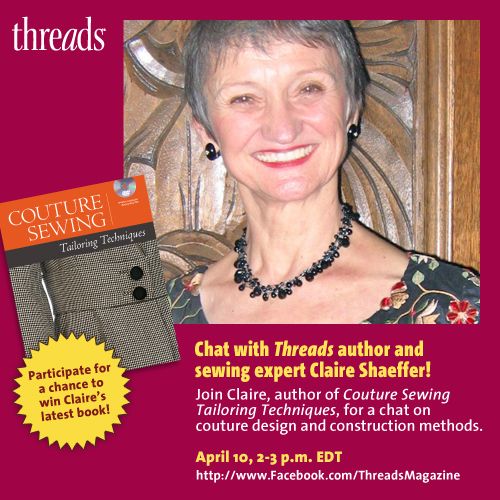 Sewing and fashion expert Claire Shaeffer has shown you how to put together garments using couture methods in her Couture Techniques Workshop DVD, in her hugely popular book Couture Sewing Techniques, and in her many articles written for Threads magazine. Now, Claire shows you how to apply couture tailoring methods to your garments in her all-new book and DVD combo, Couture Sewing: Tailoring Techniques.
To help celebrate the release of her latest book, we will host an expert chat with Claire Shaeffer on the Threads' Facebook page from 2-3 p.m. EDT on Wednesday, April 10. She'll answer your couture sewing questions, offer expert advice, and she may even share some of her insider tips for creating high-end couture garments.
Join the live chat and you may win a copy of her latest book, Couture Sewing: Tailoring Techniques.
LIKE our Facebook page and never miss an expert chat.