Another Look at Kenneth D. King's Sewing Space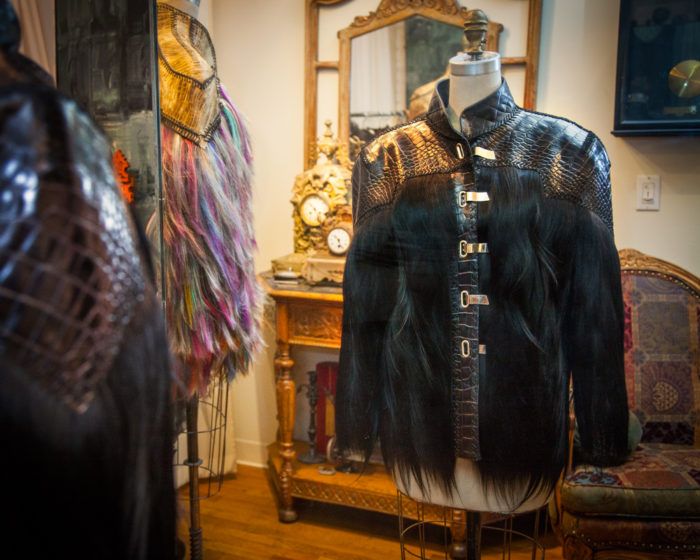 In Threads #169 (October/November 2013), we paid a visit to the amazing sewing space used by designer and Threads contributing editor Kenneth D. King. His studio is in the Flatiron district of New York City.
Kenneth's space is compact – a little more than 500 square feet – but it's where he creates custom garments for clients, works on his books, articles, and blog tutorials, as well as designs and sews many of his own accessories and garments. It's a space packed with tools, materials, and inspiration. 

Take a look at more sewing studios and spaces:

• More Images from Louise Cutting's Sewing Room
• An Inside Look at Mary Ray's Sewing Studio
• Ruth Ciemnoczolowski's Sewing Room
• Helen Haughey's Favorite Tools and Storage Solutions
In the published article, we promised more photographs from Kenneth's studio. Here they are, with some of Kenneth's anecdotes and history about each. Don't miss other sewing rooms by ordering a subscription of Threads magazine. Print subscribtions come with FREE access to our tablet editions.
More from Kenneth:
This table surface is indeed tiled in little brass plaques!  These were salvaged from a sign shop that closed in the 1980s – I found them in a Dumpster when they were closing, and saved them for the perfect use.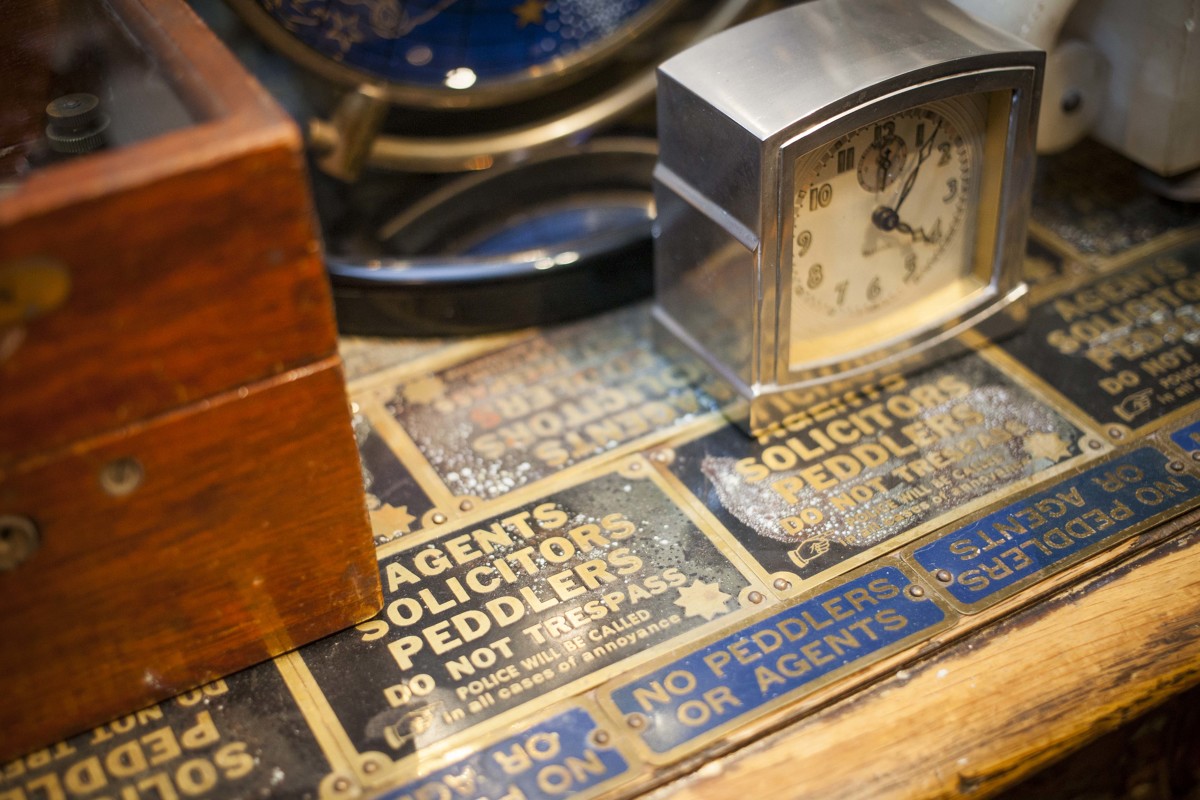 The top of this commode table had a wrecked veneer, and after pricing a piece of marble cut to fit, decided to use these plaques.
From a distance it reads as tile, but up close is fun and whimsical.  
I like the sentence: "Police will be called in all cases of annoyance."
I have a thing for clocks and watches, as well as over-ornamentation.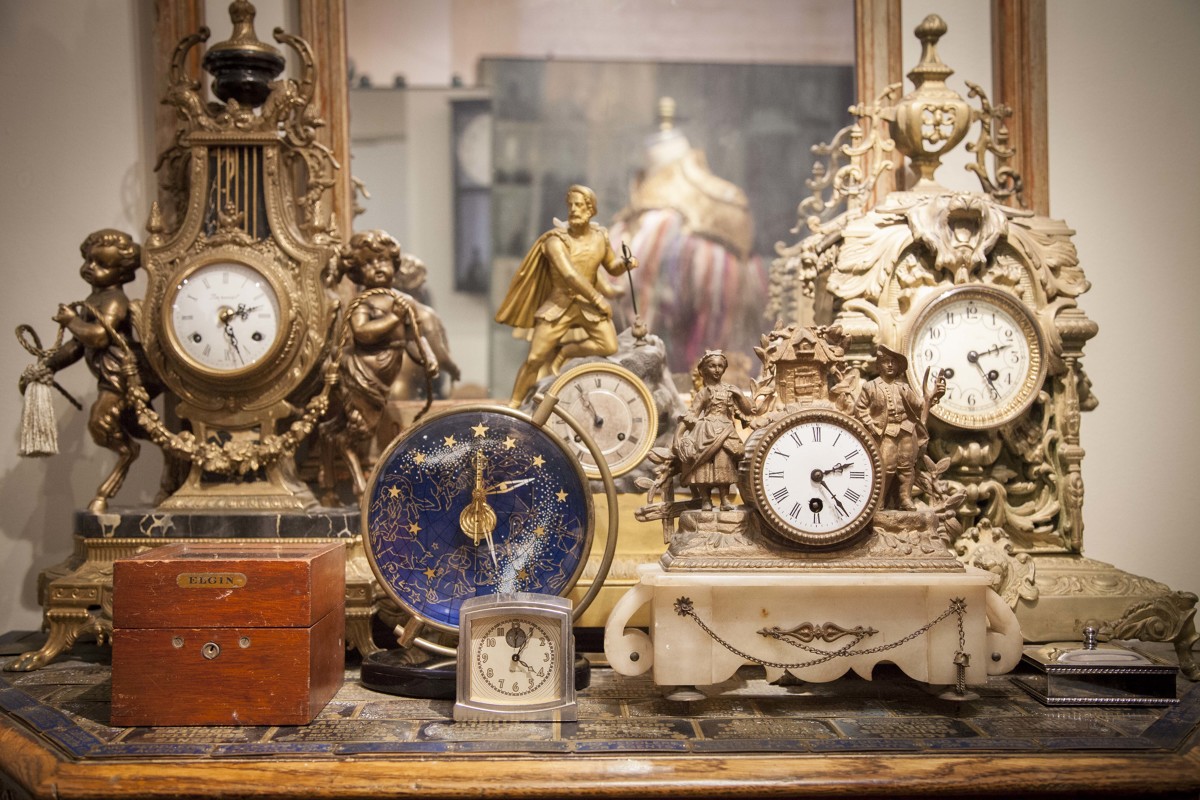 This collection of clocks is mostly French, though the clock in the wooden box marked "Elgin" is a ship's clock, mounted on gambrels so as to make it always sit flat while the ship is in motion.
Isn't he exquisite?  He's on a gilded bronze clock from the mid 1800s, and is beautifully rendered.  If you look at his hands there are even tiny fingernails.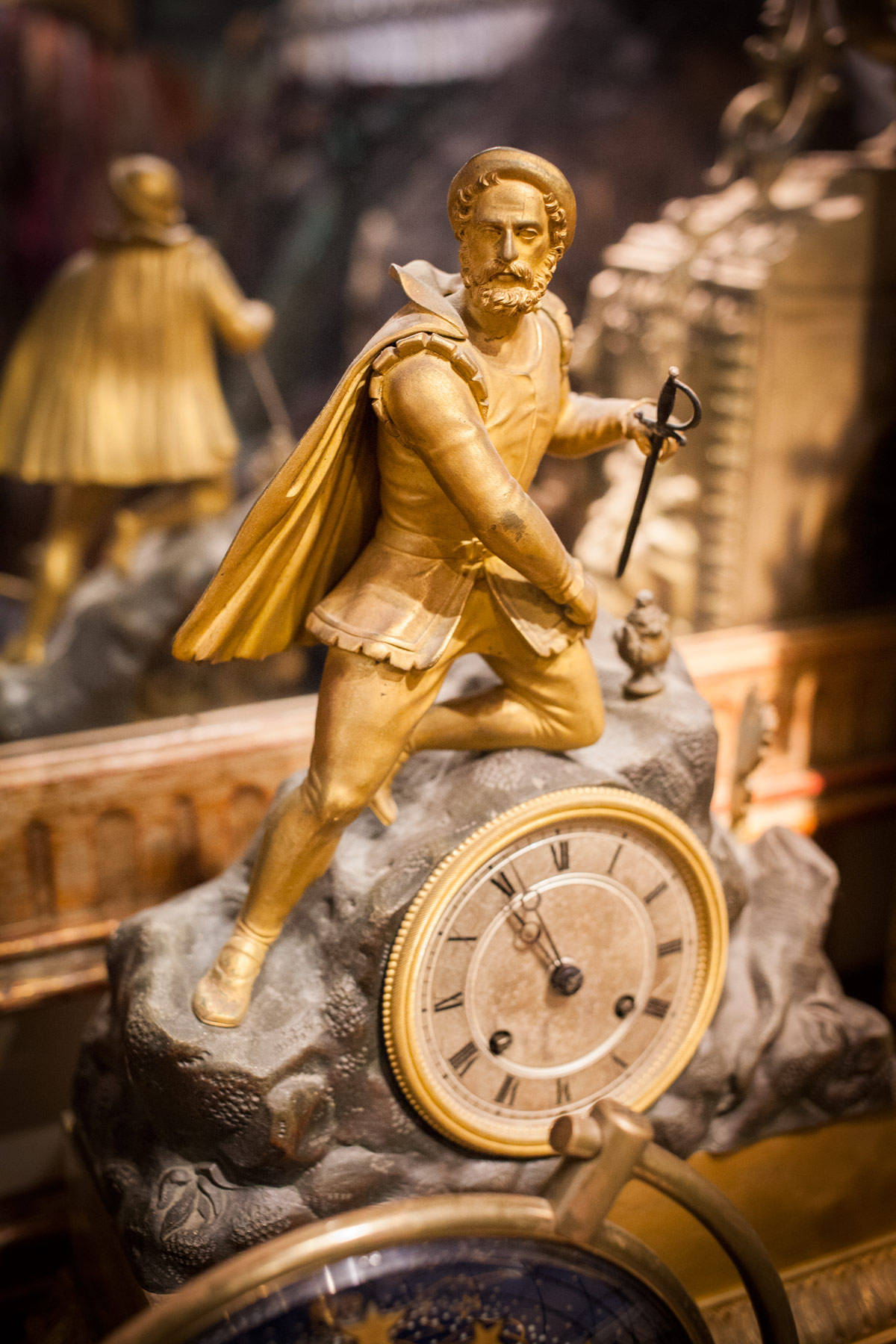 When he came to me, his hands were empty. I needed to give him something to hold, so I made him a sword.
His sword is actually a cocktail skewer, originally plastic, cast in sterling silver.
Something to know – if you have an object that is hard plastic, you can cast it like lost wax, and get the item in sterling silver.
This coat, which a friend says looks like Cher's hair, is monkey fur.  The original was a vintage coat that I bought years ago at the flea market, and took apart to recycle.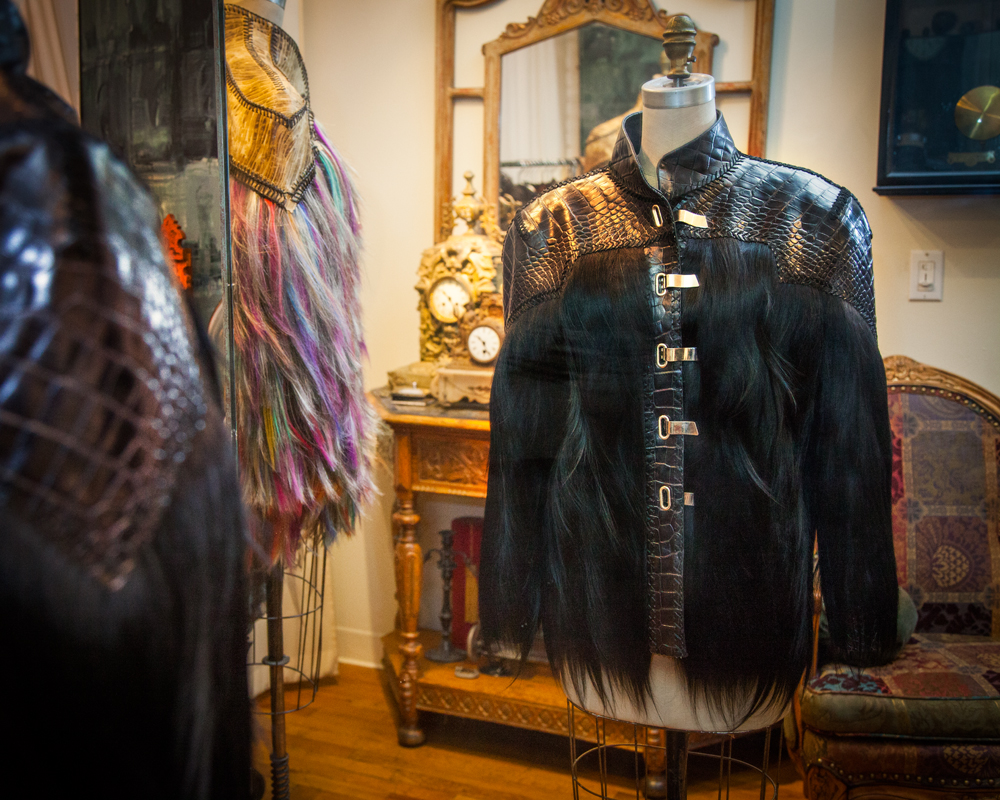 The shoulders on the original were blown out from years of hanging on a hanger, so I took the entire thing apart, and designed the yoke in embossed leather to replace the damaged fur.  
The leather is stitched to the fur with a herringbone stitch using a double strand of ribbon floss.  
Vintage machines are close to my heart. This is a Singer 114w103, a decorative chainstitch machine with a Bonnaz feed.
The Bonnaz feed enables the machine to steer 360 degrees – the needle is a hook, and it makes a chainstitch. Thread comes up through the throat plate and the fabric is steered by a crank under the table, somewhat like a mouse for a computer.
When I bought it, it was the first sewing machine I was ever intimidated by, but after a week of practice, I tamed it.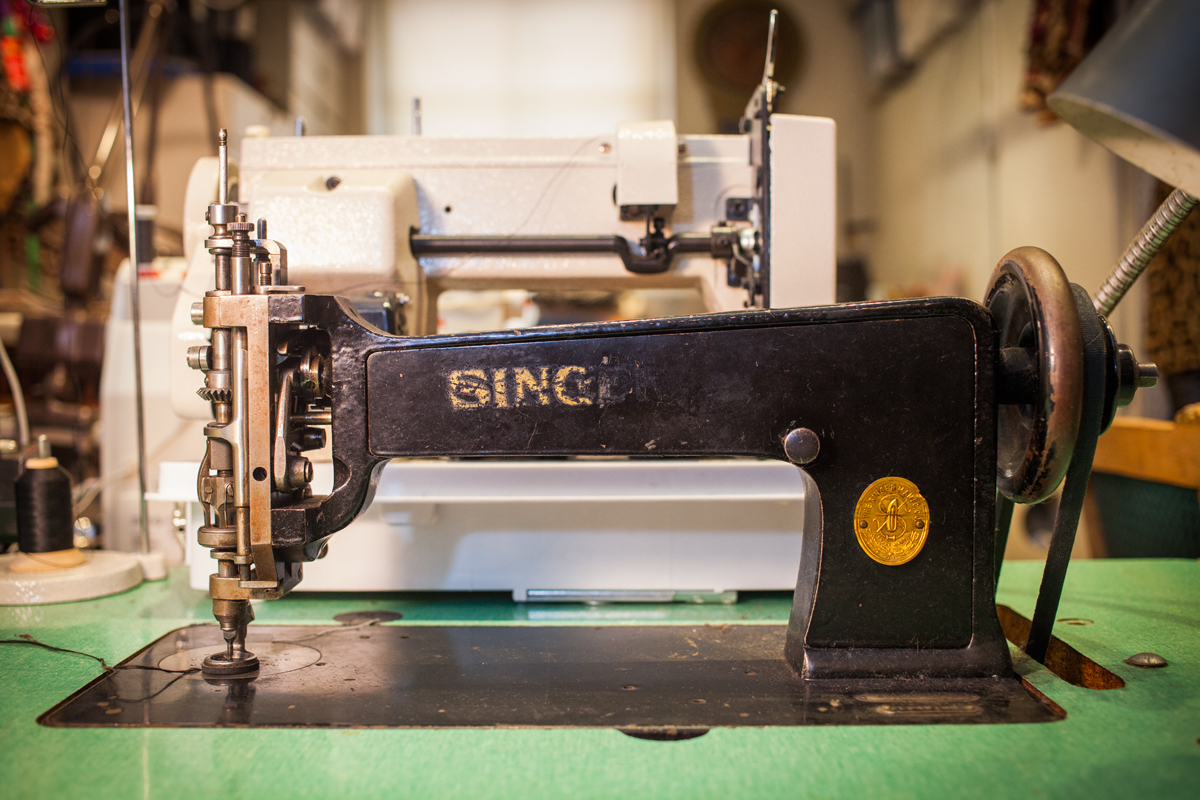 It's on a power table, but with a servo motor – the originals were designed to run on treadle tables, so a regular motor for a power table is too much power – it would shake the machine to pieces.  Hence, the servo motor, which is easily controlled to run slowly.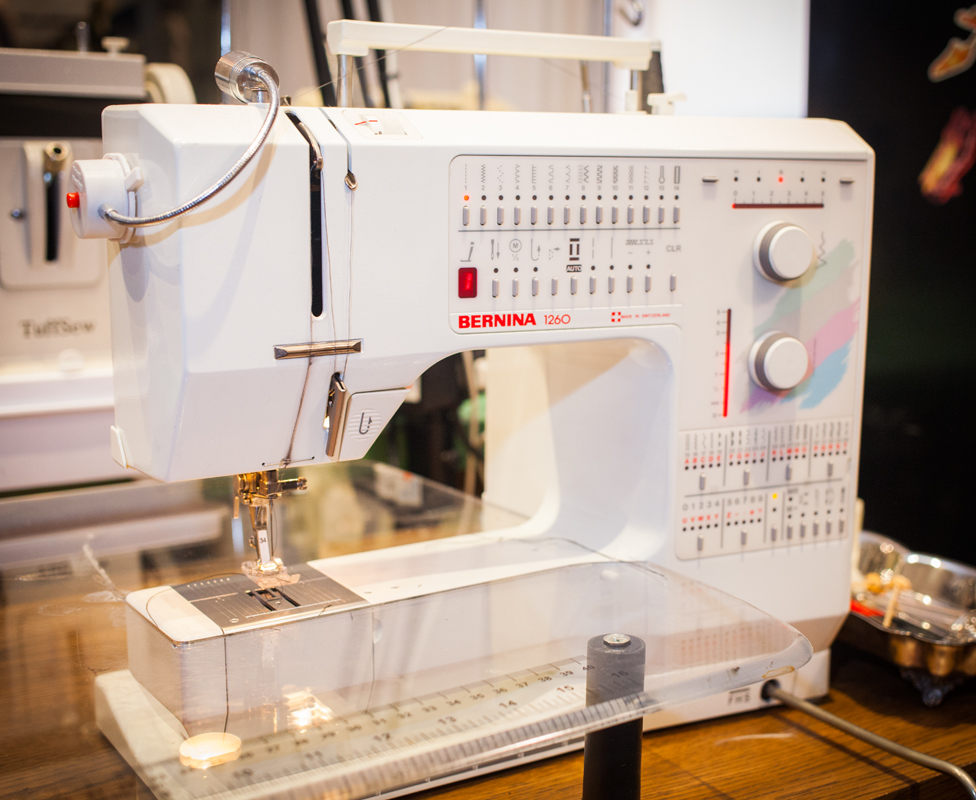 The machine I'd go into a burning building to save is my Bernina 1260. I also have a 1230, and they have both been workhorses for more than twenty years.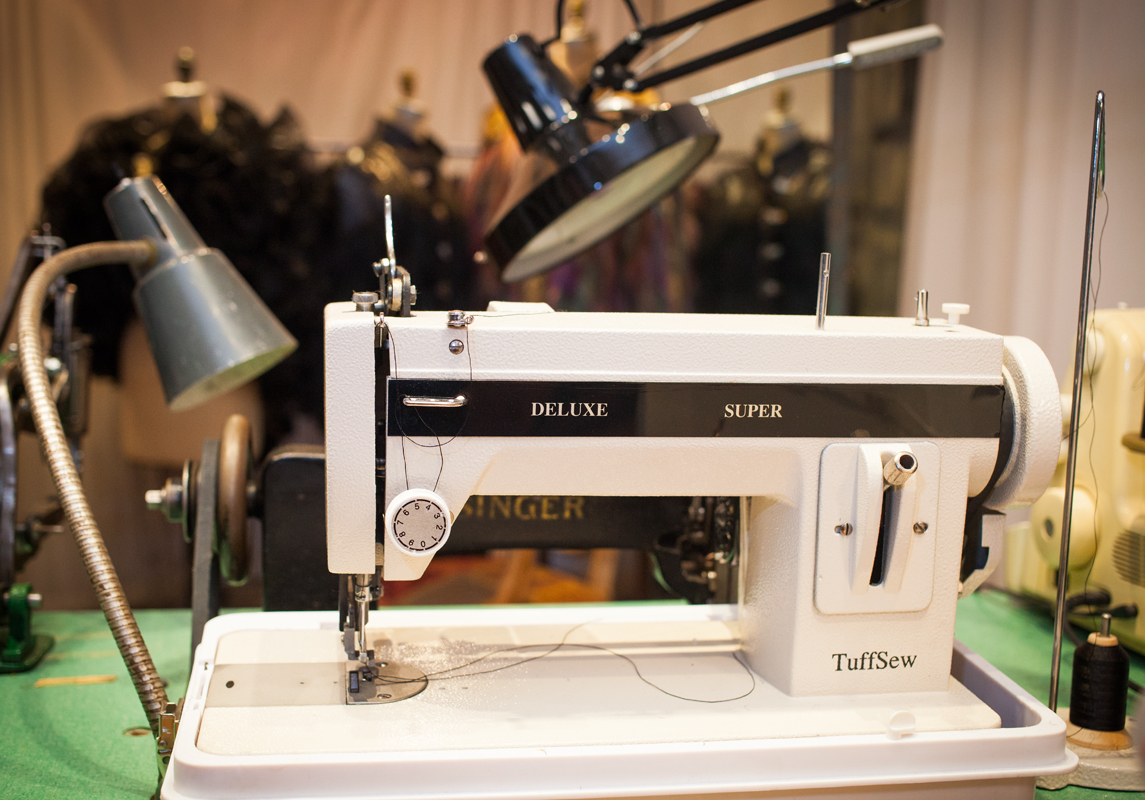 While I adore my Bernina, I needed a machine to sew thicker leather, so this was a present to myself last year.  It's a portable walking foot leather machine.
It sounds like a threshing machine when it runs, but for sewing thicker leathers, it's dandy.
Since my drawing skills are sorely lacking, I work with half-scale dress forms.  These are test garments made in half scale.
The center form is a "My Size Barbie" – a doll made by Mattel that is a half-scale size 8.  I like it because it has arms, so I can judge the drape of a cape or sleeved garment before enlarging to full scale.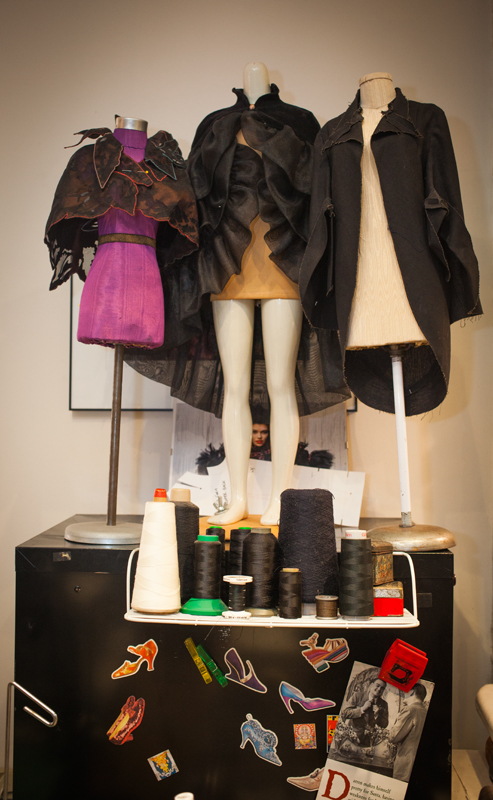 To work with these forms, just take your pattern to the copy shop, reduce it 50 percent, and design away. When you get a design you like, go back to the copy shop, and copy on the large format copier at 200 percent to get it back to full scale.
Why shouldn't your tools be pretty?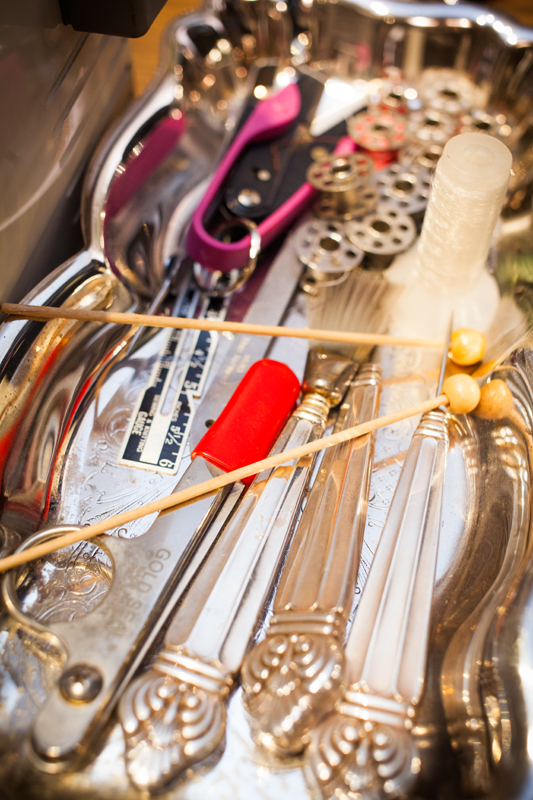 I like old silverplate, and buy it for my tool trays for my worktable and my machines.
The stiletto, seam ripper, and machine brush got matching sterling handles when I found three of them at a flea market.
Here are more of my sewing tools with sterling handles.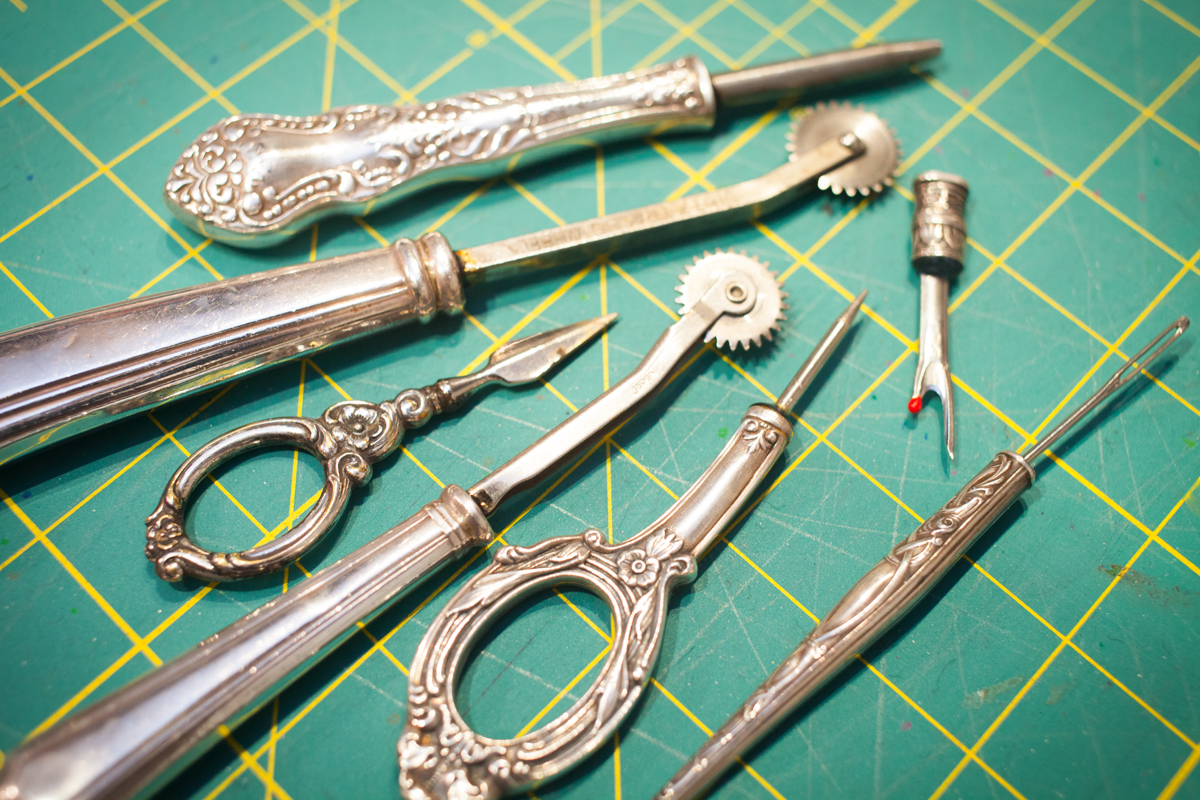 It's relatively easy to convert sterling knife handles to sewing tools – just pull the business end out of the handle, and attach the new implement with epoxy glue.  
Some black paint at the join tidies up the epoxy, and you have beautiful sewing tools.
There's no need to polish, if you use them regularly!