Watch Threads Essential Techniques Videos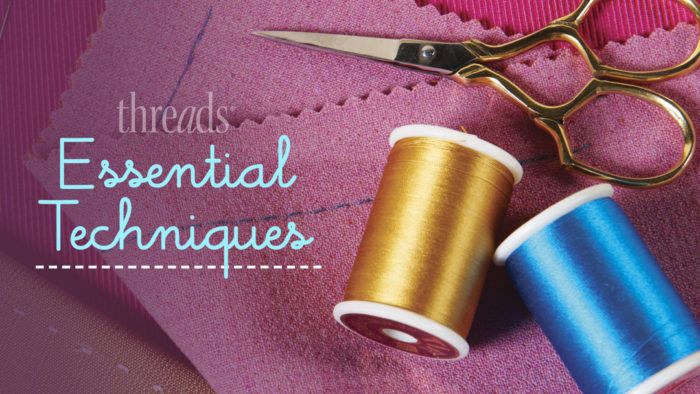 Every issue of Threads features techniques perfect for any skill level. To help grow your sewing talents, we've created a series of web-only videos bringing to life some of the most essential techniques seen in our pages.
In this video series, you'll find an array of techniques we feel are important in cultivating a well-rounded set of sewing skills. No matter what your proficiency level is, you'll find something that's just right for you.
Don't miss other fabulous techniques by subscribing to Threads or by purchasing the tablet edition today.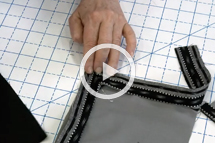 Miter Corners on Striped Trim
Threads #188
If using striped fabric as trim, you'll want to miter the corners carefully.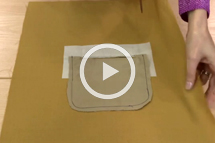 Sew a Single-Welt Pocket
Threads #188
A single-welt pocket can be added to almost any garment or accessory.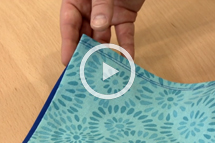 Disappearing Flat Piping
Threads #188
Learn how to taper a piping's end for an attractive, bulk-free finish.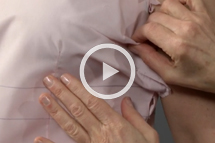 How to Drape Parallel Darts
Threads #187
Watch to learn Sarah Veblen's technique for draping custom parallel darts.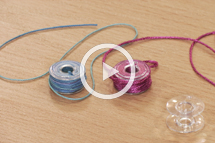 How to Wind a Bobbin for Bobbinwork Stitching
Threads #187
Learn how to wind a bobbin for bobbinwork and how to adjust the bobbin tension.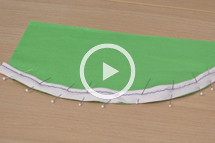 Watch this video to learn two great tips for sewing a better piped edge.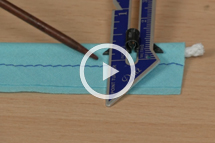 Offset Stitching for Smooth Piping
Threads has published lots of great advice on how to get great results for piping. Here is a tip for sewing a ripple-free piped edge.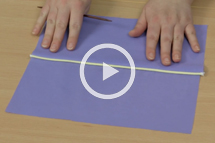 Grade to Reduce Bulk in a Piped Seam
If you're looking to add a design detail to a garment, turn to piping. Watch this video for a great tip on grading a piped seam.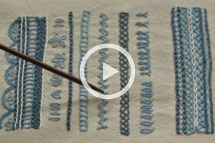 How to Sew a Chainstitch
Threads #186
Hand embroidery is a traditional embellishment technique that is within the reach of any sewer. Watch to learn how to create one of the five basic embroidery stitches: the chainstitch.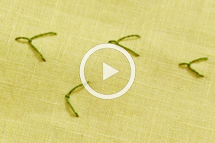 How to Sew a Fly Stitch
Threads #186
The fly stitch is a basic embroidery stitch. Watch to learn how to create this stitch.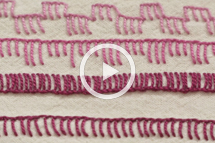 How to Sew a Blanket Stitch
Threads #186
Hand embroidery can elevate the style of any garment. Watch now to learn how to create one of five basic embroidery stitches: the blanket stitch.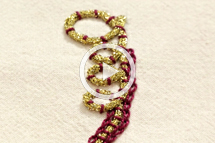 How to Sew a Couching Stitch
Threads #186
The couching stitch is useful for applying heavy or decorative threads that are too thick or textured to pass through a fabric's weave. Watch to learn how to create this basic hand embroidery stitch.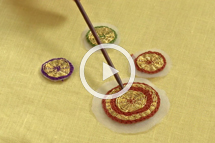 How to Sew a Web Stitch
Threads #186
The web, or spider-web stitch, is a needle-woven stitch that makes a beautiful center for an embroidered medallion. Watch to learn how to create this basic hand embroidery stitch.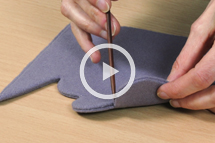 How to Press Shaped Edges
Threads #186
You can make any garment special by adding shaped edges. Watch to learn how to press these curved details.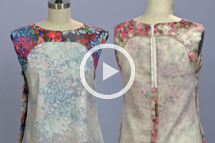 How to Attach an All-in-One Facing
Threads #185
Discover two methods for installing a facing that finishes the neckline and armhole.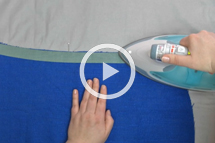 How to Shape Petersham Ribon to a Curve
Threads #184
Learn how easy it is to make petersham follow a curve. It is a great way to stabilize curved necklines, hems, and waistlines.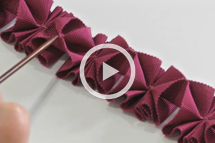 How to Make Pleated Trim from Petersham
Threads #184
Petersham ribbon, a couture mainstay, has many sewing uses and one of them is as an embellishment. Watch to learn video to learn how to create this style of pleated trim.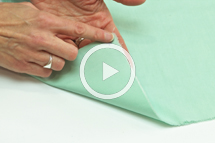 How to Straighten Fabric Grain
Threads #184
See how to straighten a fabric's grain in this video, so you can prep your fabrics correctly for great sewing results.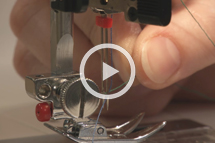 How to Thread a Twin Needle
Threads #183

Sewing with a twin needle is an easy way to create beautiful embellishments on garments from even the simplest machine stitches. Learn how to set up your sewing machine to use a twin needle.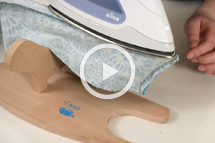 How to Use a Tailor's Board
Threads #183

Pressing is one of the most important aspects of garment sewing. There are many tools to help you achieve well-pressed clothes – one of them is a tailor's board.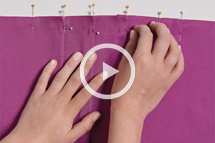 How to Fold Knife and Box Pleats
Threads #182

This web extra from "Pleat to Measure," Threads #182, we show you how to use the templates to mark the pleat foldlines, and then how to fold the pleats.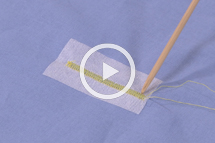 How to Repair a Stray Snip
Threads #181

Stray snips, cuts, and holes in fabric often happen in the least desirable or convenient spots on fabric. Sometimes they go unnoticed until you've cut your garment pieces and are ready to sew. Find out how to turn this potential disaster into a design feature by camouflaging it with stitches.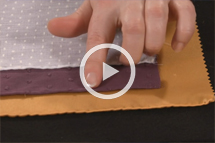 Sew a Hand-Rolled Hem
Threads #180

Special Projects Editor Stephani L. Miller demonstrates an easy-to-follow method for sewing a hand-rolled hem. This technique is an excellent choice for hemming fine and delicate fabrics.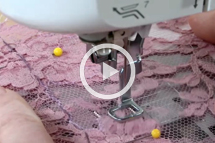 How to Sew Lace Seams
Threads #179

When sewing lace garments, you'll want to steer clear of any seam allowances showing through. To help you create the illusion of no seams, we're going to demonstrate two different techniques for sewing lace seams, by machine or by hand.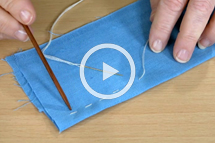 Create Topstitching with Running Stitches
Threads #179

We reviewed Simplicity Threads 1103 pattern. This dress pattern comes in four variations and we tested the short-sleeved version. Watch this Threads Essential Techniques video tutorial to learn how to create hand-worked topstitching with a running stitch, as seen on the test garment.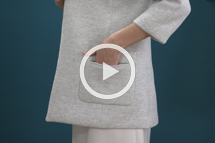 How to Sew a Welt Pocket Opening
Threads #178

It's a scary proposition to cut a welt pocket opening through an almost-finished garment. Instead, try adding a welt pocket on a patch pocket. Watch this video tutorial to learn an easy, expert way to cut the welt opening without cutting through your garment.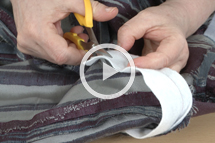 How to Sew and Install a Sleeve Head
Threads #178

Sleeve heads help to fill, shape, and stabilize jacket shoulders. Watch this video tutorial to learn a simple and quick way to sew and install sleeve heads. This small addition can take any jacket from ordinary to stunning in a small amount of time.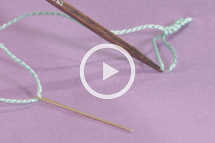 How to Make Thread Bars and Chains
Threads #177

In this video tutorial we bring Claire Shaeffer's method to life to demonstrate how these delicacies are sewn. Once you've mastered the techniques you'll be able to detain wayward straps, linings, and more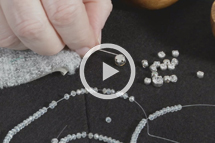 How to Embellish Knits with Rhinestones and More
Threads #176

Watch this video tutorial to discover three methods of adding shine to your knit garments. As a bonus, we've included a downloable guide.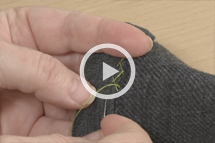 How to Sew Knits
Threads #176

Learn which machines, needles, and stitches are best suited for particular knit types. You'll also learn a foolproof technique for stabilizing shoulder seams on knits, how to handle necklines on knit garments, and how to sew a durable hand stich for hemming knits.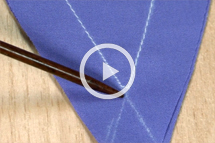 Sew Perfect Collar Points
Threads #175

There are all sorts of corners: 90-degree, 45-degree, and less – or more. Watch this video to achieve well-sewn outside corners, such as collar points.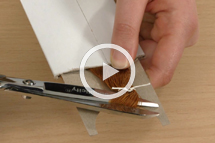 Meet Silamide Thread
Threads #174
Watch this quick video to learn about waxed silamide thread and its uses.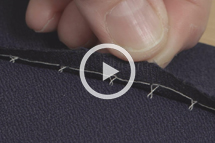 How to Sew a Figure Eight Stitch
Threads #173
Watch this video demonstration of how to sew a figure-eight stitch using techniques by Claire Shaeffer.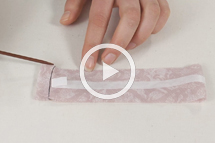 How to Bind a Sheer Edge
Threads #172
Binding the edges of sheer fabrics is easier than you think with our fast technique.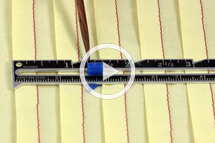 How to Sew and Press Tucks
Threads #171
Learn how to sew straight tucks and press these delicate folds.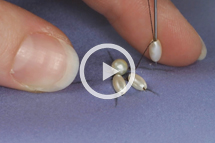 How to Machine-Bead a Design
Threads #170
Watch and learn how easy it is to machine-bead any design.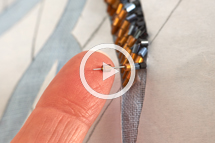 How to Bead a Motif with a Template
Threads #169

Bead a beautiful motif using a freezer paper template.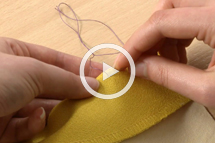 How to Sew a Pickstitch
Threads #169
Watch and learn how to make the classic pickstitch with ease.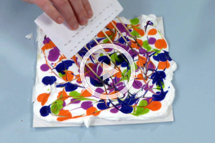 How to Marble Fabric with Shaving Cream
Threads #168
Create beautiful marbled patterns with this simple method.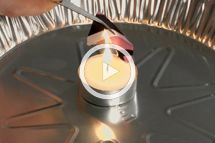 Burn Testing for Fabric Identification
Threads #168
Learn how to burn and read the ashes for some common fiber types.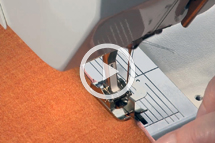 How to Sew a Blind Hem
Threads #167
Learn how to sew a blind hem on both, standard and industrial
sewing machines.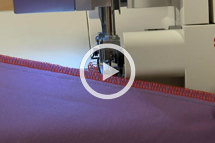 How to Serge Seam Allowances
Threads #166
Serging works on nearly any fabric. It can also trim the seam
allowances as it stitches.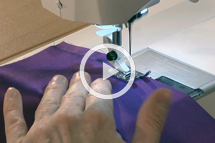 How to Sew a French Seam
Threads #166
French seams work best on sheer, lightweight fabrics.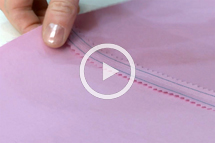 Sew a Stitch and Pink Seam Finish
Threads #165
Stitch and pink seam allowances with theses step-by-step instructions.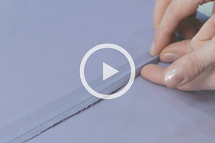 Sew Single-Fold Finished Seams
Threads #165
Follow these steps for creating a single-fold clean finish seam.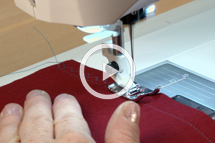 How to Stitch Together Seam-Allowances
Threads #165
Watch and learn how to create a stitch together seam finish.
Check back after every new issue to find the latest Threads Essential Techniques video.