Live Chat with Fitting Expert Sarah Veblen – December 17, 2015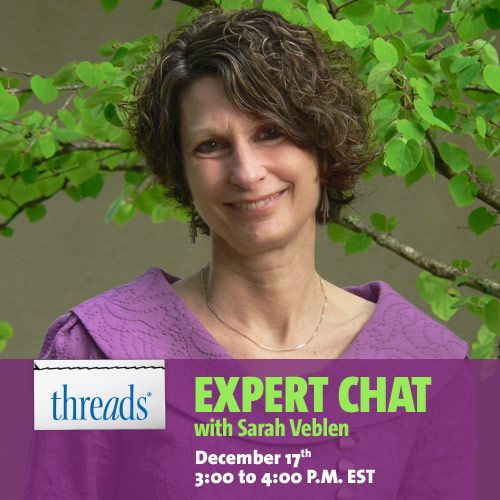 Chat with Sarah Veblen on Facebook [Chat is closed]
Threads video personality, author, and fitting expert Sarah Veblen will stop by Threads Facebook page from 3 p.m. to 4 p.m. EST, December 17, 2015, for a live chat. During the one-hour Expert Chat, you'll have the chance to ask Sarah any fitting and general sewing questions.
WHEN: 3 p.m. to 4 p.m. EST on December 17, 2015
WHERE: Expert Chats are held on the Threads Facebook page.
CHAT GUIDELINES:
You must have a Facebook account to ask a question or leave a comment.
Visit Threads on Facebook during the allotted time, and look for the official chat post.
Leave your questions in the "comments" section of the chat post and Sarah will reply to you directly.
Refresh your Web browser frequently to view new comments, questions, and answers.
Transctiption of Chat
//
More from Sarah Veblen
Aside from being a frequent Threads author, Sarah also has published four all-new video workshops. Click on the DVD images or titles below to learn more.
LIKE our Facebook® page or subscribe to Threads weekly newsletters and never miss techniques, sewing videos, and giveways.