Preorder Sandra Betzina's "All New Fabric Savvy" book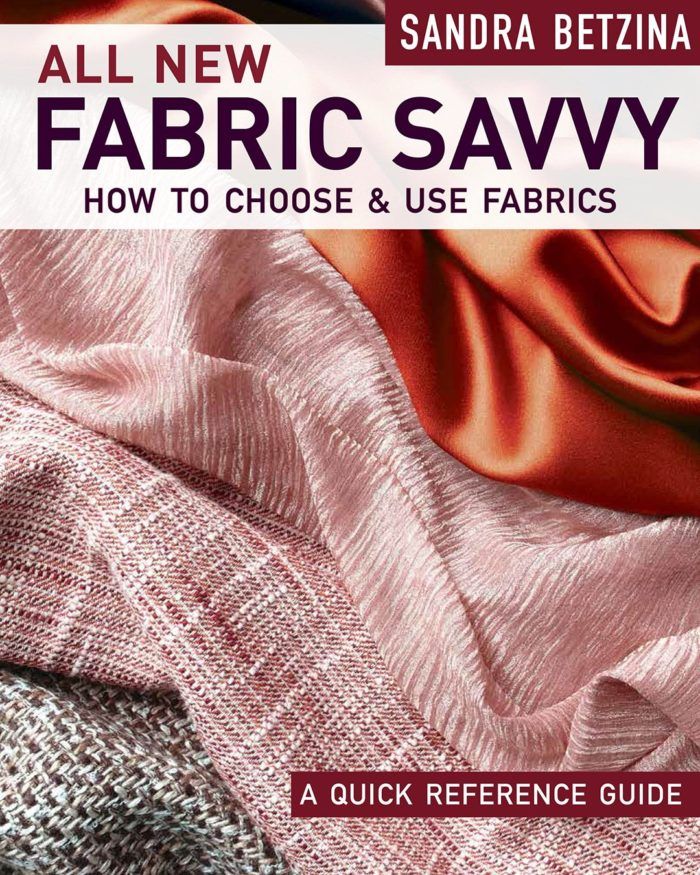 Well-known sewing show host and author Sandra Betzina has again updated her Fabric Savvy reference guide. All New Fabric Savvy (The Taunton Press, 2017) will be released August 8, 2017. It follows More Fabric Savvy (The Taunton Press, 2004) and the earlier Fabric Savvy (The Taunton Press, 1999). Sandra's Fabric Savvy books supply the know-how for selecting and sewing many fabrics. As with the first update, this latest book incorporates more fabrics than before. The newest book includes specifics on how to work with 107 fabrics. It compares with More Fabric Savvy, which has information about 100 fabrics and the original Fabric Savvy, which lists 85 fabrics. The new guide devotes two pages to each fabric, detailing everything from how to mark it to what stitch length is required. Fabrics are arranged in alphabetical order, making the update more user-friendly. 
Sandra Betzina is one of the most respected and influential figures in sewing. She is the host of the Power Sewing WebTV show with Ron Collins. Previously, she hosted HGTV's Sew Perfect for six years. She teaches at numerous sewing retreats in San Francisco and has a line of patterns with Vogue called Today's Fit by Sandra Betzina. Sandra has produced 11 Power Sewing DVDs and authored many other books, including Fear of Sewing (Top Banana Graphics, 1991), No Time to Sew (Rodale Books, 1996), Power Sewing Step-by-Step (The Taunton Press, 2000), Fast Fit: Easy Pattern Alterations for Every Figure (The Taunton Press, 2001), and Sandra Sews for Your Home (The Taunton Press, 2002). 
Click here to preorder Sandra Betzina's All New Fabric Savvy.