No Rules Draping, Part 2: Print Placement
Use your customized dress form to test fabric drape and placement.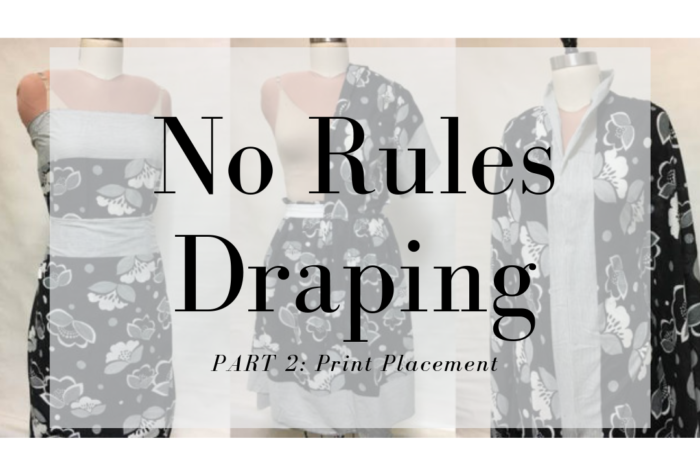 This is the second installment in my No Rules Draping series. Part 1 detailed ways to get a dress form to duplicate your figure. Now that you have a dress form that resembles your body, you can try draping. While draping an evening gown from scratch is always a possibility, it is not the first and definitely not the only way to use your dress form. In this segment, I'll share some of the simple ways I use my dress form every time I sew.
Precious pieces
Most of us have at least a few one-of-a-kind fabric treasures in our stashes. They may include the 1/2-yard piece of the really expensive cashmere that will someday be a collar on a garment, or a silk-screened panel that will become the back of a kimono jacket, or the heirloom lace inherited from your grandma's stash. Or maybe it's the darling tea towel you picked up in Brooklyn. Whatever form they take, I'll bet that one of the reasons they stay comfortably stashed is the fear of messing them up. Who wants to ruin Grandma's lace? What if you could see the options before you cut into the fabric? That's where the customized dress form comes in.
Because my dress form is my size and three-dimensional, I can see how a piece of fabric will drape, I can get an idea of the proportions that will work, I can try out different pattern placements, and I can test different style options without ever touching my scissors.
Dress form draping experiments
Consider these approaches to draping, no matter what size your fabric. The draping examples use linen, kimono fabric, and cotton lawn.
Linen tea towel
Here are a few of the options I tried out before turning that Brooklyn…
Start your 14-day FREE trial to access this story.
Start your FREE trial today and get instant access to this article plus access to all Threads Insider content.
Start Your Free Trial
Already an Insider? Log in