Transfer Muslin Fitting Changes to a Pattern
Pin a test garment to fit, then learn to accurately adjust the tissue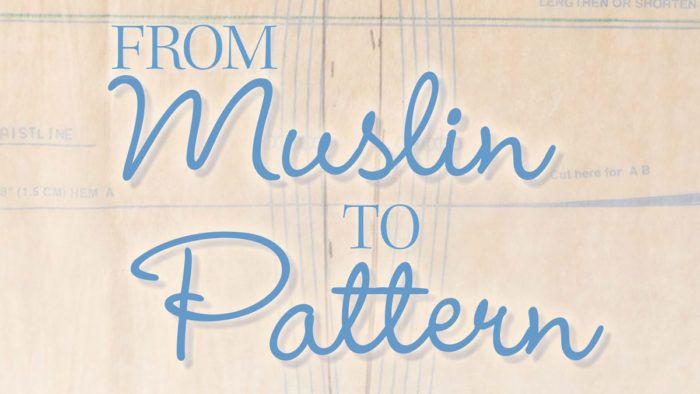 Making adjustments to a muslin to improve a garment's fit is an important part of my sewing process. But my work isn't over after the fitting. I always transfer the changes to my paper pattern rather than use my muslin as a pattern. Mock-up fabric—be it muslin or other fabric—molds to the body to some degree, and doesn't provide the precision I want. A paper pattern is stable and flat, and, therefore, is the best starting point for a garment that reflects your fitting changes. The expression I always hear in my mind is, "Paper doesn't lie."    
Transferring the changes accurately from the muslin to the pattern is a key part of this process. I'll show you my technique for doing so. Some changes are as simple as altering a seamline; others may be more complex and involve one or more adjacent pattern pieces. The steps aren't difficult, and even a beginning sewer can perform them. For the best results, approach the job methodically. This ensures that you don't forget any changes and that the adjustments you make capture the fit you've pinned in the muslin.
I almost always make a new muslin from my adjusted pattern so I can proof my patternwork. The muslin enables me to double-check that the pattern changes worked and I've gotten the fitting results I wanted.
I find these extra steps satisfying rather than tedious.  If, like me, you're committed to creating well-fitting garments, you'll recognize the benefits of working systematically and precisely. You can count on the resulting pattern to yield flattering, comfortable garments.
Transfer the muslin markings
Start by pinning the fitting changes in the muslin. On my muslin, I changed existing seam and dart stitching lines, pinned in…
Start your 14-day FREE trial to access this story.
Start your FREE trial today and get instant access to this article plus access to all Threads Insider content.
Start Your Free Trial
Already an Insider? Log in