Sew Your Own Vionnet-Inspired Circle Skirt
Create a custom version with just a few body measurements Video: Threads magazine
Madeleine Vionnet (1876–1975) was a purist. To her, the best designs incorporated four principles: proportion, movement, balance, and truth. I believe these elements are all found in the skirt of a 1937 evening gown, illustrated as pattern 18 in Madeleine Vionnet by Betty Kirke (Chronicle Books, 1998). At first glance, Vionnet's skirt looks like a simple circle skirt, but it is composed of several geometric pattern pieces, instead of a big circle with another circle cut out for the waist. One pattern piece I had never seen before was a two-piece yoke that is one and a quarter circles. Laid flat, and before joining to the skirt panels, the yoke looked like a spiral.
Vionnet was influenced by the artistic theory of "dynamic symmetry," which suggests the application of the golden ratio and logarithmic spiral creates beautiful art. She applied proportion and geometric shapes to the properties of fabric, gravity, and human anatomy. Her designs have  movement, a flattering fit, and evenly distributed ripples.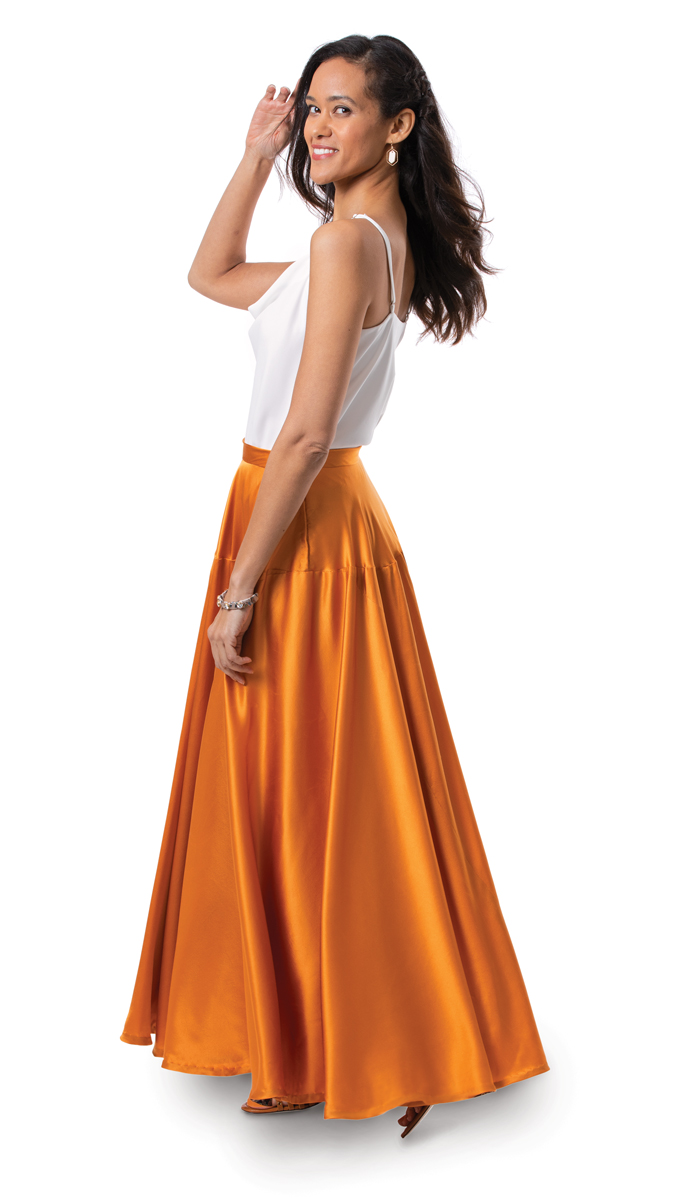 The response of fabric along a curved edge is not the same at all points. Some areas stretch more than other areas. The most stretch occurs at true bias, no stretch occurs at the warp yarns, and only a slight stretch occurs at the weft yarns.
In a typical circle skirt, the centers front and back are on grain, but varying bias angles radiate from the skirt's center to different points along the hemline. In Vionnet's skirt, the yoke is two pattern pieces, and its grain can be oriented differently from the skirt's lower portion. The designer chose to place the yoke's center front on the true bias for a more flattering drape.
The front yoke is designed with…