Alter a Men's Shirt: Adjust the Shoulders and Torso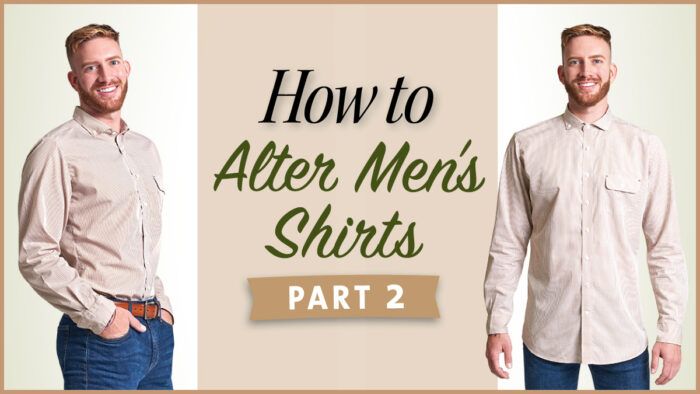 Learn how to reduce a collar, narrow shoulders that are overly wide, or shorten sleeves that are too long. Although I explain in this article how to make these fit alterations on men's shirts, they can be done on garments made for or worn by any gender. Your effort will be repaid in a shirt that skims the body smoothly with minimal excess fabric.
Manufacturers market to middle-sized people, so if you are at either end of the size spectrum, you might not find shirts to suit your measurements. But you can start with a store-bought shirt and customize its fit.
Off-the-rack shirts are typically constructed with flat-felled seams and narrow hems, so they have little seam allowance available for enlarging the garment. Therefore, to get adequate ease in a shirt, you'll need to start with a shirt that fits the largest or longest part of your body well, then take in or shorten the oversized areas. A tall, lean person may buy a larger size to accommodate long arms but find the shoulders, collar, and torso too roomy. A shorter person with a well-developed upper body and neck can shorten the sleeves and torso on a shirt that fits their circumference appropriately. These alterations continue my instructions on improving the fit of purchased shirts. In Threads #216 (Winter 2021), I had focused on fixing excess width and length in the shirt's body.
Understanding fit adjustments can benefit you in multiple ways. They enable you to create your preferred silhouette, whether that is somewhat relaxed or more fitted. If your body changes, you may be able to alter shirts you own already. And if you enjoy thrift shopping, you can personalize the fit of that one-of-a-kind, vintage shirt you fall in love with.
The shoulders are too wide
Too-wide…
Start your 14-day FREE trial to access this story.
Start your FREE trial today and get instant access to this article plus access to all Threads Insider content.
Start Your Free Trial
Already an Insider? Log in