How to Adjust Sewing Patterns to Fit Your Posture
Pattern solutions for curve and alignment challenges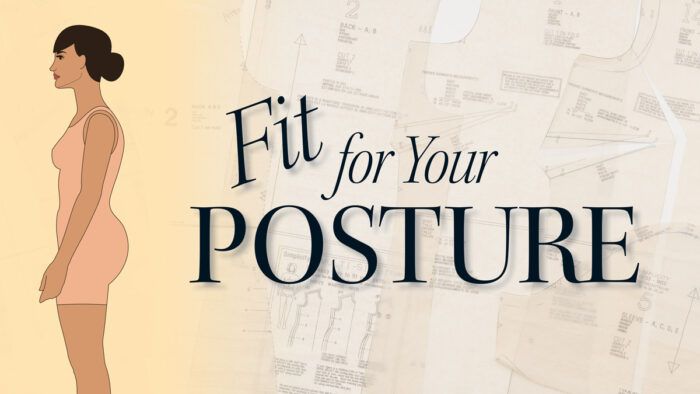 If you use commercial sewing patterns regularly, it's likely you've learned what a standard pattern looks like. As you start custom-fitting those patterns to your own figure, you may find yourself doubting the pattern shapes you create. Armscyes may look too deep or shallow, seamlines too straight or curvy, and darts too short, long, deep, or narrow. I'd like to give you a more realistic idea of how patterns look when adjusted for a range of body types, so you feel more confident in your own fitting work.
My fitting method involves pinning and adjusting a muslin test garment on the body, then transferring these changes to the pattern. You can find out more about this method in the articles listed in "Fitting Tutorials," found in the attached PDF. Even though I thoroughly trust my process, there have been many times I have looked at an adjusted pattern and wondered if it could possibly be right. The proof comes when fitting the next muslin. Usually, there's a definite improvement. That better fit reassures me that the adjusted pattern is correct for the figure I'm fitting, even if it doesn't correspond to the standardized patterns I'm familiar with. 
In this article, I'll show pattern adjustments for common fit issues associated with postural differences. You'll see how I revise patterns for upper and lower back curves and a forward shoulder. Patterns are typically drafted for erect posture, but most people have more pronounced curvature to their spine. Further, many jobs and professions encourage a forward-shoulder posture that doesn't correspond well to a pattern's shoulders-back shaping. If you share some of these fit challenges, these examples will give you a better idea of how your pattern might look after you have revised it for your shape.…
Start your 14-day FREE trial to access this story.
Start your FREE trial today and get instant access to this article plus access to all Threads Insider content.
Start Your Free Trial
Already an Insider? Log in