Riffs on a Trusted Pattern: A Swingin' Sundress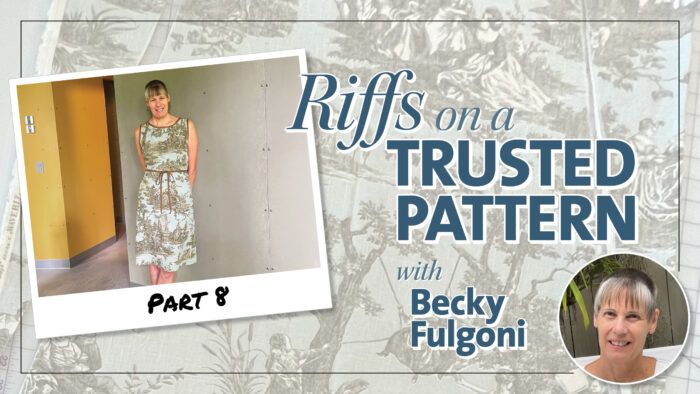 It's Month 8 of my yearlong Tabula Rasa Jacket challenge. I'm writing this on a dreary day in August. But August is supposed to be sundress month. That was the plan when I decided to make a linen wrap sundress version of the Fit for Art Patterns Tabula Rasa Jacket (TRJ).
Inspired by decorator fabric
As many of you may know, I get an urge every so often to "upholster" myself. I love nosing around in the decorator fabrics and usually find something that would be a lovely garment. The fabric for my sundress project was one of those finds. I'm not sure when it made its way into my stash, but when I came across it the wheels started to turn. It's a fairly heavy linen with an amusing, summery print of Victorian-era folks picnicking and swinging, which I couldn't resist.
Swingin' sundress pattern and layout
I started this project with the sleeveless top I made earlier. I figured I could extend the side panels to create the wrap and add an A-line skirt to the waist. Adding pockets to the TRJ works well because the side panel seams are just a bit forward, placing in-seam pockets in an accessible position. With my new pattern pieces drafted, I began the tricky puzzle of laying them out on the fabric. The print is obviously direction sensitive, which limited how creative I could get with my layout. There may be one errant piece that ended upside down.
Once I had the bodice together, I draped the skirt pieces.
---
Sundress with bound edges and wraparound skirt
I used a contrasting linen to bind the edges and make the ties. The finished product has an unusual shape. The back bodice has "wings" that wrap and fasten in the center…