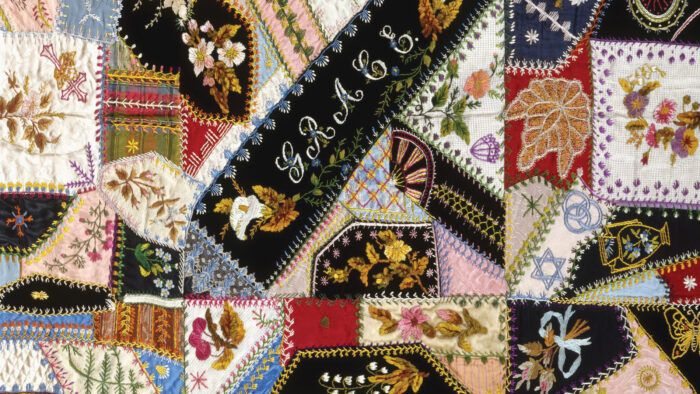 In 1877, Tamar Horton Harris North lost her husband and 21-year-old daughter within weeks of each other. To commemorate her only child, she embarked on crafting this crazy quilt, which contains Grace Gertrude's name in several places, along with her birth and death dates. Family lore says that some or all of the fabrics came from Grace's dresses. These elements make this a rare specimen of a well-documented mourning quilt.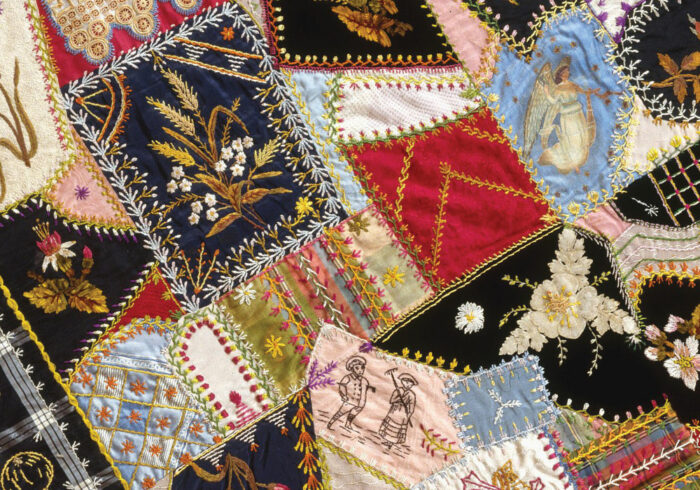 Crazy-patterned quilts were an enormous fad in the last quarter of the 19th century in the United States. Important influences on the style were Japanese decorative arts and English art embroidery, both of which were popular exhibits at the Centennial International Exhibition of 1876 in Philadelphia. The crackled surface of Japanese ceramics may have inspired the irregular shapes of crazy patchwork. Rich, handworked embroidery by the Royal School of Needlework, founded in 1872, provided an inspiring model of satin-stitched motifs, especially from the natural world.
Although Tamar's quilt is undated, it is likely to have been made shortly after Grace's death and, therefore, is an early example of the American crazy quilt. Common characteristics of this patchwork style include the exclusive use of fancy fabrics such as silks, velvets, and trims; extensive embroidery along all seams and within most of the patches; and a nine-patch, foundation-pieced structure. Most crazy quilts were not intended for use as blankets and often lacked batting.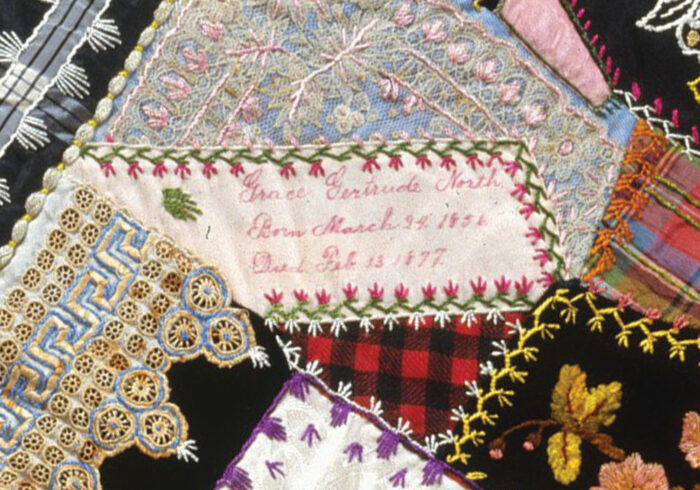 These were works of art for display in a home's "public" rooms, draped over a chair or sofa. This quilt's embroidery is worked in cotton floss and chenille yarn, and the repetition of some floral motifs suggests the designs were transferred from a set of patterns. Every patch is embellished, highlighting the maker's skill at handwork. Standing out in the center of all this ornament is Grace's name, flanked by calla lilies, Victorian emblems of youth, purity, beauty, and death.
—Carol J. Fresia is Threads' editor.
Photos: courtesy of the Metropolitan Museum of Art, New York.
From Threads #223