Pattern Review: Friday Pattern Company Avenir Jumpsuit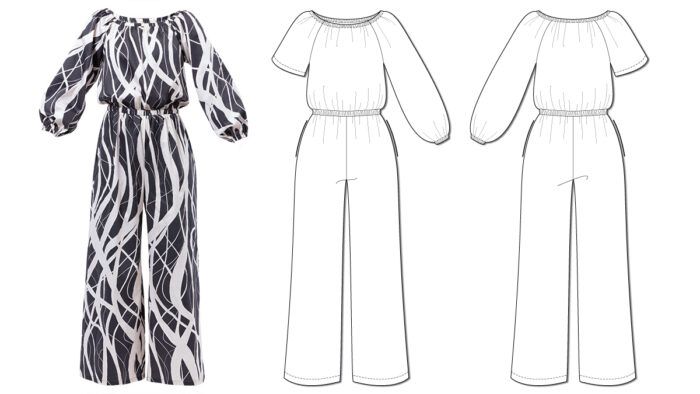 Carefree Jumpsuit
Skill Level:
A beginner-friendly garment, this design has almost exclusively straight seams and a roomy fit. It does not require closures, understitching, or interfacing. The instructions suggest labeling the front and back bodice and the left and right sleeve as the pieces are shaped similarly.
Size Range and Fitting:
The pattern is drafted for a 5-foot, 6-inch tall person with a B-cup bust. The design is sized XS to 7X for busts 32 inches to 60 inches, waists 24 inches to 53 inches, and hips 34 inches to 63 inches. There is significant ease, at least 5 inches, at the bust and hip.
Fabrics:
Look for drapey, soft, and flowing fabrics, such as rayon, georgette, or soft silks. Check the layout to see if you can save on yardage; our tester found the estimate ample for the size she made.
Style and Sewing Details:
Enjoy this flowy, wide-leg jumpsuit design with an elasticized neckline and waistband. The style has in-seam side pockets, and full raglan sleeves. Sleeve options are short and open, or long and gathered at the wrist. There is 1/2-inch-wide elastic at the neckline, waist, and the long-sleeves' hems. The neckline and waistline have separate elastic casings, while the long sleeves have cut-on casings.
The pattern sheets specify 3/8-inch-wide seam allowances, but the seam allowances are actually 5/8 inch wide, as stated on pp. 5, 14, and 15 of the instructions.
The illustrated instructions are detailed and easy to follow. They contain a chart of suggested elastic lengths for each size. You may need to adjust the measurements to fit your body. There is also a free sew-along video tutorial on YouTube.
The instructions say to leave openings in the casings' attachment seams to insert elastic. Our tester suggests an alternative: Leave a gap in the casings' short-end seams for inserting the elastic.
A style option could be to try a contrast fabric for the elastic casings and possibly add contrast hem bands, too.
This review was originally published in Threads #224, Winter 2023. Have you made this pattern? If so, be sure to share pictures in our Readers Closet gallery.
Photos: Jack Deutsch. Illustrations: Kelly Keenan.