How to Sew with Luscious Sweater Knits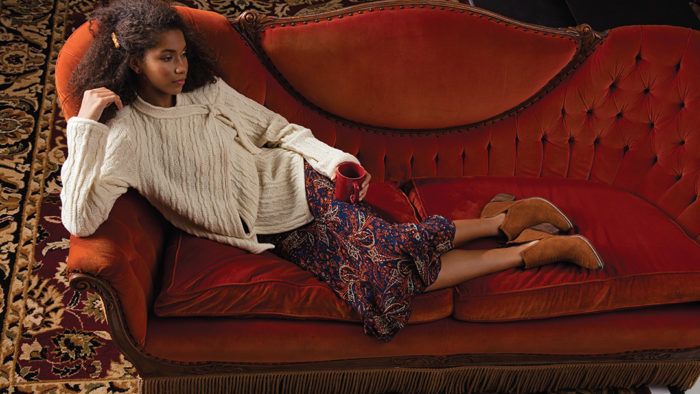 Sweater knits are known for their striking textures and easy wearability. Unlike most finer-gauge knits, the stitches in a sweater knit are often arranged into complex patterns of cables, ribs, multicolor jacquards, or textural tuck combinations that mimic classic hand knits. Sweater knits can range from delicate and lacy to bulky and full of body.
The very properties that draw us to sweater knits, however, can make them challenging to cut and sew. The relatively large stitches of a true sweater knit, once cut, tend to fray or run. The fabric's comfortable give can stretch out of shape through handling and sewing, leaving you with unattractive, rippled seams. Hems and edges are not typically pressed into sharp creases you are accustomed to in wovens and fine machine knits.
The good news is that there are reliable methods that can turn sweater sewing into a fun and rewarding project.
Select and prep the fabric
One of the most enjoyable steps when planning a cut-and-sew sweater project is choosing the fabric. Your fabric selection helps dictate your choice of sewing pattern. If this is your first time working with sweater knits, look for a fabric with a high percentage of wool or cotton. Natural fibers respond well to steam, which is essential throughout the construction process.
A flat rib or a double-knit jacquard knit is a good choice for a first project. Save the bulky, drapey, or very stretchy fabrics until you gain experience with the way sweater knits behave. Once you're more comfortable with sweater knits, simply choose a fabric you love. There's always a way to work with even the most unstable sweater knit. If you select a bulky knit, be sure four fabric layers can fit comfortably under your sewing machine's presser foot.
As with…
Start your 14-day FREE trial to access this story.
Start your FREE trial today and get instant access to this article plus access to all Threads Insider content.
Start Your Free Trial
Already an Insider? Log in