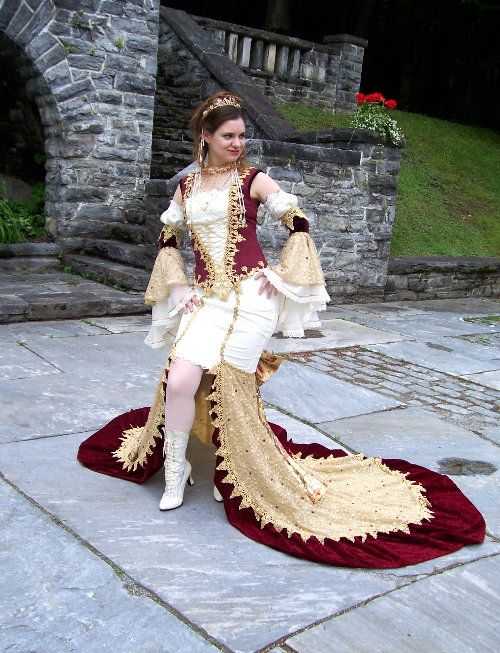 This absolutely stunning one-of-a-kind designer wedding gown was created by Katrina Marie for her Fairytale wedding in June 2006. Inspired by a little bit of Victorian, Renaissance, Baroque, Fantasy and Fairytale styles all mixed up into one gorgeous dress. This bridal ensemble included an array fabrics, trims and garment pieces all combined amazingly together to create this beautiful wedding gown. All together it used about 24 different fabrics, trims, laces and decorative accents.
Fabrics included: Ruby floral brocade, Garnet Stretch Velvet, Ivory Stretch Velvet, Ivory Triple Velvet, Red Embossed Velvet, Gold Embroidered Lace, Ivory Floral Lace, Ivory Mirror Organza. Trims included: Gold Embroidered Lace, Gold Metallic Guimp, Gold Metallic Looping, Gold Metallic Edging, Gold Metallic Cording, Ivory Embroidered Lace, Ivory Floral Lace, Ivory Lace Edging.
The BODICE…The bodice was ruby or garnet red brocade with a leaf pattern adorned with gold embroidered trim that was carefully cut fit down the front, around the neckline and waist/hipline. It also had a decorative embroidered lace leaf placed around each grommet up the back. The front had a ivory insert of lace and rushed velvet with gold lacing, lace trim and a center rosette.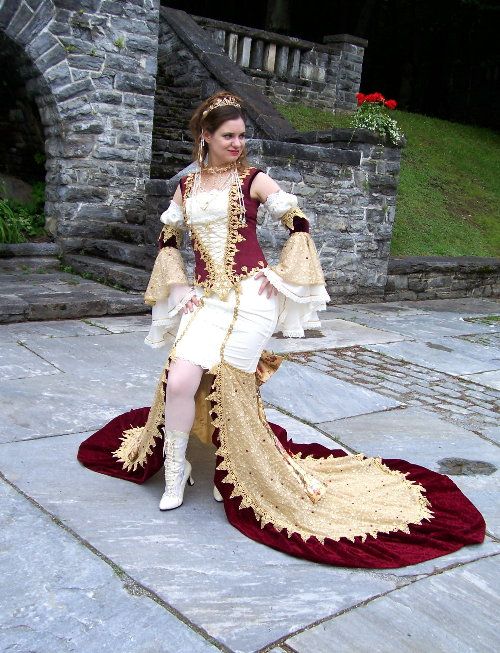 Katrina Marie Fantasy Wedding Gown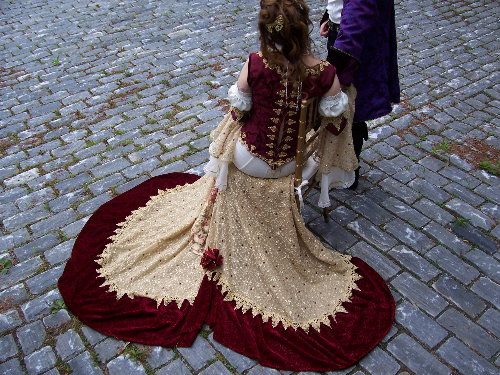 Heart Shaped Beaded Sweep Train