mother of the groom dress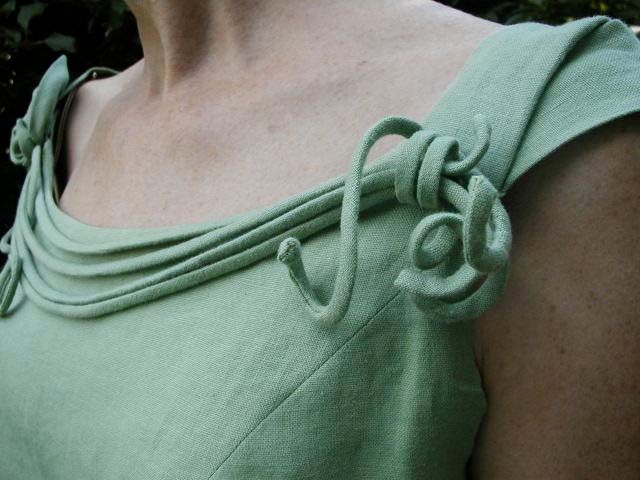 A year ago I offered to make a dress for a very dear friend whose son was getting married. I love both of them and knew that making a dress for my friend would be like giving a gift to her wonderful son as well. This dress, however, is the one I made for myself at the same time. It is the same design as the one I made for my friend. This was my practice dress and I decided to play with embellishment at the very end and was pleased with the results.
I won't go into all my design considerations, they exist and they make sense but it's hard to be concise. For this purpose I will just mention some of them.
The "ballet" neck was intended to visually widen the shoulder area. There are little folded bands which are folded so that they wrap around each shoulder. The flounce was added because I think most women enjoy wearing swishy dresses, they are comfortable and very feminine. I chose to make a longish circular flounce that is sewn on an angled seam. I thought that the angle would be more slimming than a horizontal seam.
It is lined with white lightweight silky lining and there is an invisible zipper in the side.
As for the embellishment. For years I had been intrigued by the bias tubing embellishment I've seen in some of my vintage sewing books. I made my bias tubing and played with several ideas but in the end I was more inspired by the way the vines and foliage look in my backyard and made a stylized version of that.
The bias tubing is made with one inch wide bias strips, sewn by machine and then sewn again along the raw edge with a serger. I find that the serged edge gives it a body and a little bit of weight without the stiffness of most cording.
I sketched out a rough version of what I intended to do, played with shapes until I got something acceptable and sewed them in place by hand.
As for the actual mother of the groom dress, that dress was finished also, in a slightly different color. I still think of this dress as "the mother of the groom dress" because that was my motivation. Of course I'm glad to have a dress to show for it myself … but the experience of designing it for my friend is what provides me with the happy memories.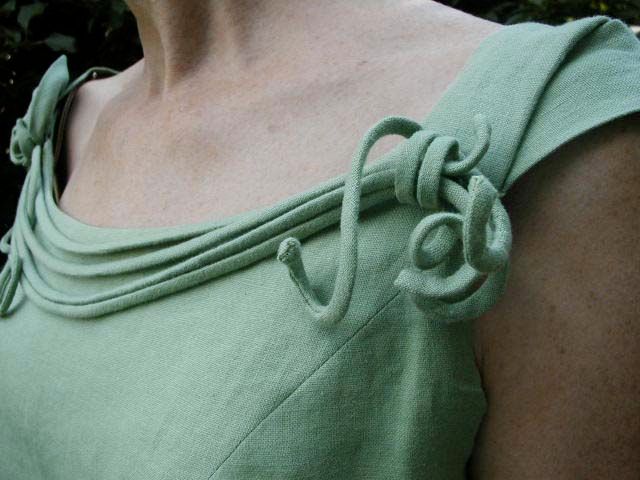 Closeup of neckline embellishment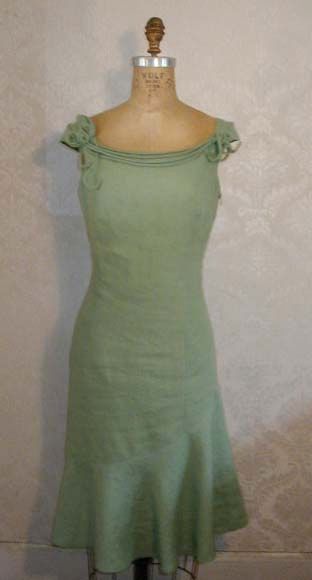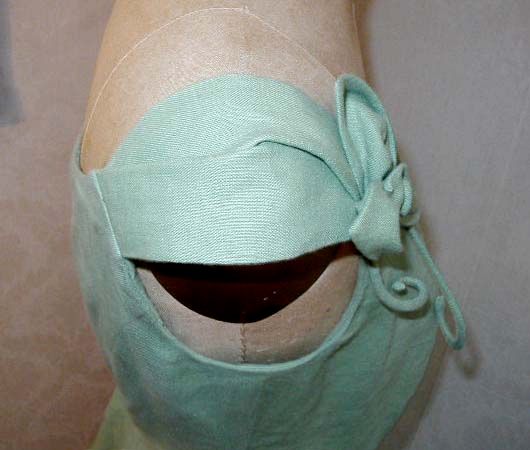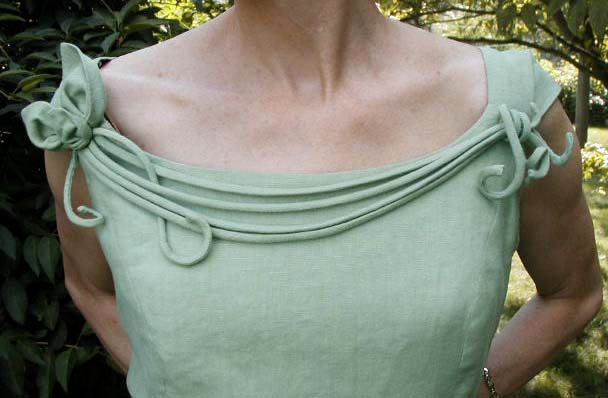 embellishment straight on