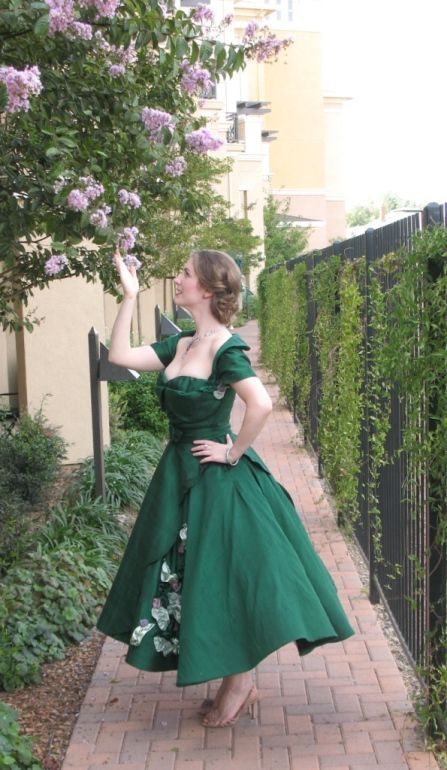 This gown is the culmination of my sewing skills to date. It took many, many hours of construction, not to mention the years of inspiration and redesign. And I am thrilled with the result.
It all started with a fabulous Ceil Chapman reproduction pattern. Soon after, I happened upon the emerald green dupioni and the idea for my dress started to take shape. Two years later, I had an event requiring formal attire to attend, so with a month to prepare, I started on my adventure.
I added a steel boned corselette as a foundation, underlined the entire thing by hand with silk organza I dyed to match, and finished all raw edges with rayon seam binding.
As is always the case, no matter how much time I give myself, there are always finishing touches that end up getting done mere hours before I have to zip and fasten up the dress!
Because I did not have a suitable purse, I pulled out Simplicity 4159 from my stash. My embellishment of the purse helped me decide on the final embellishments of the dress. They are a combination of ribbon and silk dupioni leaves and flowers topped with beads.
And, of course, I needed a hair ornament of some kind to finish the look. I had originally expected to make more of a cocktail hat, but was running out of time, so a small fascinator with a bit of Russian netting that I had on hand was what I came up with. Looking at the finished dress, I believe that the small fascinator worked better in the end – a hat might have been a little too much!
My entire journey, from fabric dye to corselette, to the finishing touches on my purse and hair ornament may be found over on my blog, Lilacs & Lace, along with more pictures of the process and finished result.