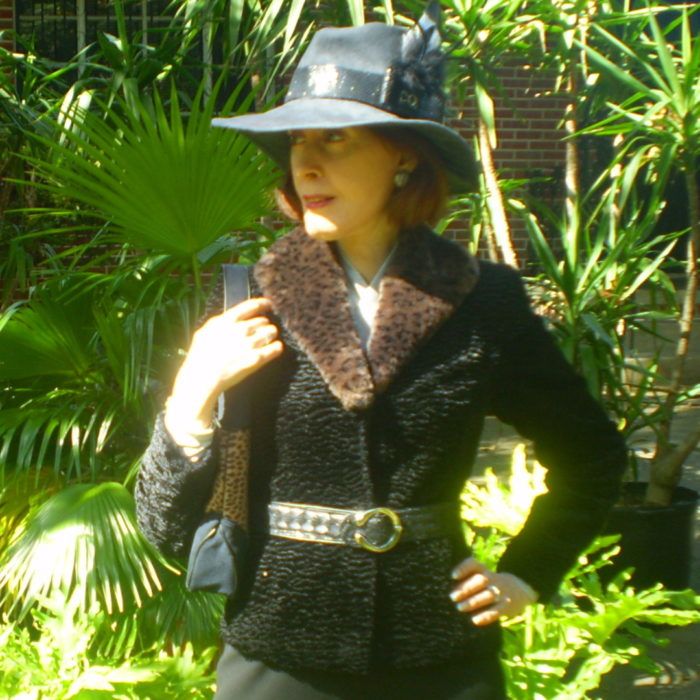 Who says you need to break the bank to look chic and sophisticated during the holidays? My head to toe outfit was inspired by the latest runway looks from Italy's top designers (Armani, Gucci, Bottega Veneta, and Piazza Sempione) and would probably cost over $10,000 at the finest boutiques. But my set of seven pieces, which features faux fur and snakeskin, feathers and fine silk, cost $100 dollars to sew — or just one percent of the designer originals. And since most of the pieces will be recycled into my regular wardrobe when the holidays end, my custom designed ensemble is as practical as it is luxurious.
JACKET: My faux fur jacket (estimated cost $25) is based on an Armani fur jacket (price unknown but at least $5,000) from the designer's Fall 2011 ad campaign. My jacket is made of a convincing but bargain priced, black Persian lamb and a small sliver of a stunning,$80 a yard faux leopard fur. The under collar, which is completely hidden by the leopard fur overlay, is made of a remnant of black wool sateen. The jacket is fully lined with bemberg rayon and features armhole princess seams in front and back; side and center back seams; wing collar; set-in, full length sleeves, handmade shoulder pads and chest shields, hidden magnetic closures (I covered high energy magnets from Walmart), and a hem weighted down with drapery weights. I drafted the pattern for the jacket and shoulder pads and borrowed the wing collar from Vogue 7976. My first version of the jacket looked boxy and unflattering, so I took the jacket apart and improved the fit by by taking in almost every seam by a substantial amount. Although the faux fur jacket is dressy enough for almost any party, it could look casual with a black turtleneck and a pair of jeans.
TOP: My shimmering silver lurex top (estimated cost $20) is based on an ingenious Armani design from Fall 2011, his Twist Neck Sweater which now sells for $655. My top is squeezed out of just one yard of a fine gauge, rayon/lycra/metallic knit. I drafted the pattern for the top myself, and half a dozen muslins later, I finally got it right. The top actually has a modified shawl collar (with a twist) and a front overlay that ends just above the bust. The lightweight, lurex knit fabric also presented challenges. I was able to coverstitch the hems but could not topstitch the overlay as I had intended. Fortunately, Steam-A-Seam came to the rescue and saved the day. The top, like the jacket, can also be dressed down with a pair of jeans.
PANTS: My tuxedo style pants (estimated cost $20) are based on Piazza Sempione's Marilyn Stretch Wool pants, now selling for $410. My version features a flat front with a Hollywood" style invisible, elasticized waist; faux felled outer side seams (covered by the satin trim), a back invisible zipper and a 15.5" hem circumference. The pants are made of a high quality, medium weight rayon/poly/lycra black crepe fabric, and the 1" satin strips are made of a small remnant of shiny black acetate. I made the strips using my one inch Clover Binding Tape Maker and machine stitched the strips to the pants. Once the holiday season is over, I will remove the satin strips, press in traditional trouser creases, and wear the pants as part of my regular, daily wardrobe.
HANDBAG: My hobo handbag is based on Gucci's newly introduced Jackie handbag from Fall/Winter2011 which sells for anywhere between $1,890 and $19,500 (yikes!), depending on the material. My version, (estimated cost $12) is somewhat smaller than Gucci's and uses inexpensive remnants of genuine Ultrasuede in a leopard print (actually called "Cheetah") from their Ambiance Jungle Collection, as well as black vintage Toray Ultrasuede Facile for the overlay, straps and handles. The bag is piped in black genuine Ultraleather. The bag is lined in a remnant of black genuine Ultratech and includes a zippered pocket fastened with a Riri zipper scored on ebay. The distinctive swivel clasp closure is from the Fashionista Fabrics website, and the buckle is from Wright's. In September, I began drafting the pattern for this bag. It took three weeks and a dozen muslins before I was satisfied with my design, but the actual sewing of this particular bag was completed in just two days. I have to say that designing and sewing this bag was truly a labor of love and I plan to use the bag regularly.
HAT: My fedora style hat is based on the $495 Trilby hat from Gucci's Fall/Winter 2011 collection. Gucci's hat is hand blocked, made of wool felt, and trimmed with rare and exotic feathers. My version (estimated cost $10) is sewn with a remnant of charcoal gray genuine Sensuede (an Ultrasuede clone) and trimmed with Wright's 1.5" black, faux snakeskin trim, an ordinary silver colored metal closure from La Petite (to simulate a logo), and four commonly available types of feathers: duck, goose, turkey and marabou. Making this hat was an adventure; this hat is only my second, and the first one I made had no brim. I used a modified version of Vogue 0659 (also known as Vogue 7981) for the top and crown and drafted the brim from scratch, The first three brims were a disaster, but I finally I got the idea of using an adjustable sun visor to test arc shapes and wedges, and fortunately that did the trick. The most interesting part of making the hat was arranging the feathers into a pleasing and balanced display. I've never been a hat-wearer before, but this hat might turn me into one.
BELT: My belt is based on the classic intrecciato woven leather handbags and accessories made by Bottega Veneta. The company no longer makes woven belts for women, but even their smallest woven leather handbags sell for $1,000. My version (estimated cost $10) uses strips of Wright's black faux snakeskin and black pleather and includes a distinctive, shiny silver buckle from the Fashionista Fabrics website. I designed the pattern for the 1.5" contour belt using the curves on my Styling Design Ruler. I cut and painstakingly pin-wove half-inch, faux snakeskin and pleather strips using a June Tailor Cushioned Quilter's Square and Blocker as a pinboard. Then I set the resulting squares on the diagonal , fused the woven squares to a length of interfacing, and cut the pin woven fabric according to my pattern. The edges of the belt are piped with black pleather, and the lining is also made of black pleather. The pin weaving alone took half a day. But I hope to wear the belt with many outfits, so it was time well spent.
CUMMERBUND: My pleated, silk cummerbund is the feminine version of a man's classic cummerbund similar to the ones Gucci sells for $545. My version which cost just $3 to make uses a small remnant of "scribble print" silk charmeuse from Vera Wang's discontinued clothing line. This spur of the moment project was a quickie, and took less than two hours to complete from start to finish. I didn't use a pattern or a preset plan. I simply cut the fabric on the fly, fused it to lightweight interfacing to give the silk stability and pressed in the pleats using a steam iron and a Dritz Ezy-Hem metal ruler. Then I lined the back side of the cummerbund and attached the fasteners.