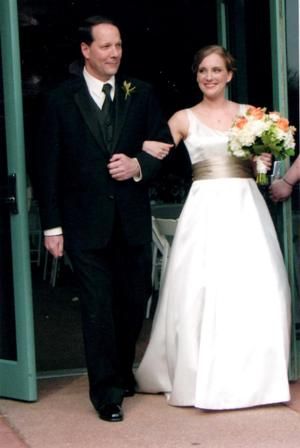 When my daughter Jessica asked me to make her wedding dress, I immediately agreed! She saw a photo in a magazine of a dress she adored, and so it began. Like most of my sewing projects, it started simple (in my mind of course) and grew to include her dress and five bridesmaids dresses!
When I realized my husband would be traveling to China, I had another idea! I would figure out the yardage and type of silk for the dresses and make a color board for him to take to the Bejing silk market. My wildlife biologist husband reluctantly agreed. After a short tutorial on the types of silk, and armed with a page of swatches, he was off and running. He enlisted the help of two friends (one spoke fluent Chinese and knew how to barter) and purchased the perfect ivory silk satin, coral shantung, and gold and peach toned silk satin for the contrasting sashes.
The bride's dress was made using Vogue 2788. I made a new pattern for the bodice, and shortened the train. I hand-sewed silk organza underlining to each pattern piece and lined it with china silk, purchased at my favorite fabric store. The sash was fed through hand crocheted loops.
Four of five bridesmaids lived out of state. They liked the stlye of New Look 6827, so I asked for measurements, made muslin "practice" dresses, mailed 'em out and asked how they fit. To my surprise, they fit well with a only a few tweaks to the pattern. The coral shantung was underlined with cotton batiste, and accessorized with a light peach silk satin sash. Of course, there were last minute adjustments as wedding guests arrived.
My reliable Bernina 1530 was well up to the job! All the quests enjoyed the party and the bride and groom lived happily ever after!