PoldaPop's Midwest Evening Wear – Ultimate Sewing Challenge!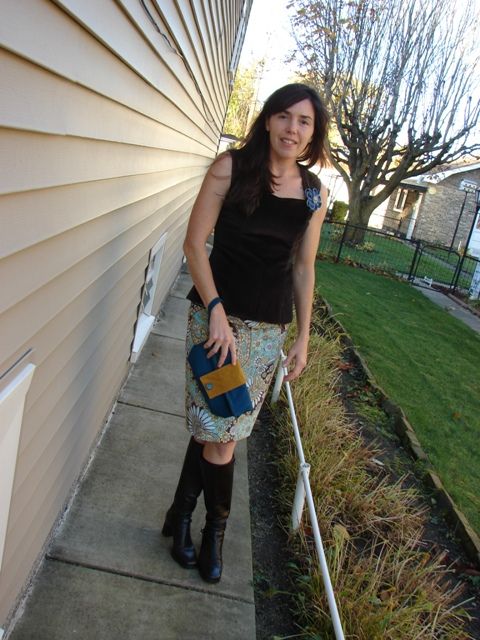 I decided to make something that would be warm enough for fall/winter evening wear in the Midwest since I am no longer 18 and willing to walk around in something flimsy! The fabric for these pieces is thick and cozy, and everything is lined for a bit of extra warmth. I have an aversion to outfits being too "matchy" so I took the blue, brown, yellow, and green from the skirt and played with it a bit with the accessories. I think I ended up in the right space between matching and clashing!
I designed the skirt with guidance from Cal Patch's book, Design-it-Yourself Clothes. The skirt is a yoked pencil skirt with piping between the yoke and the skirt. I got the idea for the piping from a beautiful dress I saw in the Etsy shop digforvictory. I learned how to do the vented slit in a technique tutorial from member sunnilj9 on Burdastyle. I purchased the thick stretch corduroy fabric on Etsy from seller DelishFabrics.
I used an Amy Butler pattern for the top. She recommends quilting cotton and I used a dark brown velveteen (from fabric.com), so I had to get a bit creative in places to account for the extra weight. I used scraps from the skirt to make the buttons. I used the quick lining technique I found in Threads Issue #60.
I saw a zipper flower pin somewhere and decided to try my own with a metal zipper I found in a local thrift store for 25cents. I backed the pin with a scrap of felt between two scraps of brown ultrasuede, also purchased from the same great thrift store. I put one last fabric button from the skirt scraps in the middle of the pin.
The foldover clutch is an Ali Foster design. The fabric is from my thrift store (love this place! The Economy Shop of Oak Park, IL). The fabric is dark teal cotton with a contrasting strip of mustard yellow corduroy. I added a zipper to the top as I am always spilling things from my handbag.
I had a lot of fun putting all of this together! I've been sewing for about 18 months after I inherited my husband's grandmother's sewing machine (a Pfaff circa 1970). As many of you have experienced, sewing has quickly become an obsession! Thank you, Threads, for putting on this challenge. I'd love to get a new sewing machine!