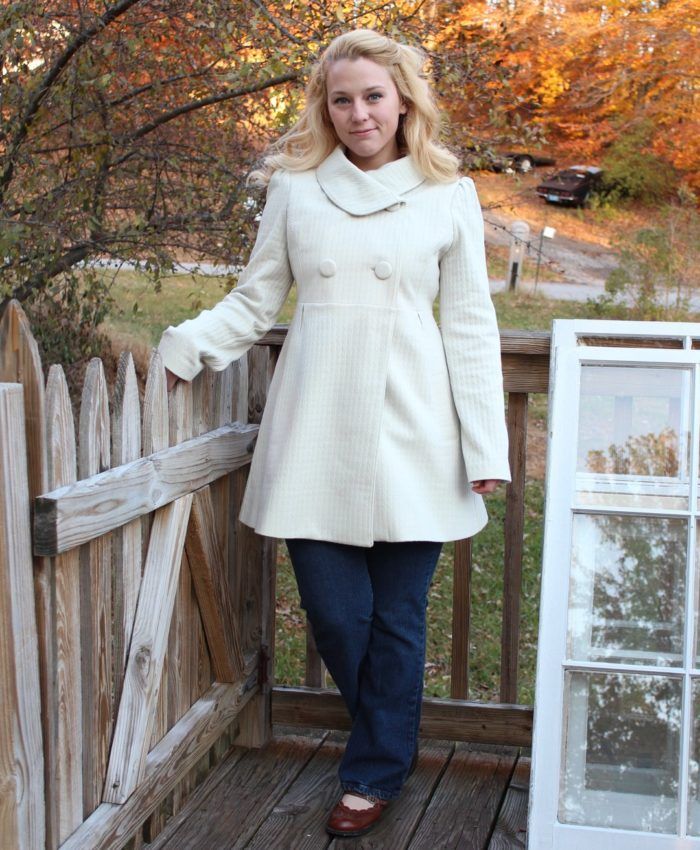 This coat is made from a heavily interfaced, vintage double knit that I found in the thrift store a few years ago. I made it using a self-drafted pattern. I started naming my self-drafted patterns for fun and to keep track of them This one is called the Louisa Coat. 🙂
It is fully lined, and features a large collar, puff sleeves, welt pockets, topstitching and fabric covered buttons. It's complete with my own tag and a hanging loop inside. If I'd had more fabric, I would've added a detail in the back like a little buttoned belt. Oh well, I'll add that to my next version.
The coat design is based on a well-worn and well-loved coat that I've had for several years. Rather than make a complete copy of the coat, I changed some things. The size of the coat is a tad larger (the store-bought one was an extra-small), the collar is much larger, the placement of the welt pockets is different, the pocket openings are wider (the store-bought coat had such small openings that I could barely fit my hands in them), some of the seams are topstitched, and the sleeves and armholes have more wiggle room for additional layers.
Technically, this is a muslin, but I hope you'll agree this is a very wearable muslin. I love it! I plan to make a few changes to the pattern and make a few more coats. The biggest thing I'll change is the size of the sleeves. I overcompensated a bit in adding room to the sleeves, so I'll shape the sleeves a bit more for my next coat. I'll also add a little detail in the back, like a bow or little buttoned tab.
If you are interested in more photos and details about the project, please see this post and this post. Thanks for looking! 🙂