Quick Reference for Cut-and-Spread Pattern Grading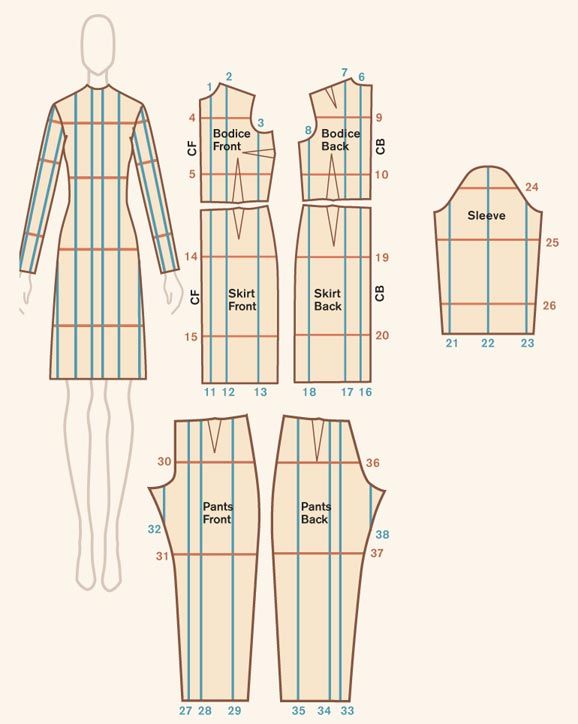 To grade a pattern so it will fit different sizes, refer to the illustrations and instructions below and the two charts that follow. For a general explanation of pattern grading, see the article Making Sense of Pattern Grading.
Making the cut
There are five basic pattern pieces: bodice front, bodice back, skirt or pants front, skirt or pants back, and sleeve. Each pattern piece has several vertical and horizontal cut lines, which correspond to measurements on the pattern grading chart at the bottom of this post.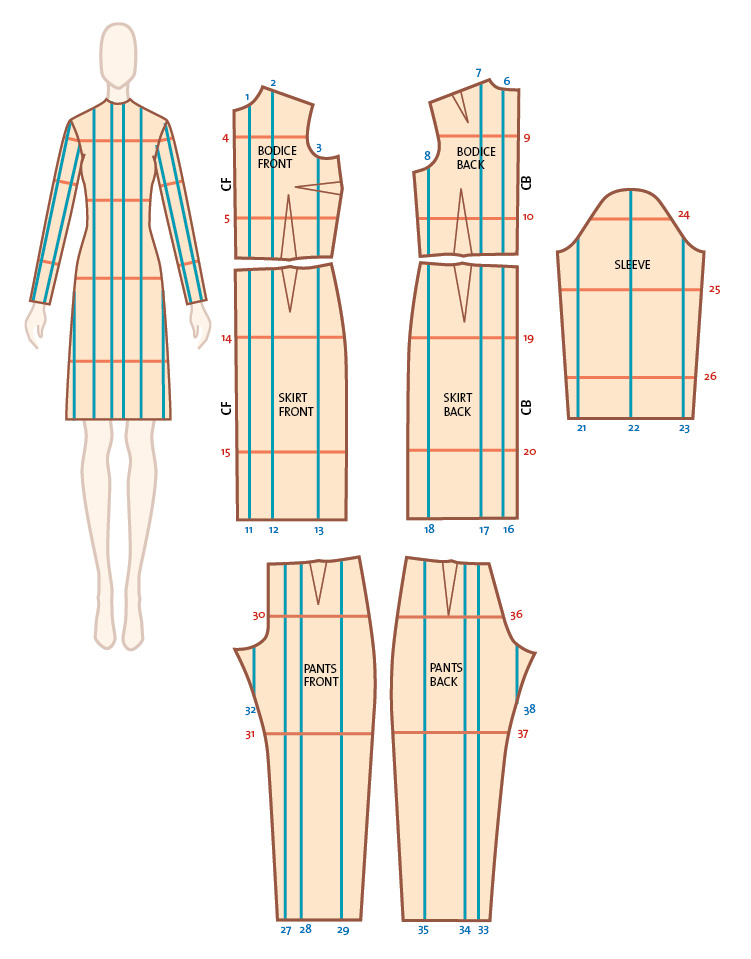 These illustrations show where to cut a pattern so that it can be graded for both circumference (vertical cuts) and length (horizontal cuts). A few simple calculations determine how much to spread/overlap at each cut line.
These standard cut lines are placed in approximate locations where the body "grows" or "shrinks." Vertical cut lines are always parallel to CF or CB (or sleeve's grainline), and horizontal cut lines are perpendicular to CF or CB (or sleeve's grainline). A cut line may pass across a dart but shouldn't intersect a dart lengthwise (this changes size of dart, thereby altering garment's overall shape).
Making the grade
1. Establish overall grade (difference between pattern's measurements and body measurements).
2. Divide overall grade by 4 to get allocated grade. This distributes overall grade among four parts of body or pattern (left and right front, and left and right back).
3. Divide allocated grade among the cut lines on the pattern piece (see illustrations above) by following cut line's formula in pattern grading chart on the bottom of this post. Calculate it yourself, or use the calculated amounts for commonly used grades.
4. Slash along cut lines and spread or overlap by the required amount along each cut line.
5. Blend gaps if the pattern was spread; split the difference if overlapped. Trace the graded piece onto clean paper, and transfer the grainline and notches.
Example:
Overall grade: 8 inches
Allocated grade: one-quarter of 8 inches = 2 inches
Formula for line 1 (one-quarter of allocated grade): one-quarter of 2 inches = 1/2-inch spread
Garment size chart
This chart represents a consensus of pattern company and apparel manufacturer sizing. If you aren't fitting a specific person, you can use it as a guide for grading up or down.
Size 4
Bust 32
Waist 24
Hip 34
Size 6
Bust 33
Waist 25
Hip 35
Size 8
Bust 34
Waist 26
Hip 36
Size 10
Bust 35-1/2
Waist 27-1/2
Hip 37-1/2
Size 12
Bust 37
Waist 29
Hip 39
Size 14
Bust 38-1/2
Waist 30-1/2
Hip 40-1/2
Size 16
Bust 40-1/2
Waist 32-1/2
Hip 42-1/2
Size 18
Bust 42-1/2
Waist 34-1/2
Hip 44-1/2
Size 20
Bust 44-1/2
Waist 36-1/2
Hip 46-1/2
Pattern grading chart
On this chart you'll find the location of each cut line shown in the illustrations above, along with the amount to spread/overlap at each for a 1-inch, 1-1/2-inch, or 2-inch overall grade. In the formula column you'll see the portion of the allocated grade (AG) distributed to each cut line.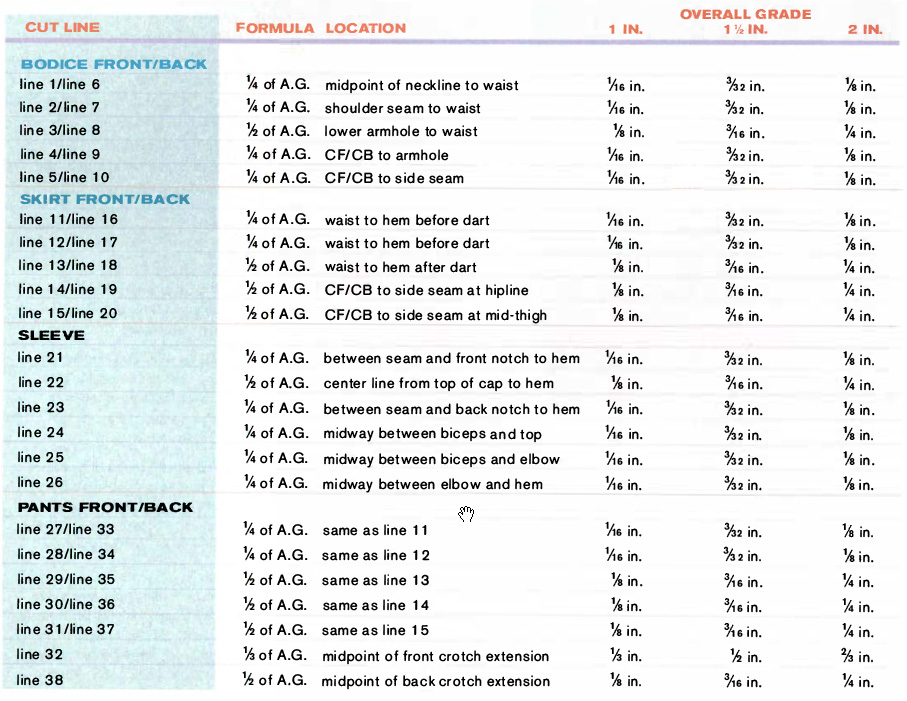 Written by Terry Horlamus and excerpted from Threads #101, pp. 66-70
Illustrations: Linda Boston