Create Painted Lace Trim
Apply dye with a bruch for multicolored effects.

Painted lace trim, with its multicolored effects, can make lace appear sophisticated, fun, or even wild. Dyeing lace trim with a paintbrush opens a kaleidoscope of possibilities for color depth, precise application, and artistic blended effects. These options are difficult to achieve by simply dip-dyeing. Painting lace is an easy way to create a beautiful, unique detail for garments and accessories.
You can paint lace of nearly any fiber using the proper dyes, but lace made from rayon, especially Venise lace, takes color much better than any other. Rayon Venise lace trims have a wonderfully fluid hand and come in many designs and widths. Their heavier, satin-stitched motifs also provide substantial surfaces for you to paint with colors.
I use a kit of seven color dyes specially formulated for lace, and the colors can be mixed to expand the basic palette. Dye bonds to the fibers without changing the lace's hand or feel, unlike most paints. Other good fabric dye options include Rit and Jacquard's I-Dye and I-Dye Poly.
Use beautiful dyed lace trim to embellish anything you wish—garments, purses, frames, shoes, pillows, curtains, or even a pair of sweet anklets. You can also cut the dyed lace apart to use as appliqué or to create unique jewelry.
Painted lace trim shopping list
• Permanent Lace Dye Kit (SewingArt.com), Rit Dye,  or Jacquard I-Dye or I-Dye Poly (DharmaTrading.com)
• Rayon Venise lace trim in any width (TouchOfLace.com, SewingArt.com, LaceHeaven.com)
• Bottle dropper caps or eyedropper (the tip of a toothpick or spoon also works)
• Fine-mist spray bottle
• Old towels or paper towels
• Small dish, divided plastic plate, or other sectioned container
• Sumi-e or other paintbrush (FabricAndArt.com)
• Waterproof dropcloth or large plastic bag
If you love this painted lace trim project, become a Threads Insider and get access to other projects like this and much more.
Go ahead: Pick up a brush
You can get different effects by using more or less water in the dye mix or on the lace. Using more water in the dye mix and on the lace encourages paler colors and a watercolor effect, and reducing the water in the dye mix and on the lace gives stronger, more saturated colors with less blending. Practice painting on a couple of lace end pieces.
1. Set up the workspace. Lay a plastic bag or dropcloth on a flat surface. Fill a fine-mist spray bottle with water, and keep it near the workspace for quick touch-ups and to keep unpainted lace damp as you work. If you are using the Permanent Lace Dye Kit, replace each bottle's cap with a sealed dropper cap, then shake the bottles well. Position the divided dish on the dropcloth, along with the paintbrush and towels for blotting.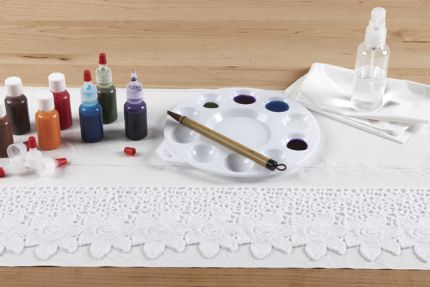 2. Squeeze one to two drops of each dye color onto a divided plastic plate or other sectioned container, and add 10 drops of water. The dyes are concentrated, so a little goes a long way. For stronger, darker color results using either wet or dry application, increase the ratio of dye to water.
3. Soak the lace in a sink or basin of water. Remove excess water by rolling the lace in a towel, until the lace is just damp. If the lace is lightweight or loosely patterned, spritz it with water from the spray bottle a little at a time as you paint. For the most distinct color separations and saturation, keep the lace completely dry.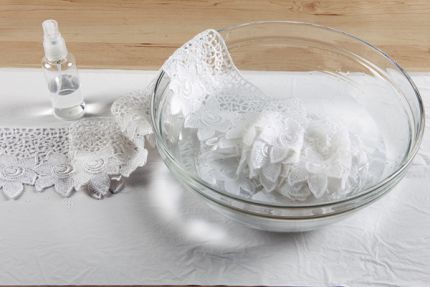 4. Load the paintbrush with dye, and paint on the lace. Venise lace absorbs dye quickly, so paint with a light touch and build up to the desired color depth. Use just the tip of the brush for precise application; to cover larger areas more quickly, use the entire brush head.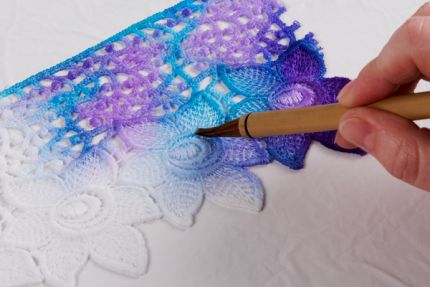 In a wet application, the dyes bleed together through the lace fibers.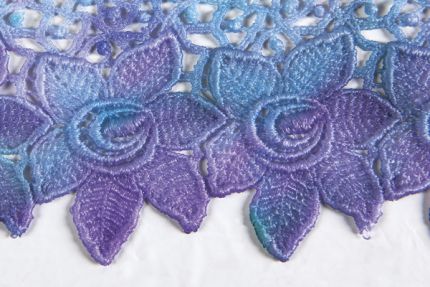 Encourage this watercolor effect by keeping the lace damp as you apply dye and using the brush to blend the dyes further. In a dry application, each color is separated from the next. The drier the lace and more concentrated the dye mix, the more distinct the color separations.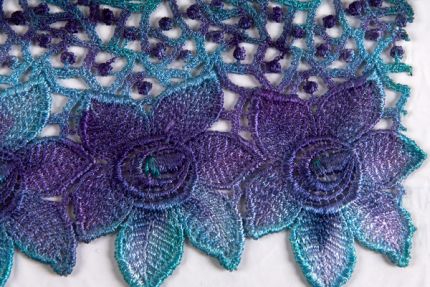 5. If the lace becomes oversaturated, blot away the excess. During a wet application, use a paper towel to remove excess dye. If you aren't satisfied with your results, you can completely remove the dye from the lace. Note that dyes are darker when wet.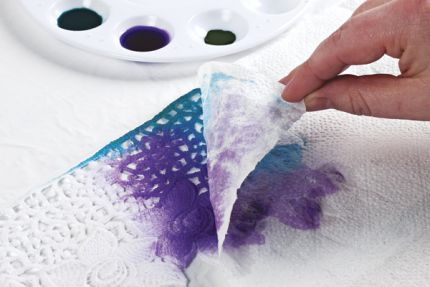 6. Overdyeing will darken colors that dry too light. Allow the dyed lace to dry completely, then paint additional layers of dye on any area where you wish to intensify the color or accent details of the lace's design.  Don't wet the lace again.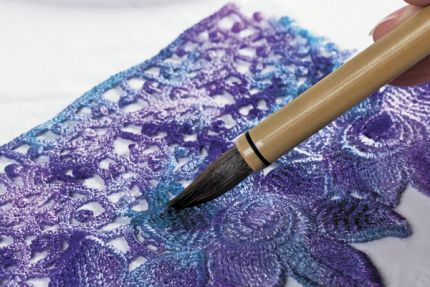 7. Dry the lace. Letting the lace dry naturally allows it to acquire a mottled appearance. Using a hair dryer to speed up the drying process reduces the migration of dye colors as the liquid evaporates, limiting the mottling effect.
8. Once the lace is dry, set the color. Iron it from the wrong side for about 2 minutes, using your iron's wool setting. Heat-setting the color this way also softens the lace.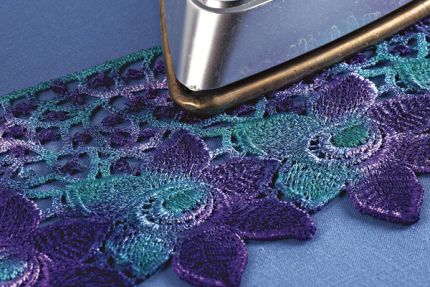 Tips for better lace painting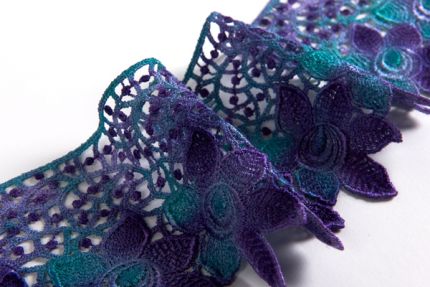 •  If you are using an expensive lace trim, buy a small amount of less costly lace trim in the same fiber to practice on. Test the dye-to-water ratio on a scrap first.
•  Some textile paints, such as Jacquard's Dye-Na-Flow, can work nicely as a dye when mixed with water.
•  To achieve pastel shades, start with 20 drops of water. Then add a drop of color at a time, testing after each addition.
•  There's no need to wash the brush when you switch colors in a wet application. But the brush should be cleaned between colors for a dry application, or use a different brush for each color.
•  While painting, the lace may appear darker than you wish. Allow it to dry most of the way to see the true color. The color will lighten as it dries.
•  To completely remove dye from painted lace trim: Fill a sink or basin with water, and add two to three tablespoons of bleach. Immerse the lace, and agitate it in the solution-most, if not all, of the color will be removed. Rinse thoroughly, then wash the lace with a gentle detergent, such as hand dishwashing liquid. Let it dry before repainting.
•  Dyed lace can be machine-washed in warm or cool water; place the lace-embellished garment in a mesh bag. It can also be machine-dried on medium heat or permanent press. Wash the lace-embellished garment alone to prevent abrasion and damage from contact with other garments and closures.
This painted lace trim article by Cindy Losekamp first appeared in SewStylish Spring Fashion 2012. Photos by Sloan Howard.
Get the latest including tips, techniques and special offers straight to your inbox.