Combining Fabric Weaves and Weights
Create a stir with garments that combine textures, prints, fibers, and weaves.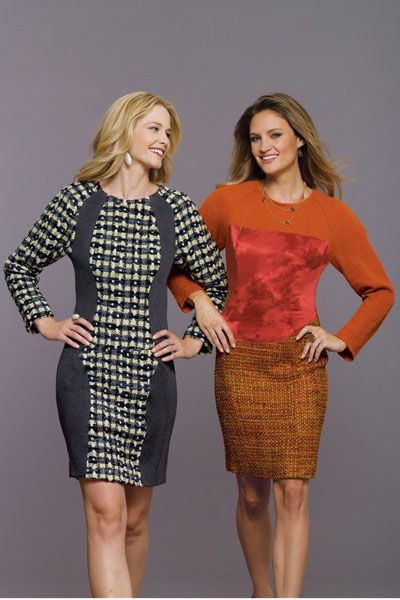 In Threads #164 (December 2012/January 2013) contributing editor Mary Ray creates a stir with garments that combine textures, prints, fibers, and weaves. Learn how to balance weaves and weights in article.
Combining two or more fabrics in the same garment has always been one of my sewing pleasures. I love the way one fabric can enhance another and turn a simple style into a complex creation. Combining fabrics is also a little trick I often use when I just don't have enough of one fabric to complete a project.
Creating an artistic grouping, however, takes planning to get the best result. I'll show you how to choose fabrics that work together visually and structurally and how to determine the best placement for multiple fabrics in the same garment. I'll give you some tips on how to balance different fabric weights and ways to sew disparate fabrics together.
You'll achieve unique results (no one else will make the garment in quite the same way), plus the ability to add or emphasize details or areas with your fabric choices.
How to Balance Weaves & Weights
Joining fabrics of different weaves and weights is another opportunity for adding detail and interest to a garment. Loosely woven fabrics, lace, and novelty knits can complement tightly woven taffeta, velvet, menswear wools, and even denim. Treat them similarly to fabrics of varying textures. Use a knit and a woven together, a woven and leather, a knit and leather, chiffon and wool tweed, taffeta and denim. All of these combinations can offer wonderful creative results.
Give special consideration to how you stitch and finish the seams-each fabric type may require a different technique. You can compromise and use the best option throughout the garment or finish each seam differently. Other sewing considerations may involve reducing the fullness in a seam so it can be eased without difficulty; stabilizing a seam allowance on a stretchy fabric; overlapping edges instead of sewing right sides together; finishing edges differently on each fabric and making the transitions work.
Topstitching the jersey seam allowances flattened and stabilized the woven silk.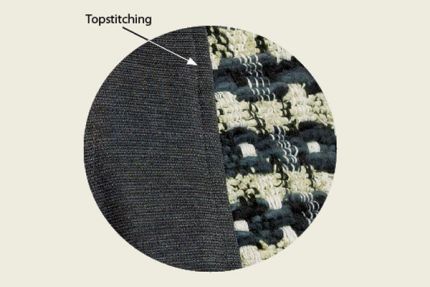 Finish Seams
Use seam finishes appropriate to each fabric. That may mean two different seam finishes on the same seam. Here is an example with a orange georgette and a multicolored loose weave. The fabric is too lightweight for binding, so I used a clean-edge finish. The loose weave is too irregular to turn under, and it frays easily, so I used a Hong Kong finish.
Sew the georgette seam allowance with a clean-edge finish (left). Bind the loose-weave seam allowance with a Hong Kong finish (right).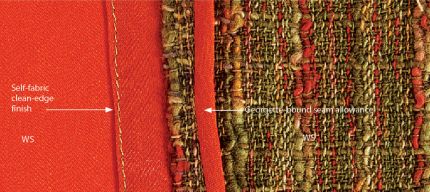 Balance Weights
Apply interfacing and/or underlining to balance fabric weights. On the left, the striped twill-weave linen-blend fabric overwhelms an uninterfaced cotton crepe. Tricot fusible interfacing adds body to the crepe, as shown in the example on the right.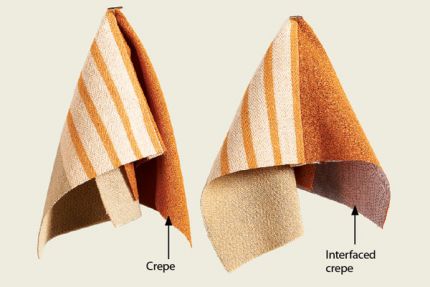 Control Seam Allowances
Consider topstitching or edgestitching, for added detail, and to hold the seam allowances in place, especially when combining fabrics of varying densities. Stitching the seam allowances in place adds detail and keeps them out of the way.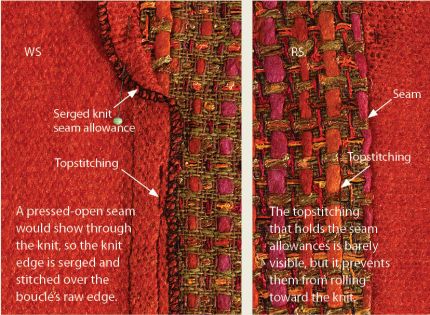 Match Ease Treatments to Fabrics
Fabrics of varying weaves may require special treatment to achieve smooth curved seams, as in set-in sleeves or princess seams. Here's a case in point for a princess seam. The side front is cut from a stable vinyl-coated canvas. It won't fit a front piece without easing, and the treatment depends on the fabrics.
If you select a fabric that is not so tightly woven, the front edge can be stretched slightly before stitching to match the longer edge on the side front piece.
To ease a tightly woven microfiber front to the side front, I trimmed the side front at the curve and between the notches before stitching. This reduces the ease, to fit the pieces together smoothly. As long as the trimmed amount is no more than 1⁄4 inch, it should not influence fit much.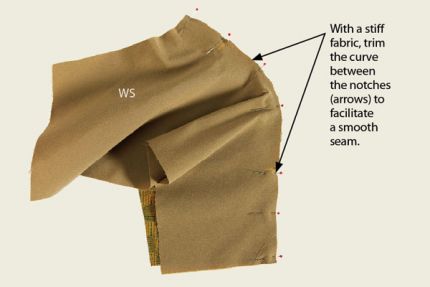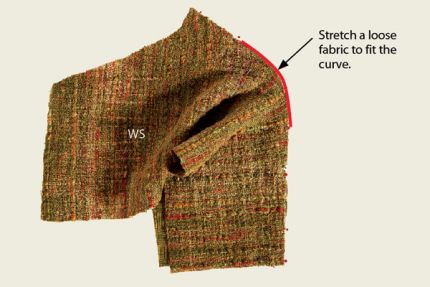 Interface Seams
Fuse a strip of interfacing to the fabric, before stitching, to stabilize the seam. This is especially important when a knit meets a woven. I also use it to stabilize a lightweight fabric sewn to a heavier material.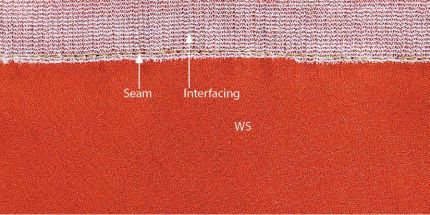 From"Material Mix" by Mary Ray, issue 164 of Threads magazine.