A Sewing Exhibition on the Fly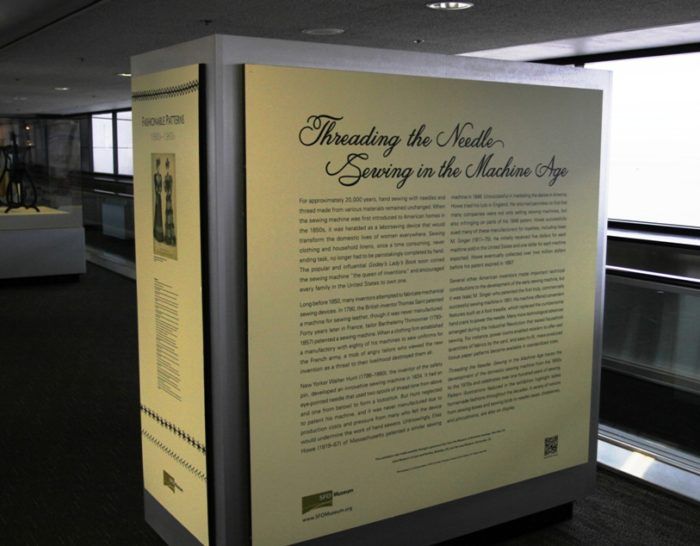 If you're flying into or out of San Francisco International Airport by August of this year, visit the airport's Terminal 3 North Connect Gallery, part of the SFO Museum, for a unique exhibition that's currently on display. "Threading the Needle: Sewing in the Machine Age" focuses on the history of domestic sewing and the home sewing machine from the 1850s to
the 1970s, tracing more than 100 years of innovations in home sewing tools. The exhibition features everything from antique machines, sewing boxes, garments, and notions to sewing machine advertisements, documentary photography, and 10 decades' worth of pattern illustrations-each accompanied by explanatory text.
It's an interesting exhibition, especially if you love antique sewing machines, and it lines the walkway of the airport's Terminal 3, making it easy to view as you progress toward your connecting flight or baggage claim. Even if you aren't flying into San Francisco, you can view exhibit details and selected objects on the airport's museum website, as well as see photos of the actual exhibit space within this post.
Do you like visiting exhibits on the history of sewing? Have you seen this exhibit?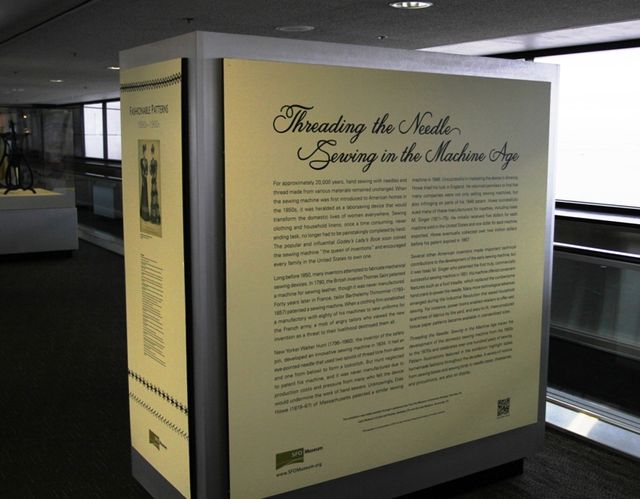 The main exhibition board in San Francisco International Airport's Terminal 3 details the history of the domestic sewing machine.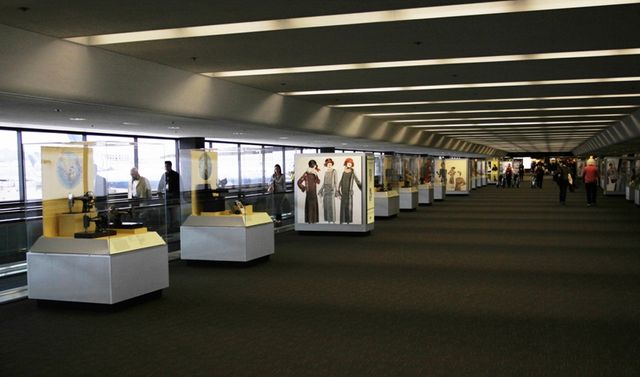 The exhibition stretches the length of the Terminal 3 walkway.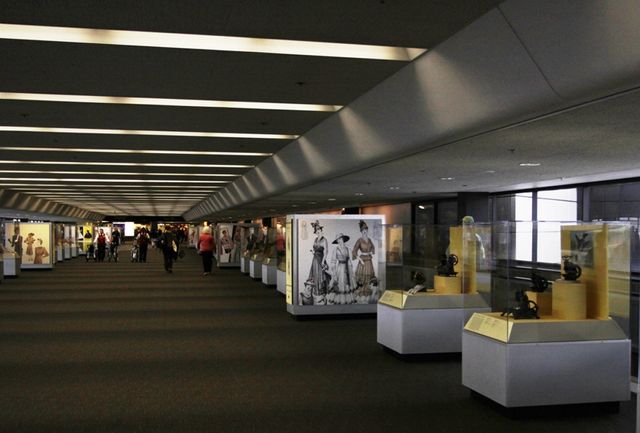 Display cases containing vintage sewing tools and notions are positioned on both sides of the walkway.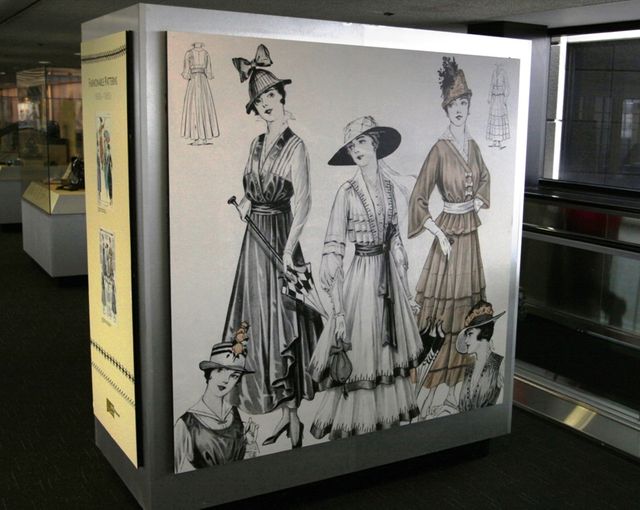 Vintage pattern illustrations help put the exhibited pieces in context.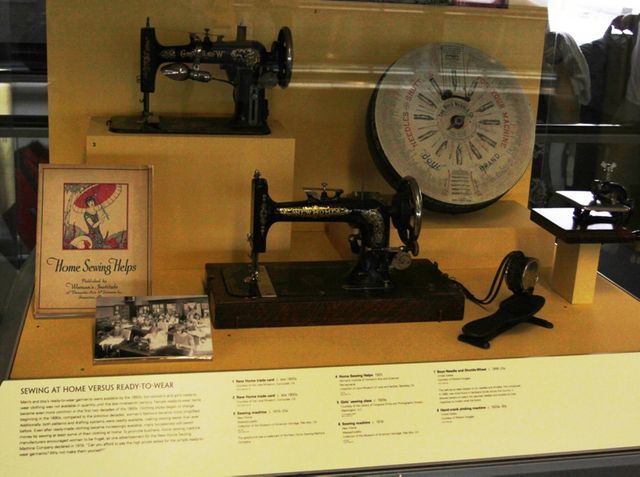 The exhibition also explores the historical differences between home sewing and ready-to-wear sewing.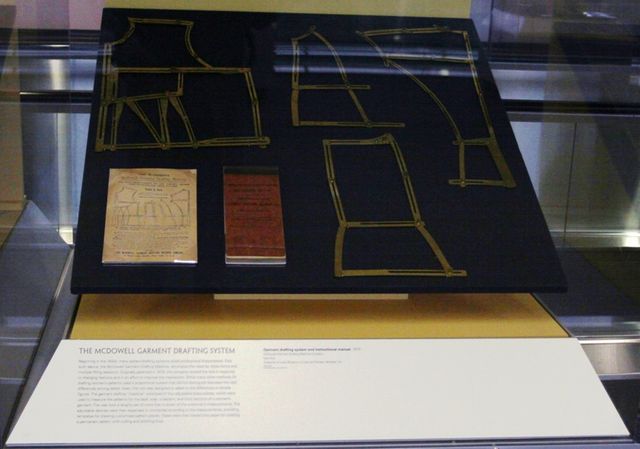 Vintage garment drafting systems, like the one exhibited here, are explained.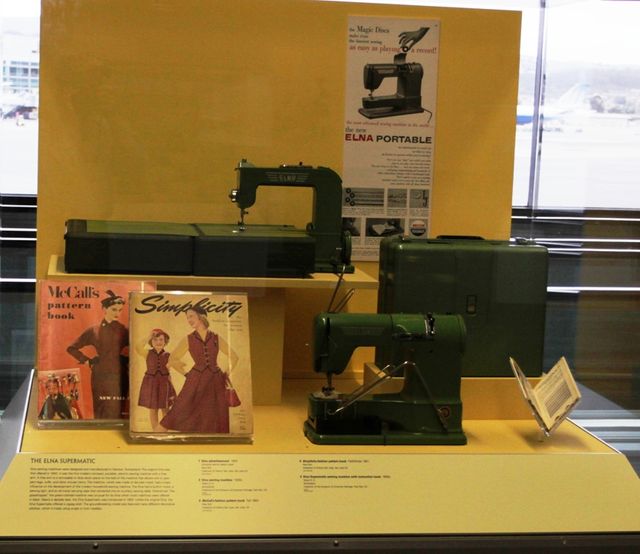 A variety of different machines and innovations are featured, like the Elna machines shown here.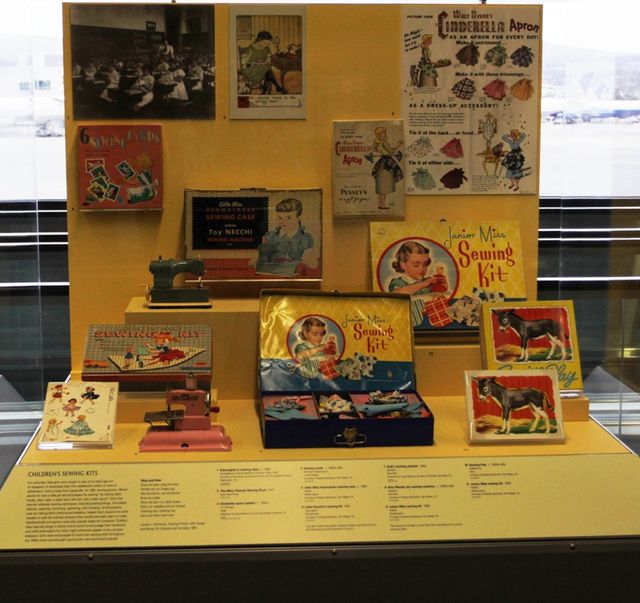 A variety of childrens' sewing kits illustrate the importance of learning to sew in previous generations.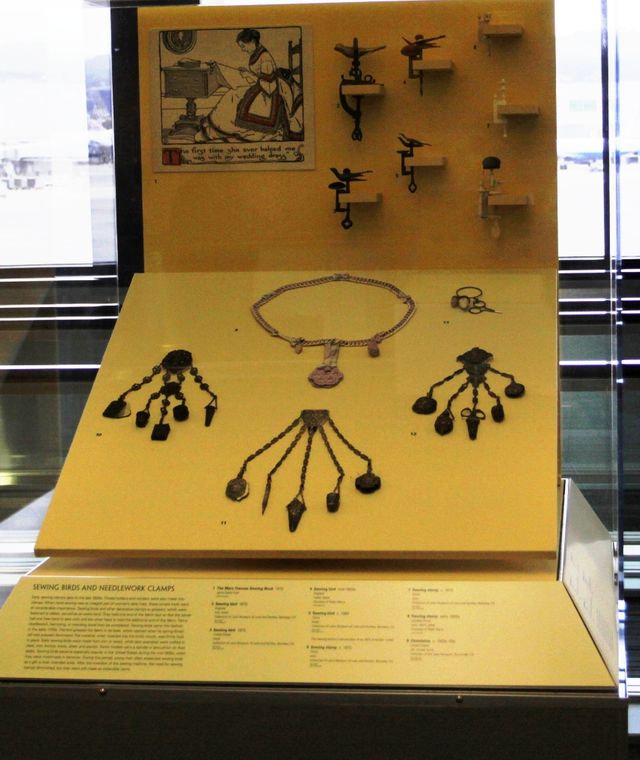 Sewing birds, needlework clamps, and chatelaines, as shown in the exhibition, weren't merely utilitarian--they could be works of art.