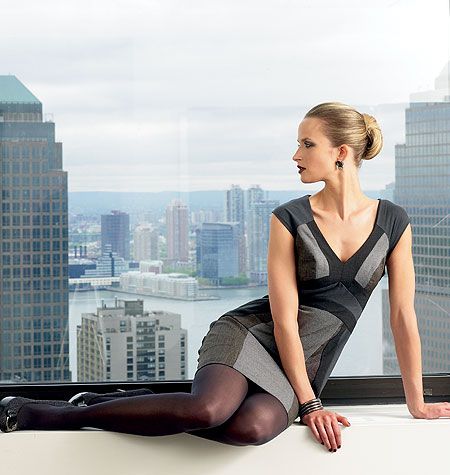 It's that time again…
Vogue Patterns has released their fall pattern line. These fresh patterns will help you create a great look just in time for the fall season.
Rebecca Taylor
Pattern 1316 is a fitted and lined dress with contrasting colors. There are seam details and a zipper down the back. Try making this dress in various shades of a great fall color, or stick with a classic black palette. A light double knit or brocade are ideal fabrics for this dress.
Chado Ralph Rucci
Pattern 1317 features a dress with a deep neckline slit, a fitted bodice cut with sleeves, and a lined midriff with a single layer tie. The skirt of the dress has front pockets and an invisible back zipper. Detailing includes stitched hems, topstitching, and edgestitching. This dress is perfect for fall made in a light double knit or synthetic suede. The pattern allows for sizes 8-24.
Anne Klein
Pattern 1325 includes patterns for a jacket, pants, and blouse. The jacket is fitted and lined, with the works: shoulder pads, collar, pockets, and two-piece sleeves. The coordinated pants are slightly flared and semi-fitted, with a raised waist and mock band. They have side-front pockets and a front zipper with hook closure. The blouse is also semi-fitted and has a bias collar that extends into tie ends. The single layer flounce with a narrow hem makes this suit ensemble feminine. The two-piece sleeves have ruching and an invisible zipper, adding more interest. The jacket and pants are great in men's suiting, linen, or crepe, while the blouse softens the structured suit in charmeuse or chiffon. Nylon fusible knit can be used for the interfacing.
Very Easy Vogue
Pattern 8825 includes a tunic, dress, and pants. The pullover tunic or dress features a fitted, pleated bodice. The top has a figure-flattering raised waist with tie ends and two-piece sleeves with barrel cuffs, and is finished with a stitched hem. The straight leg pants are fitted and have an elastic waist, ensuring comfort. These pieces are best made in rayon/spandex, cotton/spandex, or wool/spandex. These patterns range from size 8-24.
Vogue Easy Options
Pattern 8829 includes a misses/misses petite dress pattern and belt in sizes 8-24. The dress has a loosely fitted bodice with back pleating and a front button band. Variations on the dress include armhole/hem bands, pleated sleeve, a collar that extends into tie ends, armholes finished with bias tape, pleated skirt, and a narrow hem. Make this dress pattern to fit your taste or for a particular occasion in fabrics such as crepes, charmeuse, or georgette.
Katherine Tilton
Pattern 8837 is for tapered, cuffed pants with a front seam detail and elastic back stitching line, as well as a skirt with overlapping side seams and a narrow hem. Both pieces have an elastic waist and topstitching. Bring these patterns to life with a moderate stretch knit like cotton knit or interlock. Available in sizes 4-26.
Marcy Tilton
Pattern 8839 comes with a loose-fitting misses jacket pattern in two styles. With contrast along the collar, front, cuffs, and lower band, this garment is interesting and makes a great addition to a fall wardrobe. The jacket has welt pockets, no shoulder seams, and topstitching. Make this jacket out of wool jersey, sweatshirt fleece, or double knit to keep warm on a chilly day. Available in sizes 4-26.
Vogue Wardrobe
Pattern 8841 features a jacket, detachable collar, belt, and skirt. The loose-fitting, lined jacket has a collar, side pockets, and a belt. It is best made with wool gabardine or tweeds. The detachable collar is also lined and designed to be made with faux fur and faux leather or faux suede. The semi-fitted skirt has a slightly raised waist with pockets and a back zipper. Think about making this garment in poplin or sateen. The fitted skirt has an elastic waist and can be made with moderate stretch knits such as double knit or jersey. These pieces are great to wear from the fall into the winter.
Check out these patterns and more featured in Vogue's fall pattern line.