The Colors of Spring 2013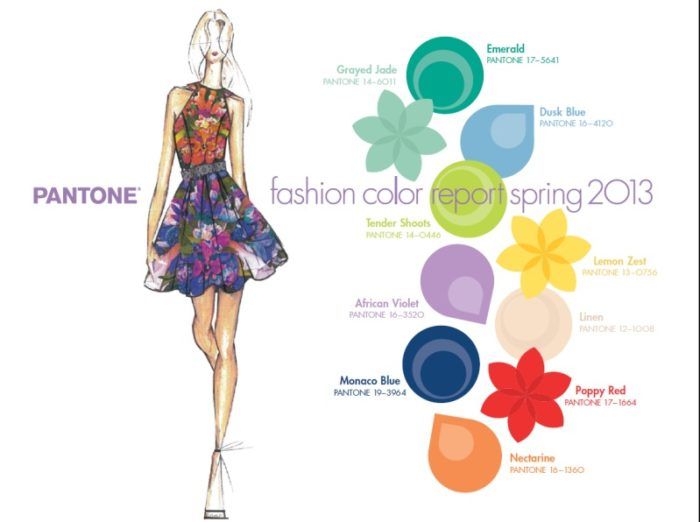 Pantone, a global color marketing and standards company, recently released its seasonal Fashion Color Report, featuring the top 10 colors that designers sent down their spring 2013 runways for women and men. For each spring and fall, Pantone surveys designers' use of color and reports on the color trends.
The women's and men's color palettes for spring 2013 are all about balance, according to Pantone. There are no jarring contrasts among the colors featured. Calm, soothing neutrals harmonize with the palettes' more vibrant hues. Shades of green make a strong showing in the women's palette.
For women's spring fashion, the top 10 colors are jewel-toned Emerald, quiet Grayed Jade, cheerful Tender Shoots, sunny Lemon Zest, mysterious African Violet, warm Linen, serene Dusk Blue, intense Monaco Blue, exuberant Poppy Red, and coral-infused Nectarine.
Men's spring color palette also draws on Emerald, Grayed Jade, Dusk Blue, Linen, Monaco Blue, and Poppy Red, but substitutes more the masculine Sunflower and Vibrant Orange in place of Lemon Zest and Nectarine. Iron-gray Alloy and mist-infused Tidal Foam complete the men's neutrals.
What do you think of spring 2013's color palette? Will you be incorporating any of these colors into garments or other projects you'll make for next spring? Do you find yourself drawn to on-trend hues every season, or do you stick to your own personal color palette in your sewing?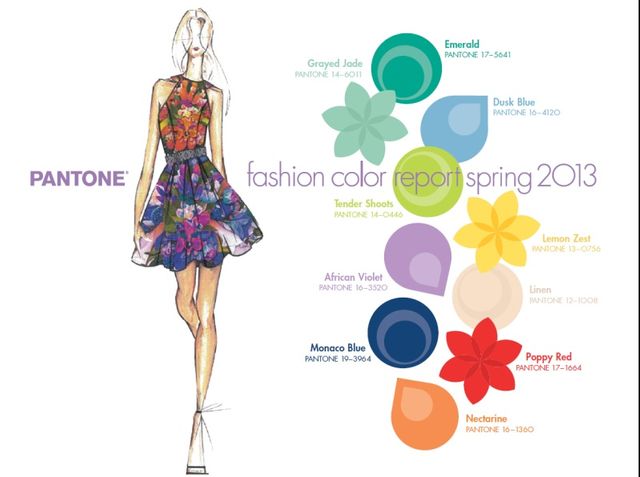 The women's color palette for spring 2013 strikes a balance between bright and energetic colors and calm, neutral tones. From the top: Emerald, Grayed Jade, Dusk Blue, Tender Shoots, Lemon Zest, African Violet, Linen, Monaco Blue, Poppy Red, and Nectarine.

The men's spring 2013 color palette draws on many of the same colors as the women's palette, but substitutes a few masculine hues. From left: Emerald, Dusk Blue, Grayed Jade, Alloy, Sunflower, Linen, Tidal Foam, Monaco Blue, Vibrant Orange, and Poppy Red.