The Winner of Threads Issue 171 is…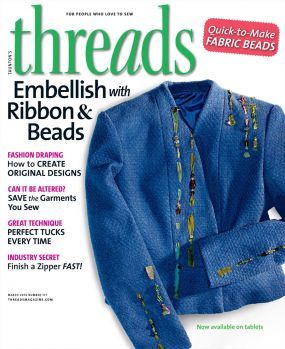 Congratulations to AliceEliza who was randomly selected as the winner for our recent magazine giveaway. AliceEliza will receive a copy of Threads #171 (February/March 2014). She replied to the same question our contributors were asked, "What is your favorite sewing book, and why?" She responded: Sandra Betzina's More Fabric Savvy because it's easy to use, and she relies on it. You can read her complete answer in the original Magazine Giveaway Blog.
Threads #171 is full of great articles including:
"Radical Free Draping" by Pamela Ptak
"Hair Apparent" by Kenneth D. King
"Altering Home-Sewn Garments" by Angela Wolf
"Great Books" by Judith Neukam
"Zipper by Machine" by Jacque Goldsmith
"Sewing Destination: Twin Cities" by Paula DeGrand
You'll also find tons of helpful information in our departments such as Tips, Notions, Embellishments, Quick to Make, Pattern Review, and More!
Congratulations again to AliceEliza!