Rotary Cutter That's Easy on the Wrist | Notions
My Comfort Cutter aims to lessen wrist strain with custom insert.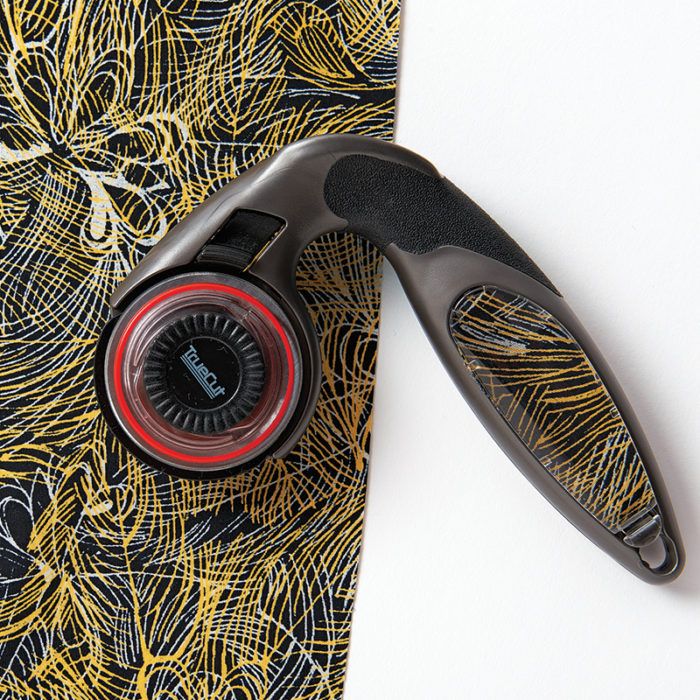 The curved handle on the My Comfort Cutter enables sewers and quilters to apply cutting pressure with the wrist aligned and straight, instead of bent and under stress.
The My Comfort Cutter by the Grace Company has a bent-handle design that diminishes hand and wrist strain, and a nifty customizable handle insert. The cutter also has a ribbed thumb rest to improve grip.
As for customization, the curved handle has an insert in each side, topped with a clear cover. You can remove each cover and pop in a photo, logo, or a piece of your favorite fabric. The cutter comes with a handle insert cutting template, so your custom inserts fit properly.
My Comfort Cutter is also designed with the removable TrueCut Cutter Guide. It works in tandem with a ruler system with cutting "tracks" to ensure swift, accurate straight cuts, or remove the guide to work with any brand ruler.
This product was featured in the Notions department of  Threads #189, Feb./March 2017.
Available for purchase on Amazon.com.