Pattern Review: Simplicity 8792 Skirt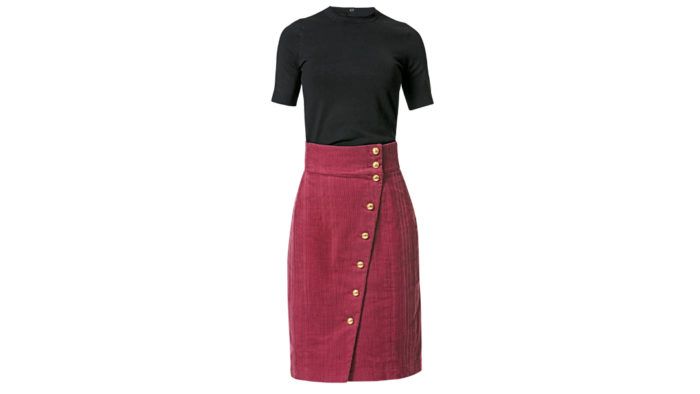 Simplicity 8792
In just one pattern, you'll find five variations on a fitted straight skirt with intriguing closure options. Views A and B have the same center-front button closure, but A is ankle-length while B is midcalf-length. View C has a lapped front with a double-button closure and ends at the midcalf. View D has an asymmetrical front secured with a sash and D-rings, and ends at the midcalf. View E has an asymmetrical front with button closure and ends above the knee. All the views have a shaped, 3-inch-wide finished waistband, with the bottom edge sitting at the natural waist. On the views with a center-front opening, the waistband has a center-front notch in the top edge. There are front and back princess seams as well as side seams, all useful to achieve a good fit. The seamlines match up, but with so many seams to sew, pay close attention to the single and double notches for alignment. Ideal fabrics include denim, wool, corduroy, stretch wovens, and heavy cottons.
(Sized Misses' 6–22 for hips 32.5–46 in.)
—Tested by Jenny Freedman, Soquel, California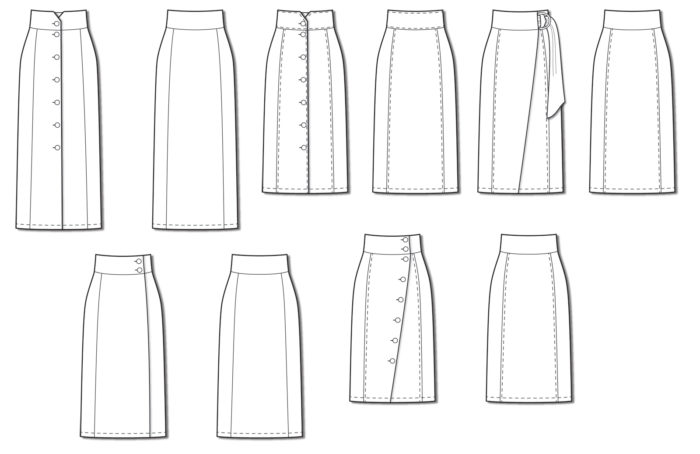 Style Tip: Although the pattern does not call for a lining, it's easy to cut and add one as you make the skirt, to improve durability.
This review was originally published in Threads #204, August/September 2019. Have you made this pattern? If so, be sure to share pictures in our Readers Closet gallery.
Illustrations by Steven Fleck.
See a time-lapse video of Norma Bucko, Threads Staff Seamstress, making this skirt.