No-Fail Buttonholes with Vintage Buttonhole Attachments
Made for straight-stitch or zigzag mechanical sewing machines, these devices produce consistent results.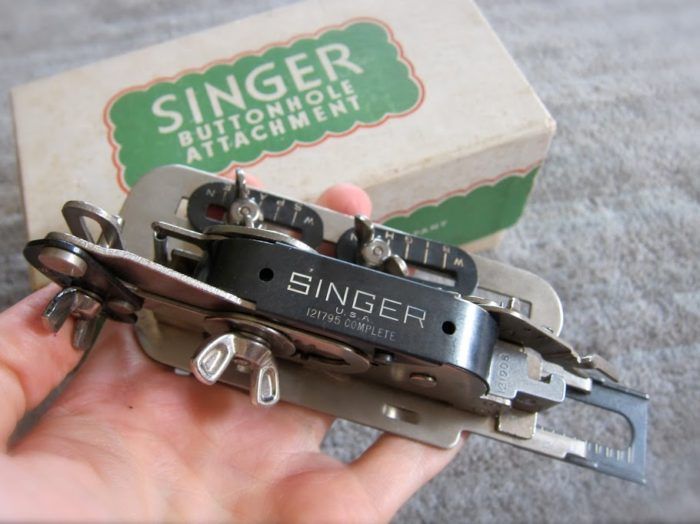 If you've ever struggled with stitching machine-made buttonholes, this post is for you.
In the era of less mechanically complex sewing machines, sewers used buttonhole attachments to create buttonholes on their garments, unless the sewer had the skill and the time to make buttonholes by hand.
Kenmore buttonhole attachment
As someone who learned to sew on vintage machines, I was exposed to buttonholers early in my sewing experience. For a long time, they were all I knew. My first sewing machine, a basic 1980s Kenmore zigzagger, didn't have its own buttonhole function. The eBay seller from whom I purchased the machine included a buttonhole attachment, free of charge. Like so many buttonhole attachments, this one used templates in a variety of sizes. I no longer have the Kenmore sewing machine, but I still have the buttonholer.
Since this buttonholer was designed specifically for zigzag machines, the width of the stitch was regulated by the stitch-width control on the sewing machine. The template determined only the buttonhole's length.
Singer buttonhole attachments
Shortly after I purchased my first vintage straight-stitch sewing machines, I discovered a different type of buttonholer. These sewing machines, primarily Singers, could not zigzag. The buttonholer provided the zigzag stitch by literally shifting the fabric from right to left. While this may sound complicated, I have found these vintage buttonholers to be easy to use and to yield consistently excellent results.
Easy to find
One of the nice things about these buttonholers is that they can be found easily on sites like eBay and Etsy, and they turn up frequently at flea markets and thrift stores. Nearly everyone who sewed in the last half of the 2oth century owned one and, since…
Start your 14-day FREE trial to access this story.
Start your FREE trial today and get instant access to this article plus access to all Threads Insider content.
Start Your Free Trial
Already an Insider? Log in