Sewing Stories: Frugal Finery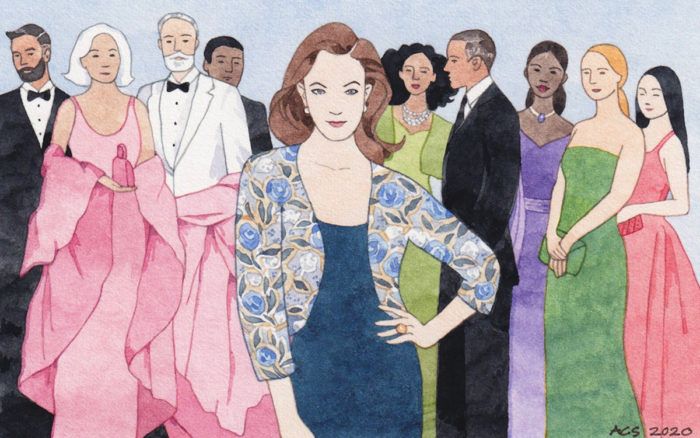 I was giddy with excitement when I opened the invitation to attend a winter dinner and ball at the Australian embassy in Washington, D.C. It was going to be a glitzy gala and the District's elites would be there, dressed in their designer finery and jewels.
As a working single mother of three children, I didn't have the means to spend thousands on a dress, shoes, and jewels, and I was going to be surrounded by many women who did. However, I knew how to sew and, with the right fabrics, I knew I could create something truly special.
I had the perfect piece of fabric in my stash; I'd once called it "too pretty to sew." It was a dark blue brocade with gold threads. I had picked it out of the remnant bin at my favorite fabric store more than 16 years before. Over the years, I had occasionally taken the fabric out to look at, wondering what special event garment would be worthy of this beautiful material, but had never wanted to cut into it.
My options were limited since it was such a small piece, but I found a pattern for a bolero that would work if I made three-quarter sleeves, narrowed the hems, and used a different fabric for the facings and lining. I dug a piece of navy satin out of my stash for the lining and made short work of the cutting and construction. Within an afternoon, the jacket was done.
I went to my local T.J. Maxx with a fabric swatch to look for a coordinating dress to wear. After digging around in the clearance section, I found a long, navy velvet dress that was a perfect match, and it cost only $20. My outfit was complete. I was going to the Australian embassy ball in a self-sewn jacket and a discount store dress. Would anyone notice?
When I arrived at the gala, the embassy was full of senators, CEOs, and diplomats. The men wore tuxedos, and the women were dressed in designer silks with beautiful jewelry.
Someone tapped my shoulder. I turned around to see a well-dressed woman smiling at me. She said, "That is the most beautiful dress and jacket. Where did you get it?"
I smiled and said my seamstress just whipped it up for me. The woman said she wanted the name of my seamstress. Throughout the evening, people commented on my ensemble, noting how beautiful it was and asking me where I got it. I gave them the same answer, feeling proud and flattered by their attention.
There was one tiny reminder that my jacket was homemade. When I sat down to eat dinner, I felt something jab me in the arm. Looking down, I saw the point of a pin that I had accidentally left in the jacket. I laughed to myself and went to the restroom to remove it. Overall, the evening was a huge success. I received many compliments on my self-sewn jacket and discount store dress. I had finally attended a special event that was worthy of my "too pretty to sew" fabric.
Jennifer Hoffman is an avid sewer, gardener, writer, and musician. She lives in Greensboro, North Carolina.
Illustration: Alexis Seabrook
---
Do you have a sewing story to share? Email it to [email protected] and you could be our next Closures author.