Tales in Textiles | Letter from the Editor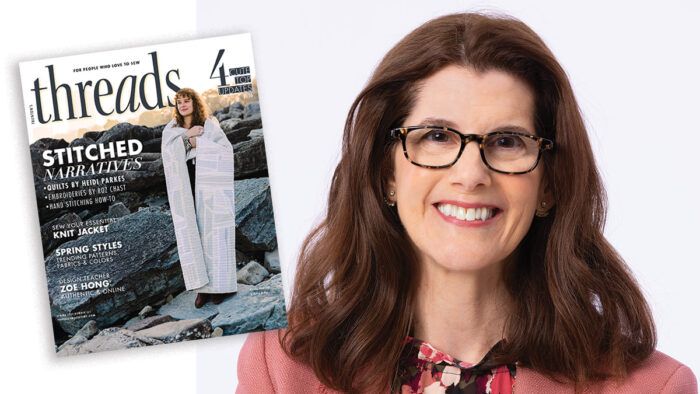 When we work with needle and thread, I suspect most of us are concerned with how our project—whether it's a garment, home décor item, or accessory—will turn out. Will it fit? Will it look the way we imagined? But how often do we wonder whether it can embody a story (and not an Instagram story)?
Two of our featured artists, cartoonist Roz Chast and quilter Heidi Parkes, make a point of creating narratives through stitching. Chast's embroidered panels bring intense color, depth, and a certain surrealist humor to her situational observations. Parkes's earthy and ethereal quilts contain abstracted images that explore life's ups and downs. In both cases, we discover how hand-worked stitches can become part of your creative signature.
As I read these articles, it occurs to me that every sewing project—including clothing— tells a story: the story of making the piece, and the larger story it shares about the maker. Key life events can be recorded in special-occasion garments, but everyday clothes equally express how you see yourself and the narrative you want to share with the world. These days, those who make their own clothes do so purposefully: Sewing what you want enables you to tell, and shape, your authentic story.
In addition to the inspiration from Chast and Parkes, we offer advice for making garments you can wear as the main character in your springtime adventure: a knit blazer that can go anywhere; a skirt with an abundance of trim; and four embellished tops based on a tried-and-true pattern. Whatever your personal style and palette, you can devise your own plot by adapting the techniques for clothes you'll be excited to wear as the days lengthen and warm up. For our friends in the southern hemisphere, cool-weather versions are just as easy to imagine.
You don't have to be a writer to craft a meaningful narrative: Each thoughtful stitch describes a tale of artistry, resourcefulness, and intention.
– Carol J. Fresia, Editor