Giving Thanks | Letter from the Editor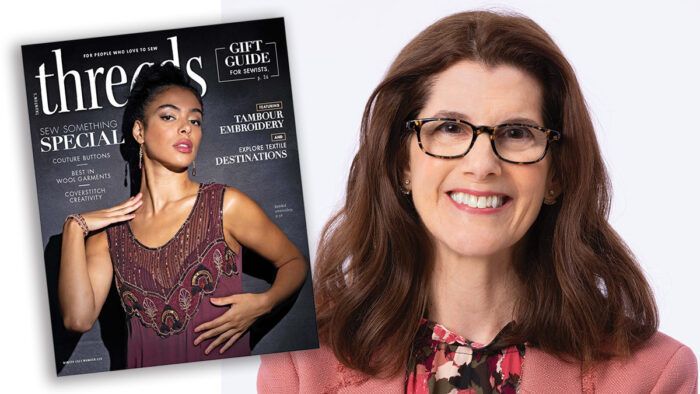 It's the week before the autumnal equinox as I write this letter, and yet I'm already thinking ahead to winter holidays and wrapping up 2023. As I do so, I am revisiting all I have to be thankful for in this past year. This is an exercise I probably don't do often enough— though I don't know why, because it's a pleasure.
First, I am grateful for the Threads team, a small but mighty group of experienced and hardworking writers, artists, and sewists. The people behind the magazine are, to me, irreplaceable.
Next, our authors, new and returning: It is a joy to meet and work with people who are so generous with their talents. Even after more than 20 years of working for Threads, I still learn new things with every issue and every article, from sewing techniques to design strategies to textile history.
Our four contributing editors, Louise Cutting (emerita), Susan Khalje, Kenneth D. King, and Judith Neukam (emerita) are a constant source of inspiration and support. I'm not sure how many total years of sewing experience they have among them, but it's certainly an impressive count. With expertise in couture sewing, high-end industry methods, art-to-wear, draping, fitting, patternmaking, and more, they cover the field in a way that is essential to our publication.
I haven't forgotten you, our readers. Your excitement about sewing is what keeps me and the team motivated to seek out helpful topics, bring new authors to our pages, and present inspiring work by experts. Thank you for reading, and happy sewing.
— Carol J. Fresia, Editor
P.S. If you're new to Threads, you'll want to know we deliver 38 years of content on our Threads Magazine Archive, available at TauntonStore.com starting November 27, 2023.