Understand the Role of Interfacing in Garment Structure
Garment structure depends on these hidden layers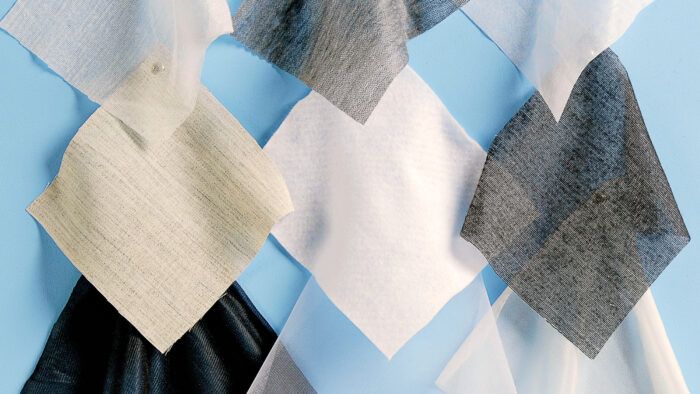 Beneath the surface of every beautifully tailored garment is a carefully considered arrangement of structuring material that helps determine the piece's ultimate shape.
The options in materials available today provide complete control for designing a garment that's perfect for you. Based on the garment fabric and style, this structure may incorporate a single interfacing or layers of different interfacings. Seek out nice quality products. This doesn't mean the most expensive, but if you're taking the time to sew a garment, you want good components for the best results. Woven and knit versions should be on-grain, and fusibles should have effective and evenly applied adhesives. If you haven't tried a fusible interfacing in recent years, I know you'll be pleased with today's offerings: They're softer, more supple, and have more reliable adhesives.
Whatever your vision, the right interfacings ensure success. Plan for every stage, from constructing the garment to laundering it, and you'll have no unwelcome surprises at the end.
---
Many Roles
Think of interfacing as a garment's skeleton or support. The interfacing is placed on the wrong side of the fashion fabric in areas such as collars, cuffs, hem allowances, and facings. It is a hidden structure that also does the following:
Maintains shape
In a jacket for example, interfacing supports the collar, shapes the roll, and supports the shoulder area for the correct hang on the body.
Stabilizes fabric weave
Fabrics that have an open weave, such as a tweed, may easily shift in a garment or snag. A lightweight fusible interfacing stabilizes the fabric without changing the fabric's hand.
Modifies a fabric
The entire characteristic of a fabric can be changed by adding interfacing to make it heavier or thicker, or to prevent stretching.
Blends layers
Some…
Start your 14-day FREE trial to access this story.
Start your FREE trial today and get instant access to this article plus access to all Threads Insider content.
Start Your Free Trial
Already an Insider? Log in