Learn Hand Embroidery on Knits
Design freely and stitch fearlessly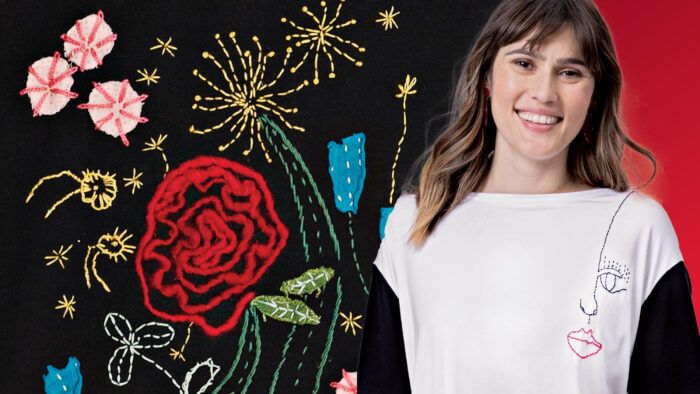 I credit my love for knit fabrics to growing up playing competitive sports. I constantly wore T-shirts with my team logos, for volleyball, basketball, swimming—each had a color and style I stuck to. As an adult, I still gravitate to knits, but now I like to make my own designs. I'll tell you how I design and embellish great-looking tops with hand stitching. If you're like me, once you get started embroidering your knits, you won't want to stop.
I came into my love for sewing during what I call a "knit boom," in the mid-2000s. At The Sewing Workshop, the store owned by my mother, Linda Lee, I would wander through the knit section and marvel at the colors and prints these textiles showcased. These were the fabrics I wanted to sew and to wear.
Expert education
My mother made sure I had a full range of playful and efficient sewing techniques at my fingertips: She taught the how-tos of handling these wonderful, sometimes tricky, textiles. With her guidance, I made some of my first garments in knit fabrics. I had a no-fear mentality from the start. What was the first knit garment I sewed, you ask? You guessed it: a T-shirt. Where was my first embroidery design? On a T-shirt.
Besides my privilege of being raised by a knit aficionado, I began to follow others with this same attunement to knit fabrics. Several years ago, my mother and I ventured to an Alabama Chanin workshop in Florence, Alabama, and I have been swooning over the care and craft of hand-sewn, sustainable, and knit-focused garments ever since. I learned the art of "loving your thread" and achieving a beautiful yet personal running stitch.
There is incredible beauty within these sorts of designs. These weren't…
Start your 14-day FREE trial to access this story.
Start your FREE trial today and get instant access to this article plus access to all Threads Insider content.
Start Your Free Trial
Already an Insider? Log in