Proper Fitting for a Forward Shoulder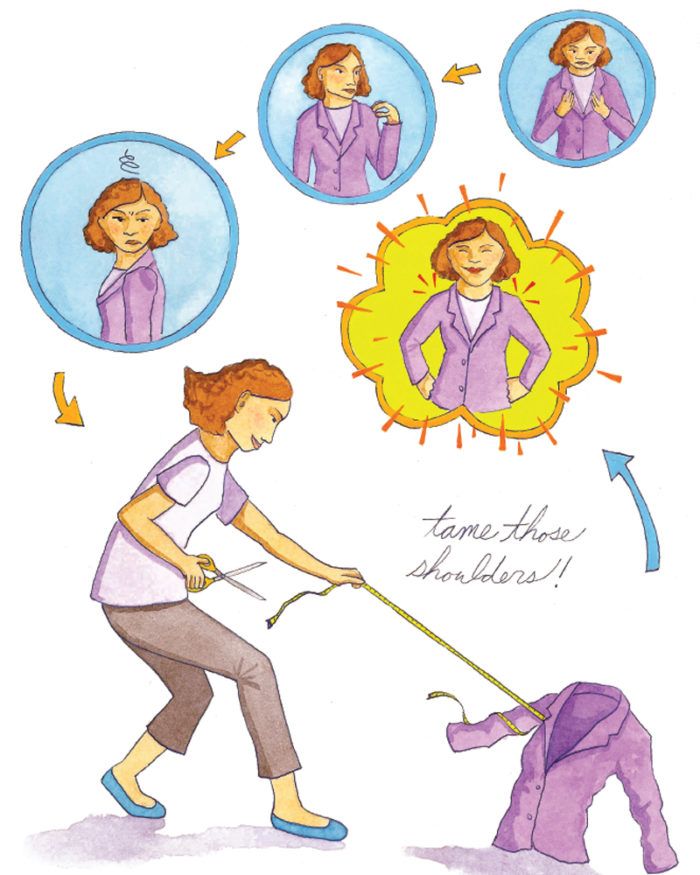 While I was attending life drawing class in college, the professor actually drew on the model in brightly colored grease pencils, showing the correlation between the bones, muscles, and body shape. Never did I think that, years later, I'd refer to these concepts as the basis for fitting alterations and fixes to garment construction – especially when it comes to proper fitting for a forward shoulder.
As I work with women around the country at fitting workshops, I often see sleeves suffering from drag lines and hear complaints about jackets not staying in place as they're worn. These problems are caused by shoulders that rotate forward. As a result, blouses and jackets tend to fall back on the shoulders. The wearer keeps adjusting the garment by pulling it forward, only to have it fall back in a few moments.
The solution in two steps

With ready-to-wear garments, the fix for a forward shoulder problem can require major alterations, but with garments you sew, changes can be made before construction—and the fix is easy.
A forward shoulder adjustment is a two-step process. It requires more than simply moving a shoulder seam. The key to achieving a good fit is in positioning the shoulder seam and the sleeve cap to correspond with your shoulders.
Before providing the solution, I'll explain how to diagnose and understand the problem. Then, I'll show you how to make changes to your patterns that help your garment sit on your shoulders correctly.
Diagnose the problem

Put on a commercial T-shirt, stand sideways, and study yourself in a mirror. Where does the shoulder seam fall?
If you have a forward shoulder, the shoulder seam often falls toward the back of your shoulder while your shoulder bones curve toward the front. Alternatively, you may see…
Start your 14-day FREE trial to access this story.
Start your FREE trial today and get instant access to this article plus access to all Threads Insider content.
Start Your Free Trial
Already an Insider? Log in