A Dress Fit for a Princess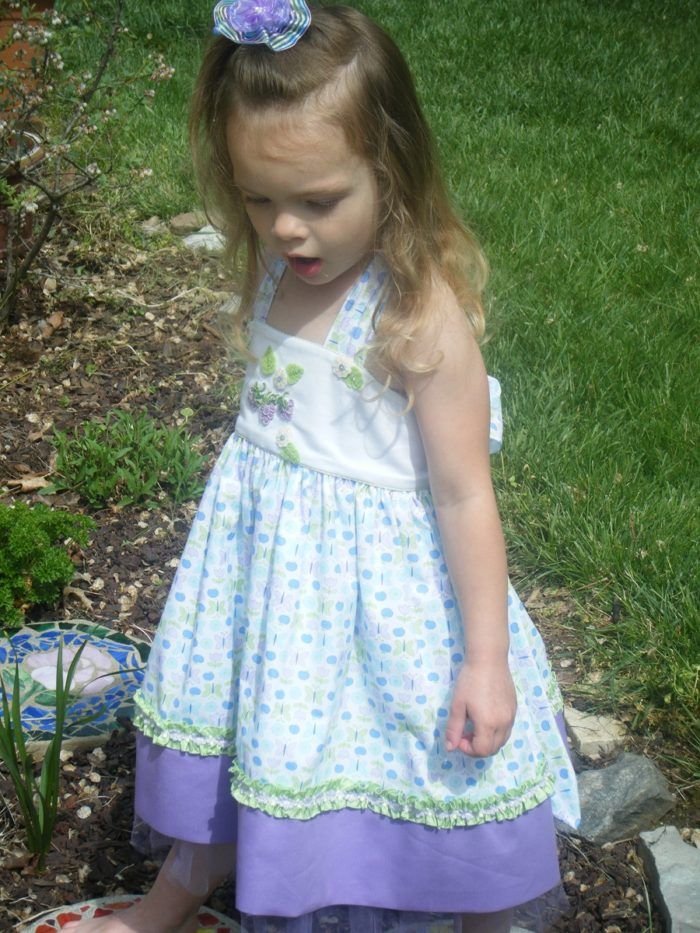 Chartreuse from the color palette is mixed with blue and purple to make a princess dress that any toddler would be proud to wear. The pattern is Kari Berries and Blooms from Kari Me Away. The added changes to the pattern were the beading on the felt appliqué, ruffled trim, and the attached underskirt with a tulle ruffle.
The dress is very detailed with a lot of hand work. The grape clusters on the bodice are hand satin stitched with long bullion outlines. The leaves, stems, and tendrils on the clusters are long bullion outlines. The appliquéd leaves and blossoms are cut out of wool felt attached with hand embroidery and beading. A thin bias piping strip is attached to the top and bottom edge of the bodice.
The ruffled trim on the top of the hem band is a six yard strip of silk dupioni. The long edges were rolled and whipped with a zig zag stitch on the sewing machine. Two rows of gathering threads were stitched 1/4 inch apart down the long center of the strip, and the bobbin thread was used to pull up the gathers. The ruffled strip was attached to the top of the bottom band with a machine straight stitch down the center of the two lines of basting stitches. A store bought flowered trim was attached to the top of the ruffled trim with a machine zig zag stitch.
To make this into a princess dress, I added an underskirt with a tulle ruffle. The tulle ruffle is lined on the leg side with some of the chartreuse silk dupioni. This helps the tulle to stay in place and not get caught up in the legs of the child. It works great!
The dress straps lace up in the back and tie into a bow at the waist. This closes the dress up in the back. I finished this dress just after supper time. I tried it on my daughter and she refused to take it off. I let her wear it all evening. When I tried to put her to bed, she refused to take it off. I told her that she could not sleep in the dress. She stayed up until 11:00 pm wearing this dress!