Red Riding Hood in 2 days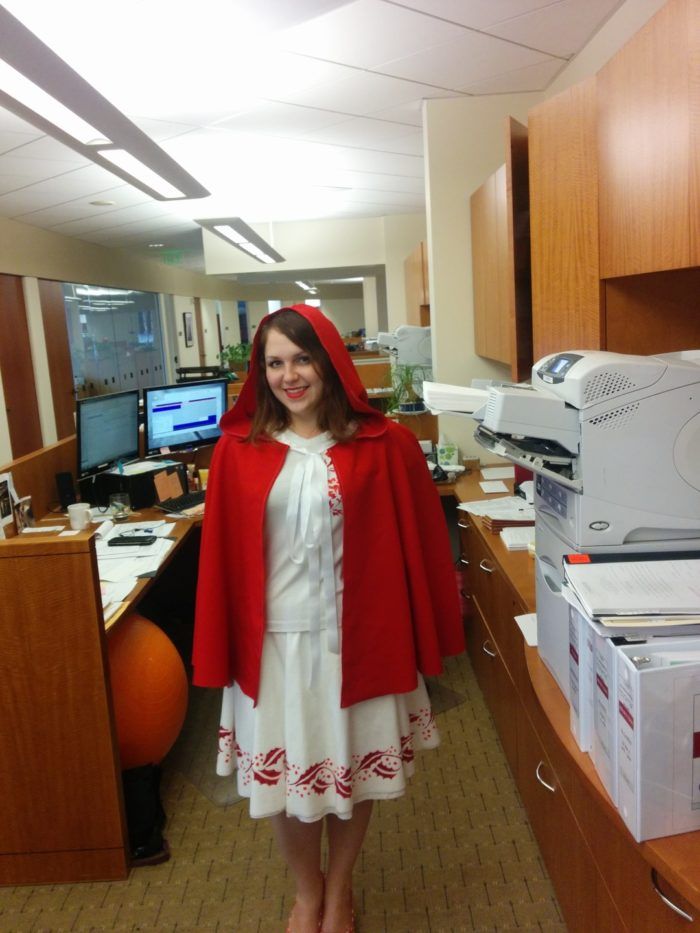 A few days before Halloween, I decided to be Red Riding Hood. I had everything I needed in my stash: bright red fabric for a hood (red poly poplin), white fabric for the skirt (white flannel for the top skirt and a white cotton/lycra mix for the bottom so that the skirt is warm enough). I had a white t-shirt. I had paint. I had a ribbon and elastic.
I used the following patterns for the skirt and cape:
For the skirt, I used New Look's 6816 p:http://www.simplicity.com/p-2490-misses-separates.aspx
For the cape, I used FleeceFun's cape pattern that I pinned two years ago, and always wanted to make. I did not line it, as I had no time. p:http://www.fleecefun.com/red-riding-hood-cape-pattern.html
It took me 2 days to make this outfit, even with working full time.
Day 1 (evening): print out cape pattern, assemble, cut out pattern. I painted the stencils on the simple t-shirt, and set to dry. Then, I cut all the fabric for the cape and the skirt, and hand basted while I watched Netflix.
Day 2: (at lunch) Reviewed stencil book for a hem stencil for the skirt, and I found the one that I used. It was a 1/2″ by 1.5″ stencil picture in a book, so I took a photo, and edited it on the computer and printed out.
(evening) At home, I machine sewed the cape, adding the little decorative stitch, pinking the hem of the cape, and hemming the sides of the hem for a clean finish. I then machine sewed the skirt (both top and bottom layers), put in an elastic. And voila, sewing done. I didn't hem the skirt in the interest of saving time. Then came the stencelling. It took 2 hours to properly paint everything, as I had to lay the stencil under the skirt top, and paint over that because I could see it underneath.
Halloween: on the day of Halloween, I wore the outfit at work. On my way to work though, I hand sewed the white ribbon to the cape, on the seam allowance between the hood and the body of the cape, so that I could tie the cape closed.
It was a fun experience. I thought I'd just use the entire outfit once, but I love the t-shirt, and I think I'll start encorporating stencelling, or just painting, on clothing into my sewed outfits.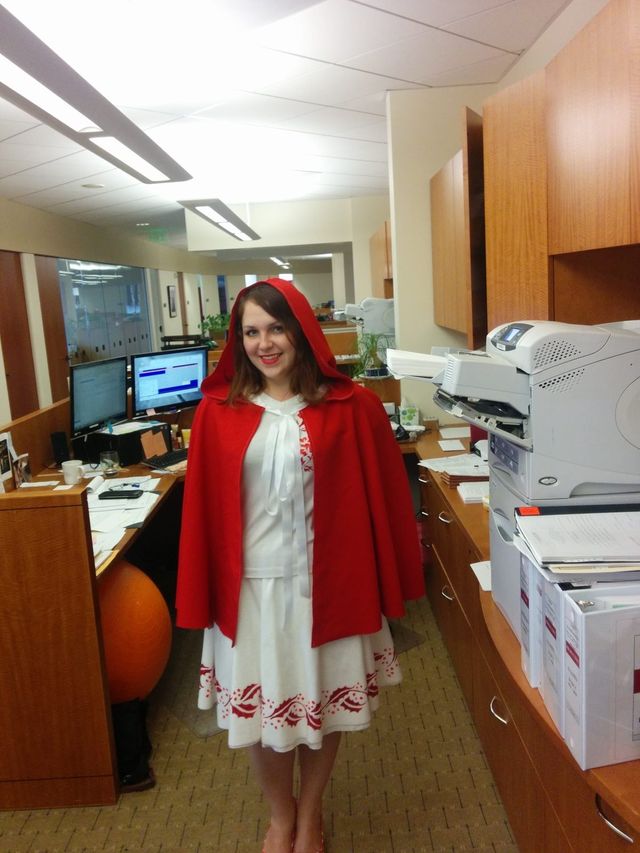 Wearing my outfit to work.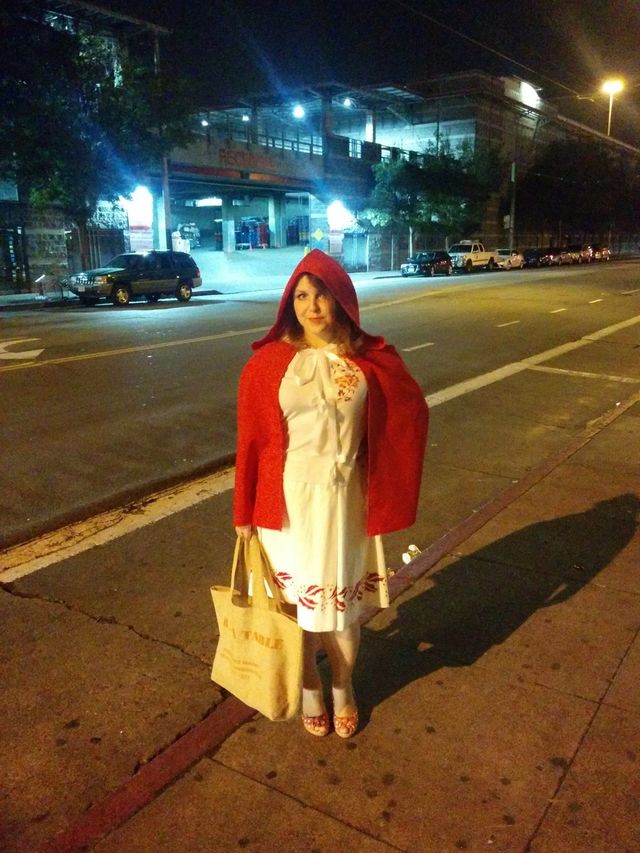 Wearing my outfit to an outside party (this is post party).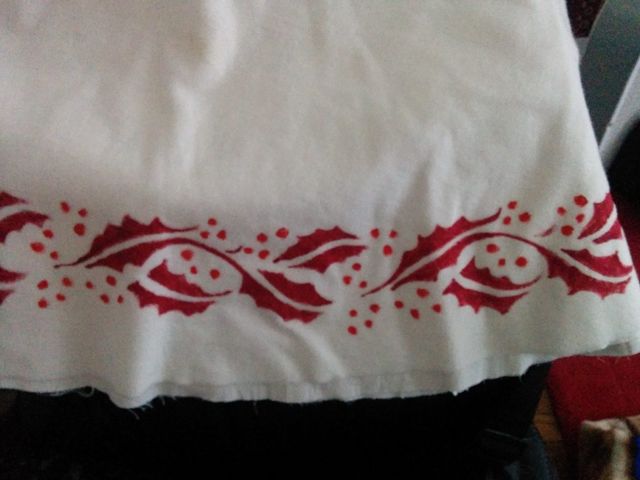 Stencil detail on the skirt. Used two acrylic colors and GAC-900 to paint the skirt all around. Waited till morning and it was dry, heat set.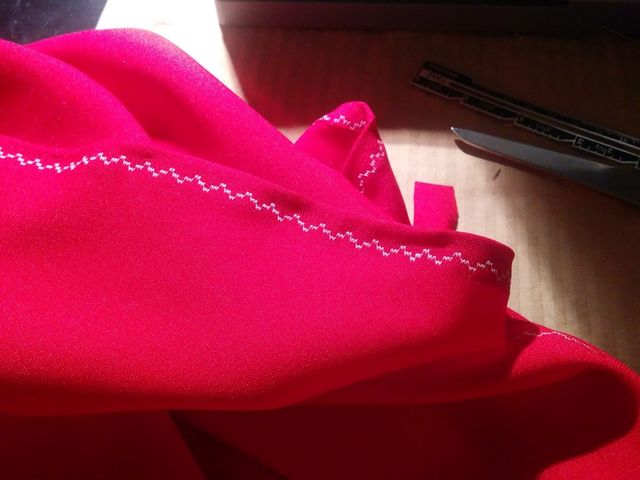 Decorative Stitch on the cape hood detail.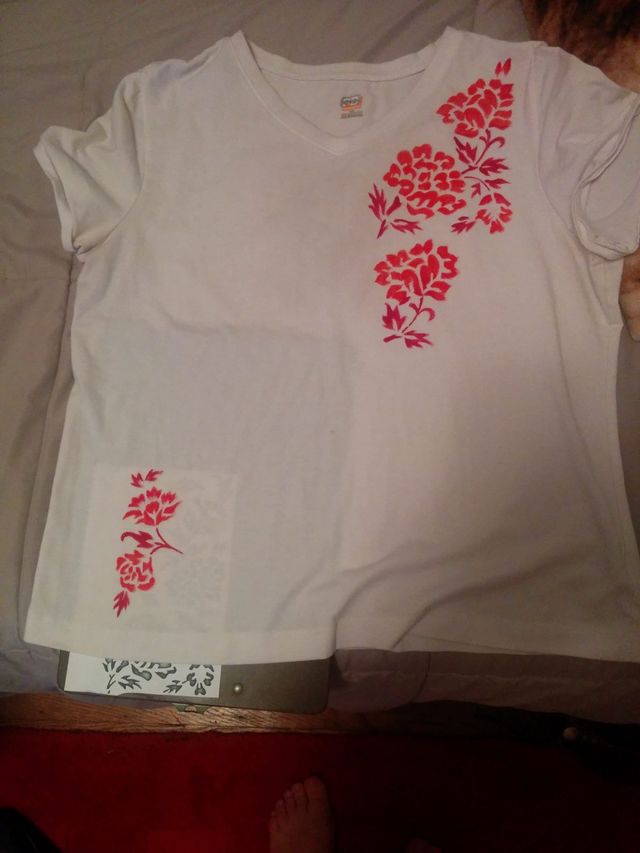 Used a stencil to paint on T-shirt.