Identifying Treasures in Your Button Stash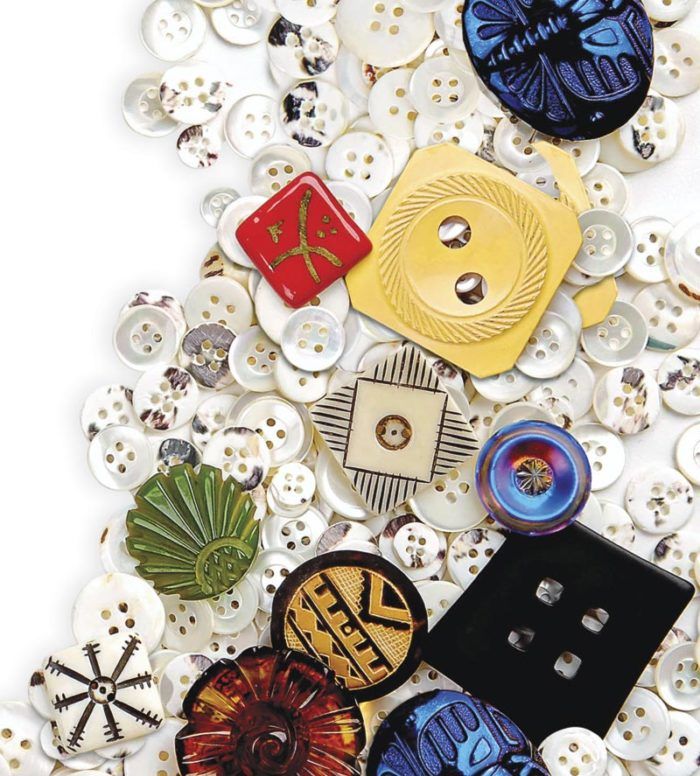 Unfortunately, there are no set and easy ways to determine how much a button or set of buttons is worth. The value is determined by many factors that include:
• Trends set by button clubs and magazines
• Quantity in existence
• Material (precious or semiprecious, for example)
• Age and history
• Beauty or the design
• Personal judgment and preference of the vendor/buyer
• Quality or the material and construction
• Condition of the items
If you find a mark on the back of the button, similar to silver's hallmarks, this could name a manufacturer or place of origin. If you know the history or provenance of a button, or even better—a set of buttons—record it in detail and keep it with the buttons. If you have a bakelite, celluloid, art deco style, or ivory button, it suggests that it's vintage. But, since women's fashions in the 19th century regularly included buttons, these are common and not necessarily valuable. Buttons from the 18th century and earlier are considered rare and valuable.
If you have any buttons that you believe to be valuable, or you just want to identify the material they are made of, contact a button collector or button dealer. An excellent place to start is the National Button Society. Or try to locate a copy of the now out-of-print "Big Book of Buttons" (Boyertown Publishing, 1981; New Leaf Press, 1991). This volume is considered the Bible of button-collecting.
Beau Gabiniewicz
from Threads #139, p. 33