Discover Hidden Gems in Your Button Collection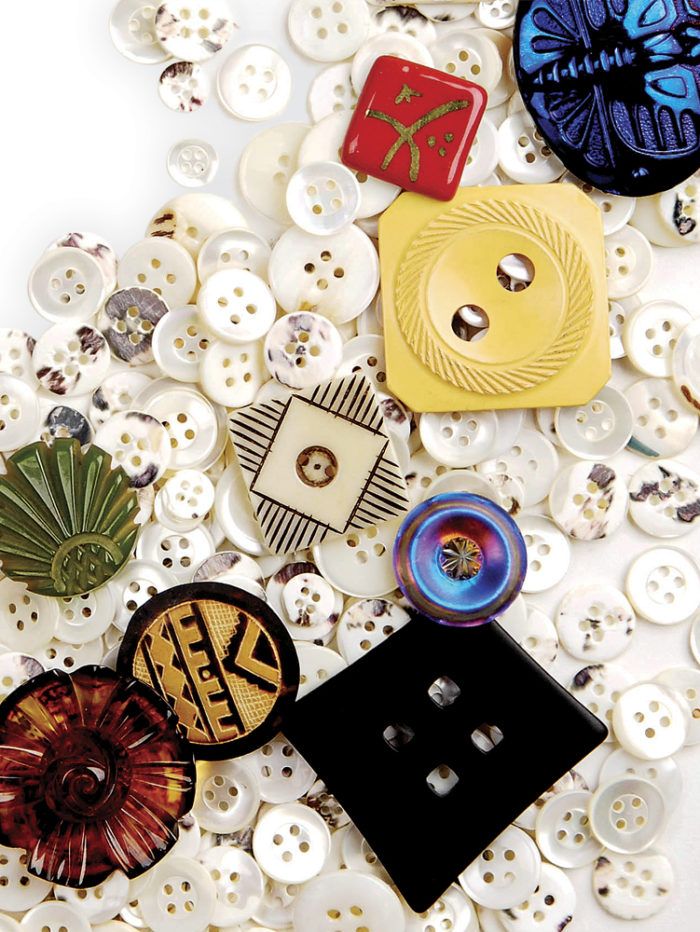 Have you ever wondered if you have any valuable buttons in your collection? Beau Gabiniewicz explains how you can find out.
You spot a large jar of buttons at a garage sale and buy it for a few dollars. Sorting them at home, you notice there seem to be some beautiful-perhaps vintage-sets of buttons. But just how do you know what you have? Can you test for authenticity?
Yes. In fact, there are some neat tricks you can learn to determine what your buttons are made of. One key test used by button collectors is the "hot-needle" test. To perform this test, touch a very fine heated electric needle (or a needle heated by a flame) to the back of the button in an inconspicuous spot. The odor emitted varies according to the material used to create the button. To do the "tooth-tap" test, just tap a button against your tooth. Glass, shell, china, and porcelain will emit a "click," but wood or plastic will produce a dull sound.
Armed with this information, you'll be tempted to take a second look at your buttons, dig around flea markets, and scour your grandparents' attic to see what hidden gems you may find. But beware; you may just get hooked on collecting these irresistible little relics.
From Threads #139
Start your 14-day FREE trial to access this story.
Start your FREE trial today and get instant access to this article plus access to all Threads Insider content.
Start Your Free Trial
Already an Insider? Log in