Choose the Correct Pattern Size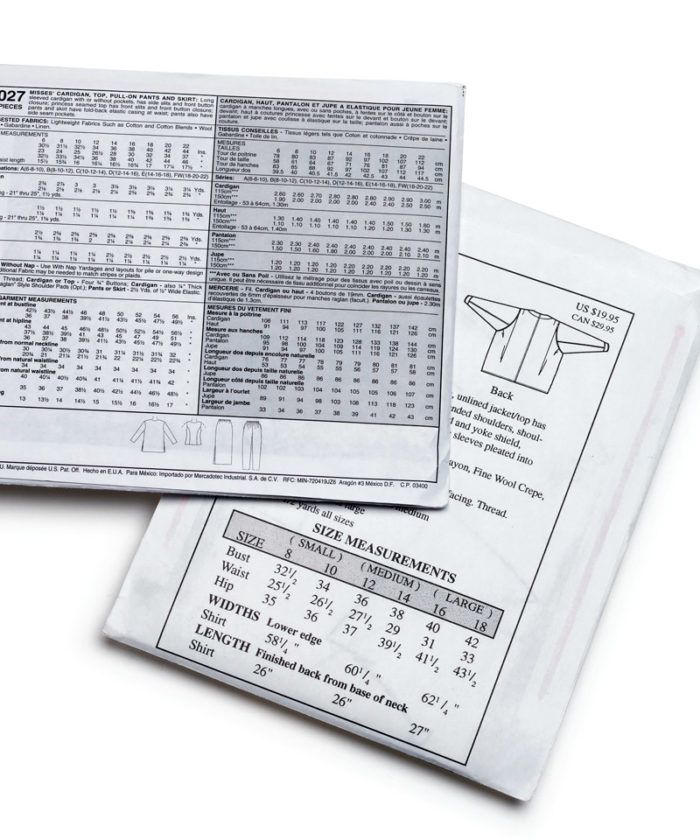 The first step to making a garment that fits well is to choose the correct pattern size. This may seem obvious, but it's surprising how many sewers start with the wrong size, then end up making a lot of adjustments to get a good fit.
Measurements are key
When choosing a pattern size, you need to know some basic body measurements (see Personal measurement chart). I'll tell you how to use these measurements in a moment, but first let me explain why you can't simply rely on your ready-to-wear size when it comes to choosing patterns.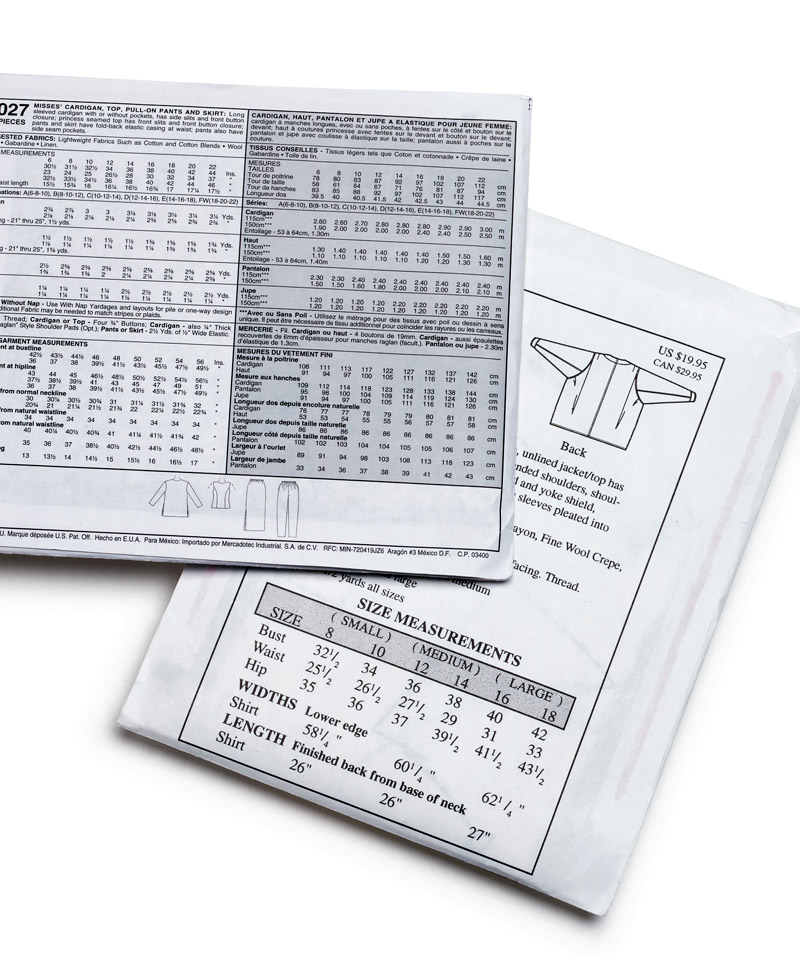 Compare your measurements to those on the back of the pattern envelope. Each pattern company bases sizing on a standard set of body measurements. 

As I'm sure you're aware, sizing in the ready-to-wear industry is not consistent and most of us fit into a wide range of sizes, depending on the designer or manufacturer. Designers frequently use what's called vanity sizing, which adds inches to each size. What might have been a size 16 a few years ago, for example, is labeled a size 10 or 12 today.
Among the major pattern companies (see Pattern companies online), however, sizing is based on a standard set of body measurements, which are provided on each pattern envelope and at the back of the pattern catalogs. Once you've determined your pattern size by comparing your measurements with these standards, you can purchase that size for any of the company's patterns. But because very few figures will match a pattern company's standard measurements exactly, below are some guidelines for choosing a pattern size.
Comparing measurements
First if you're unsure of which size category your body type fits into, such as misses', women's, or petite, check your height and back-waist length measurements (see the Personal measurement chart below), and compare them to the measurement charts provided on the back of each pattern catalog. Then take your full-bust, high-bust, waist, and hip measurements, and compare them with the standard measurements within that figure category.
When you choose a blouse, dress, or jacket pattern, compare your high-bust measurement with the standard bust measurement on the chart to get the best fit in the shoulder area. It's important to fit the shoulder area first, because this area is harder to alter on a pattern than the bust cup, waist, and hip.
When choosing pants and skirt patterns, compare the waist and hip measurements: Your choice will be determined by your hip measurement. If the skirt is full, use your waist measurement to select a pattern size.
If your measurements fall between two sizes, consider your bone structure. If you're small-boned, buy the smaller size; conversely, if you're large-boned, buy the larger.
Take and record your basic body measurements wearing well-fitting undergarments. Tie 1/4-in. elastic around your waist to find exact placement. Hold the tape measure snugly, but not tightly.
1. Height: Without shoes, standing against a wall
2. Back-waist length: From prominent bone at base of neck to natural waistline
3. High bust: High up under arms across chest and back
4. Full bust: Straight across back and around fullest part of bust
5. Waist: Around body at natural waistline
6. Hips: Around body at fullest part of hips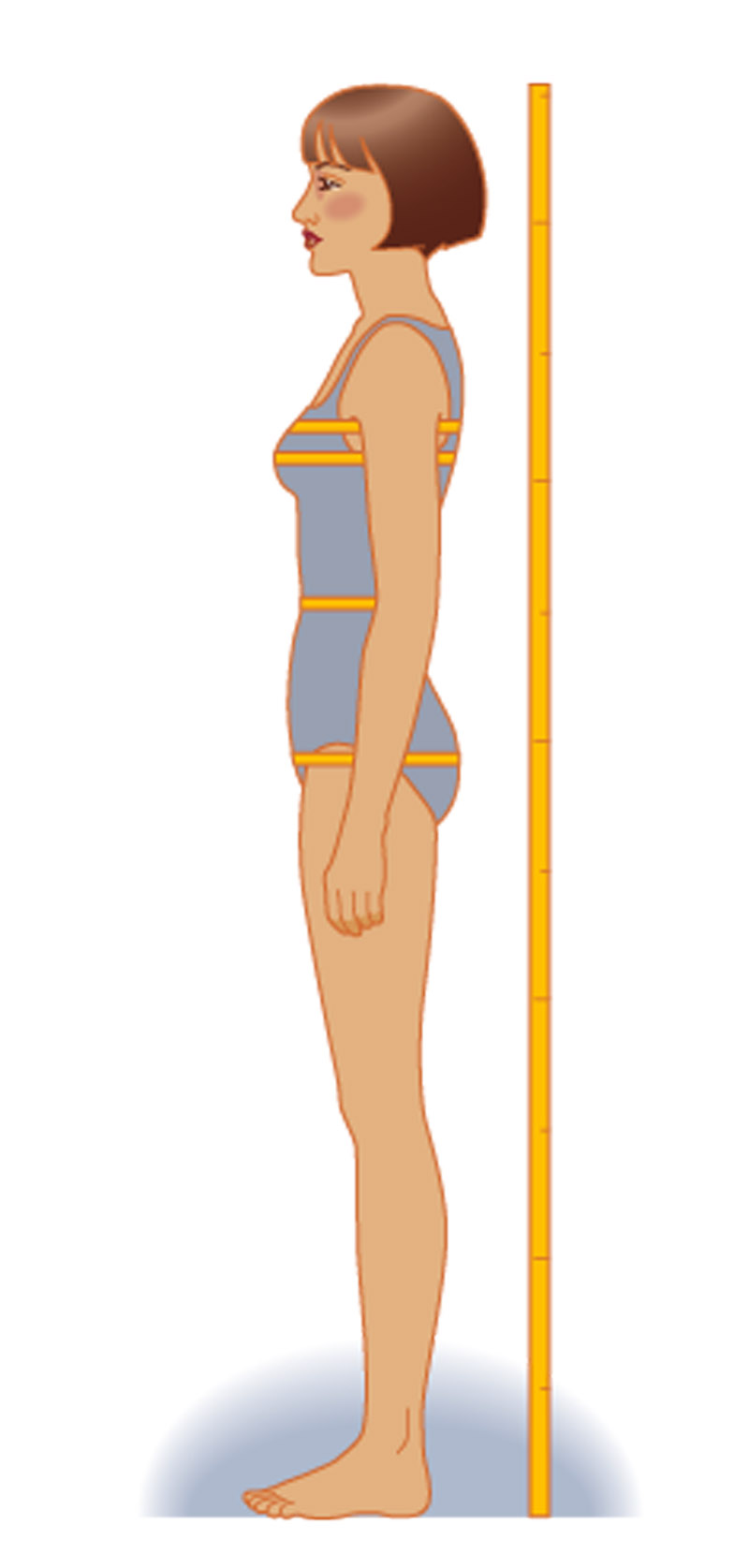 Consider garment ease

Pattern companies online Butterick
www.butterick.com
McCall's
www.mccall.com
Simplicity
www.simplicity.com
Vogue
www.voguepatterns.com
Kwik Sew
www.kwiksew.com
Style Patterns
www.simplicity.com
New Look
www.simplicity.com
Stretch and Sew
www.stretch-and-sew.com
To fit comfortably, a garment must have ease built into it: Wearing ease is the minimum amount of inches added to a pattern so that you can move in the garment, and design ease is the amount the designer added or subtracted to create a particular silhouette. Ease allowances, found at the back of the pattern catalogs, may vary slightly from company to company and in some cases the ease allowed may affect the size pattern you choose. For example, if a style is loose-fitting with a large amount of ease and you prefer a closer fit, you might decide to choose a smaller size.
So get out a tape measure to find your correct size. In most cases, your pattern size will probably be larger than your ready-to-wear size, but when you start with the right number, fitting is so much easier.
Susan Andriks sews and teaches in Canterbury, New Hampshire.
Photos: Sloan Howard; drawings: Karen Meyer
by Susan Andriks
from Threads #86, pp. 14, 16