An Easy Way to Turn Bias Cording Right Side Out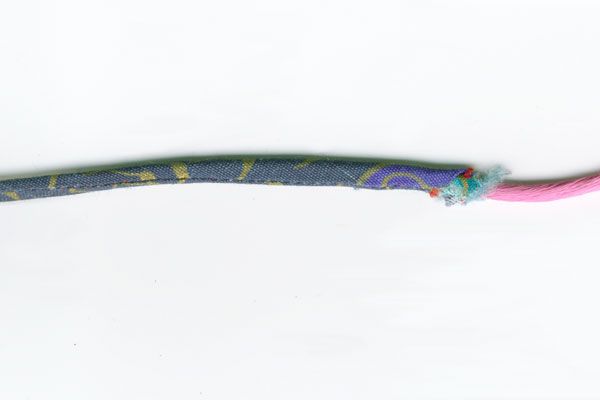 When you cover cording yourself you have all of the possibilities using the same matching fabric offers. You can use your cording for skinny shoulder straps, braid multiple strands for belting, knot buttons, couch embellishments and more. But turning a covered cord to the right side can be a struggle. I have found an easy way to turn the fabric–it depends on the cording you used inside.
1. Cut a bias strip of fabric the finished cording length. Sew strips together as needed to get the length you need.
2. Cut the strip wide enough to wrap the cord, plus ¾ inch for a seam allowance.
3. The cord…and here is the secret…is rayon "rat tail". The satin surface lets the fabric slide over the cord easily. Rat tail is easily found in the notions departments of fabric and craft stores. It doesn't have to be a matching color because it won't show with the completion of the sewn cording.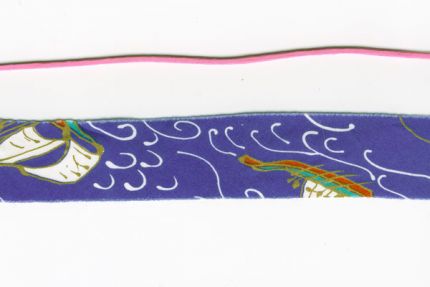 4. Cut the rat tail cord twice the length of the bias fabric. Ex; if the finished bias cording is going to be 30 inches long, start with 60 inches of rat tail.
5. Securely stitch the WRONG SIDE of the bias fabric at the halfway point of the 'rat tail' cord as shown below.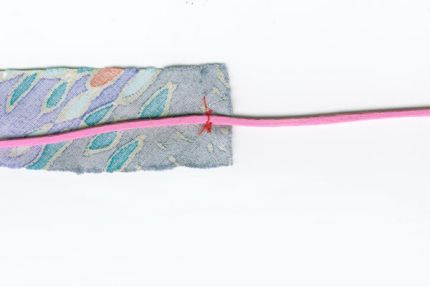 6. Fold the bias strip at the stitching you just finished so the strips right side is against the center of the cord as shown below.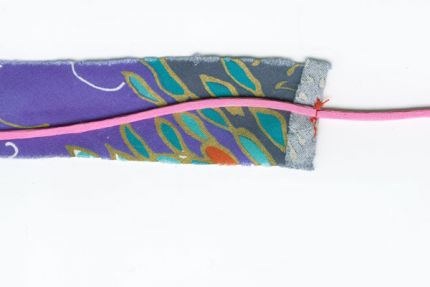 7. Use a cording foot and small stitches to sew through both layers close to the cord, starting at the secured end.
8. To reduce bulk, the seams can be graded.
9. Start at the end that was secured to the cord, using your thumb and index finger, (you might need to moisten them to get the bias fabric started, gently work the bias over the…
Start your 14-day FREE trial to access this story.
Start your FREE trial today and get instant access to this article plus access to all Threads Insider content.
Start Your Free Trial
Already an Insider? Log in