Project Runway 5th Episode – Make it Work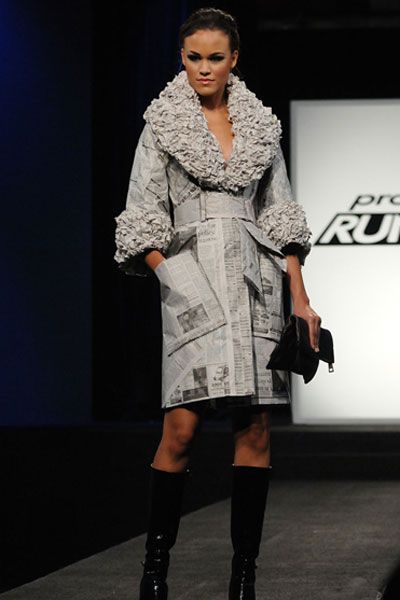 I thought this might be the lettuce week—but maybe they won't take a trip to the grocery store this year after this week's challenge to make a garment from newspaper. I decided earlier in the week to try the challenge too. Not as far as making the dress, but as far as designing a concept. When I realized it was a newspaper design I reluctantly hit the pause button on my TV and the design button in my head when the time came.
First, I took an inventory of what I know about paper:
—Folding gives it support that can enable it to stand.
—Crumpling makes it soft and gives it texture and roundness.
—You can twist it to make cords or rope.
—In its natural state, it has no stretch.
—In order for the model to walk, the skirt has to be pleated, crumpled, or split.
I decided to design a dress that looked like a giant parrot tulip upside down from crumpled paper petals from the waist down, with a vertical pleated and strapless bodice in green. As it turns out, my dress would have looked much like a short version of the gown Christopher designed.
My favorites this week were Althea and Irina, with honorable mention to Ra'mon, Carol Hanna, and Christopher. Bad news to Nicholas and Johnny for double dogging us, but to make it worse than bad design, Johnny told a fib. Not so bad though, because without it I would have never heard make-it-work-Tim Gunn say what I consider the best quote of Project Runway history: "I'm incredulous at that utterly preposterous spewing of fiction that Johnny did on the runway. It was ridiculous." I just love Tim's mastery of prose. What did you think?
Until the next time…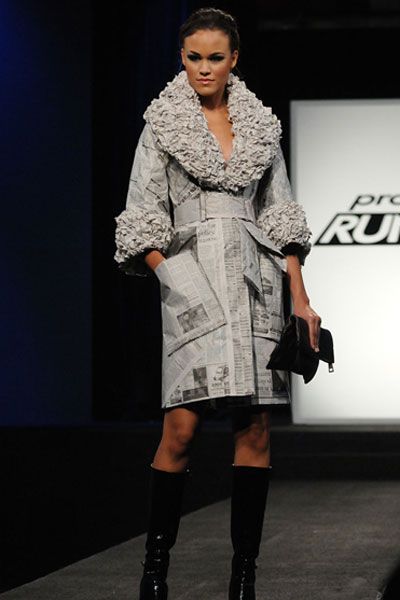 Irina designed a trench coat and won the challenge. Her design was quite successful and not in the least contrived.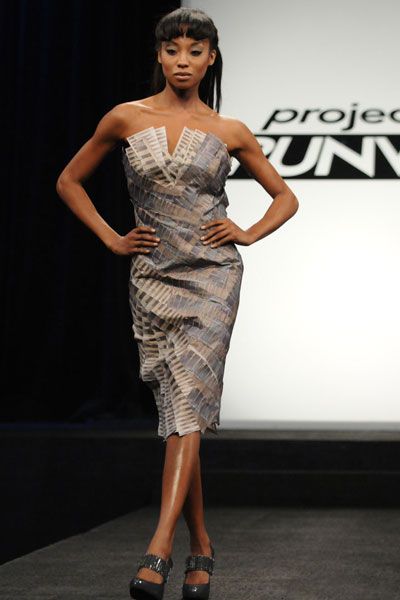 Althea won last week and that might be why she didn't win this week. Her dress is really stunning and far more original and inventive than Irina's coat.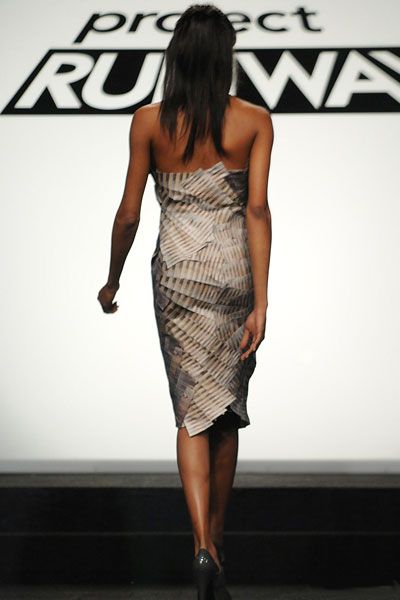 I loved every part of this dress, the lines, the color, the pattern—it has that Chrysler Building Art Deco, gilt and pastel chic all wrapped up.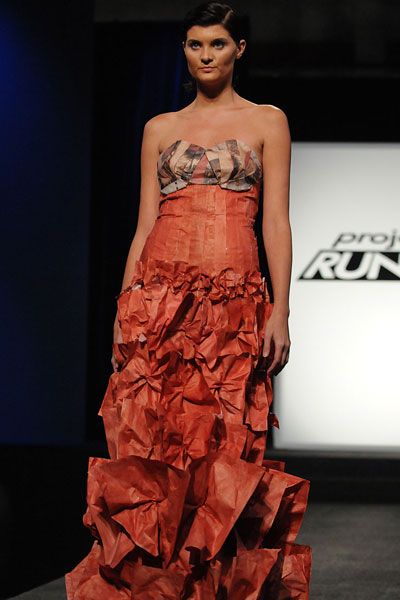 Carol Hanna wanted to make the paper look like fabric. She achieved her goal, the red skirt moved just like fabric on the runway, but the model couldn't climb the stairs and had to be lifted up to keep from tearing the paper.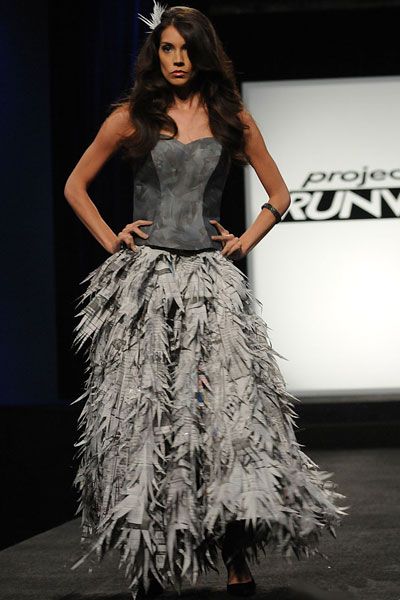 I'm including Christopher's dress so you'll have an idea of what my design would have looked like. Christopher's skirt also moved well on the runway.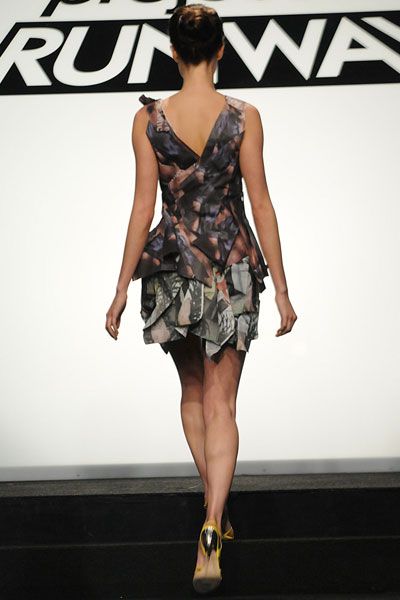 Ra'mon combined Cubism and origami in this fine dress. The back works beautifully.