Meet Threads' Contributing Editor, Mary Ray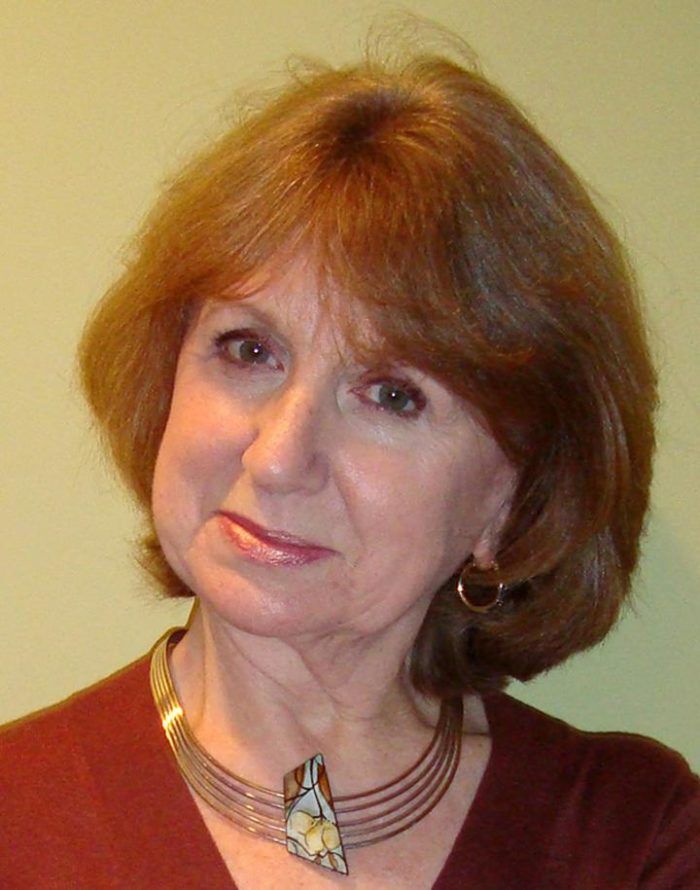 Threads is fortunate to include 4 amazingly talented contributing editors on our masthead: Susan Khalje, Kenneth D. King, Mary Ray, and Louise Cutting. They are each an expert in their area of sewing interest-but their interests are extremely varied. This blog will focus on Mary. You can read about Kenneth and Susan in previous blog posts. Watch for a future blog about Louise. We want you to get to know them the way we know them-as more than simply a Threads author.
I asked Mary several questions, and I know you'll enjoy reading her answers.
Threads: How would you describe your current career? What's your favorite part?
Mary: Right now, I consider myself a teacher, designer, and writer-and ongoing learner. Since I've been teaching college courses this year (in Apparel Construction and Flat Pattern Design), some days I feel that's my favorite part, and other days I want to tear my hair out. I think mostly I like the fact that what I do is both creative and technical, using both sides of the brain. But when it comes right down to it, I just like to play with fabric. I love to see what it can do or what I can make it do; I love to bring fabrics together to see how they work together; and, I love playing with all the other stuff that goes along with it like threads and buttons and trims. Who needs wine and chocolate?
Threads: Did you always anticipate working in the "sewing" arena or did your life evolve in that direction at a later time?
Mary: I began my college career as a music major, but graduated with a degree in Speech Therapy and worked in the public schools for a few years before my son was born. I was a stay-at-home mom for a year and a half and then I got a part time job in a wonderful fabric store-so I could still be at home most of the time. From the very first day, I loved it. I would dream about fabric at night. That's when I started teaching sewing and really improving my skills. I took a few classes at a design school and also learned by just sewing a lot. I eventually started doing custom sewing, and that evolved into specializing in bridal gowns. During that time, I also worked a couple of years as a sales rep for a fabric importer. Along the way, I started doing quilted wearable art, showed in galleries and competitions, and started teaching more, especially in the "quilt world." And then one day I landed at Threads magazine and became an editor on the staff. How lucky was I?
Threads: What do you treasure the most about your career?  Why?
Mary: I treasure the contacts I've made in this industry, from the incredible professionals who have inspired me to the students in my classes who have given me the opportunity to inspire them, to the clients who wore the gowns I made for their most special occasions. And I really treasure my connection with Threads magazine-from the time I spent on staff to the subsequent years as a contributor. Sometimes I feel as if I masquerade as an expert, but Threads has given me some credibility and really encouraged me to always strive to be better at what I do.
Threads: Was your very first experience with sewing a good experience?
Mary: I learned to sew as a kid. I think I started by cutting up fabric and just wrapping it around my dolls. I lived in the country and belonged to 4-H, where I learned to compete and make things right-even if I had to rip out stitches a million times. I made some things that were successful and some things that were pretty awful. But somehow I always liked the process as much as the result.
Threads: Do you have any advice for people just starting to explore sewing and/or design?
Mary: Immerse yourself in it. Experience fabric as much as you can by visiting good fabric stores whenever you can. Look carefully at ready-to-wear and pay attention to the fabrics and how these garments were put together. Pay attention to the details. Keep an ongoing "idea/inspiration" file. Experiment, and don't be afraid to mess up. In fact, expect to mess up. That's the way you'll learn. As a teacher, I love that people want to take classes, but I know the real way to learn is to just do it-and do it a lot.
Threads: What part of your current sewing space do you love the most?  Why is it so terrific?
Mary: I don't know that I've ever had the perfect space, but the important thing is to have dedicated space. I have a great work table that's 45″ x 72″ and it's high so I don't have to bend over when I cut. I have enough room to have 2 machines and a serger set up and, of course, an ironing table. Storage is always an issue, but I have shelving and cubes for most of my fabrics (I have a smaller stash than you would expect) and another room for my books which surprisingly probably take up more space than my fabrics. 
Threads: Is there a project that you've worked on that has a special place in your heart?  What was it, and why was it so special?
Mary: I've done a lot of projects from quilted placemats to elaborate wedding gowns to ensembles that have actually won awards. Some have been projects I'm really proud of, and others, not so much. What's really special to me, I guess, is just the fact that I can do this. It isn't always easy, and it certainly doesn't always go smoothly, so when it comes out lookin' pretty good-I think that's special, and I say to myself, "Wow. I made that."
Threads: Have you ever encountered a catastrophe that caught you by surprise?  What did you learn from it? How did you handle it?
Mary: I don't know if I'd call these catastrophes, but I've certainly had projects that have not gone as planned. I have numerous examples, especially working on competition garments, when I've spent a lot of time designing and planning every detail. But, my well thought out ideas didn't work so well once I started to execute them, and I had to change some my plans in mid stream. Whenever this has happened, I've found that the end result was always better than if I had kept going with my original plan. I've learned that sewing is a process that you often have to make up as you go along. That's the creative part, and that's what makes it fun. 
If you've ever had the pleasure of taking a class taught by Mary, or you've had the opportunity to meet her in another manner, please share your story with us. To learn more about Mary, visit her website, MaryRayDesigns.com.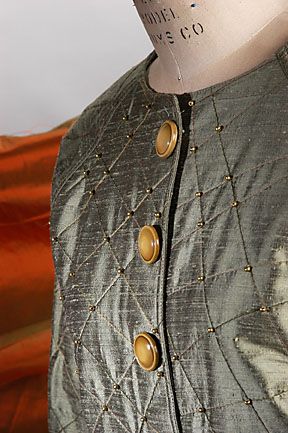 One of the many gorgeous quilted jackets made by Mary Ray.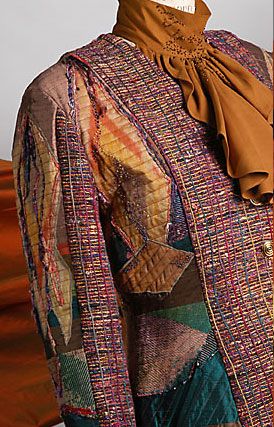 One of Mary's jackets with many intricate details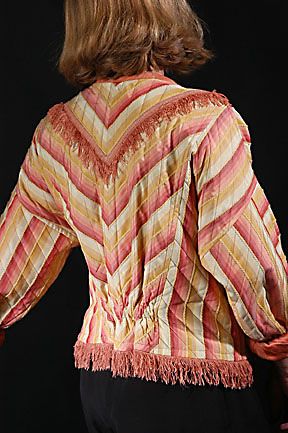 Notice the carefully pieced striped details.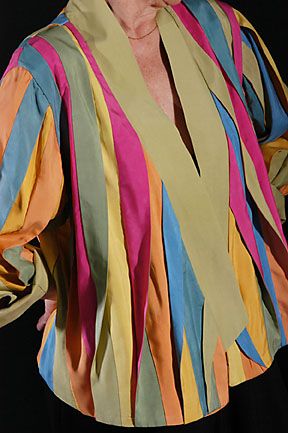 Notice the intricate manner in which the stripes were stitched.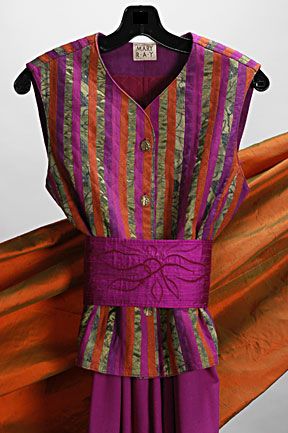 This top is bold yet basic. All of Mary's sewing is impeccably stitched in every detail.