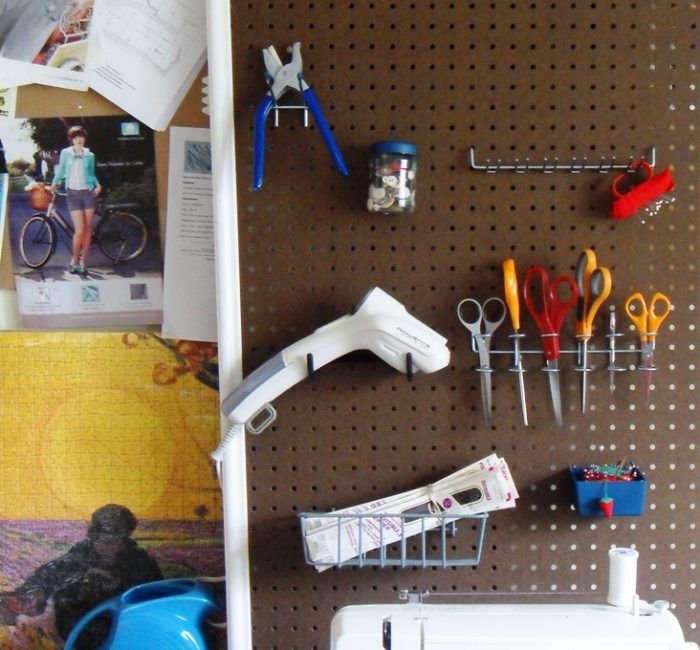 There's something in me that doesn't love a bare wall. (My apologies, Robert Frost!)
I think it's great to organize what you can on the wall in a work environment. That way, your tools or references are visible and accessible, yet out of the way. Here at Threads, my workspace is papered with upcoming issue color palettes, fashion images, contact information, and so on.
A few weeks ago, I blogged about seeing sewing room photos on Flickr, and one of my favorites featured sewing tools on pegboard. Long before that, I blogged about having a dedicated sewing room (for the first time in my life). The inspiration and the opportunity are coming together – I've finally started a pegboard project.
I found instructions and a how-to video for a Pegboard Organizer at MarthaStewart.com. My grandfather's tool shed pegboard wasn't finished like this! Martha's version just looks so pretty. The pegboard is painted, and is set within a picture frame – which serves a dual purpose. It covers the pegboard's edges and acts as a spacer between the back of the pegboard and the wall.
I haven't gotten that far in the process yet. Because I wanted to keep the pegboard at a large size (2 feet by 4 feet), I started to think that a ready-made picture frame was too expensive. I cut my own frame from inexpensive "picture frame" molding.
I got the simulated wood stuff, which I was able to cut/miter with an old steak knife. The one problem with making my own an edging is that I will have to figure out an attractive and easy way to space the pegboard from the wall. Any suggestions? I'm considering using wooden furring strips, or ones of the simulated wood. I think if I'd used a smaller piece of pegboard, I would follow Martha's method of fitting the pegboard in a commercial frame.
A proliferation of pegs
Things have changed since my grandfather's pegboard. I bought the Real Organized assorted peg collection for starters. It included the classic screwdriver holder and individual pegs, but also had some new pieces – small jars with pegged lids; plastic bins with solid sides and bottoms, and plastic peg locks, which keep the peg hooks from wriggling loose. I also bought a special power drill hook, which turned out to be a perfect fit for my little hand steamer. In the video included in the Martha Stewart pegboard tutorial, she mentions threading elastic through the pegboard to hold documents.
Do you have any tips or tricks for keeping sewing notions handy? And on the other hand, are there any tools or notions you recommend I keep tucked away? I know I prefer to keep thread in a drawer – it gathers dust so quickly. I'd be glad of your suggestions and any advice on the spacing question.
After I finish painting the pegboard, adding the framing, and figuring out a spacer solution, I'll be able to play with where to put objects. That's half the charm of pegboard. Not only does it hang out on the wall, it's easy to rearrange.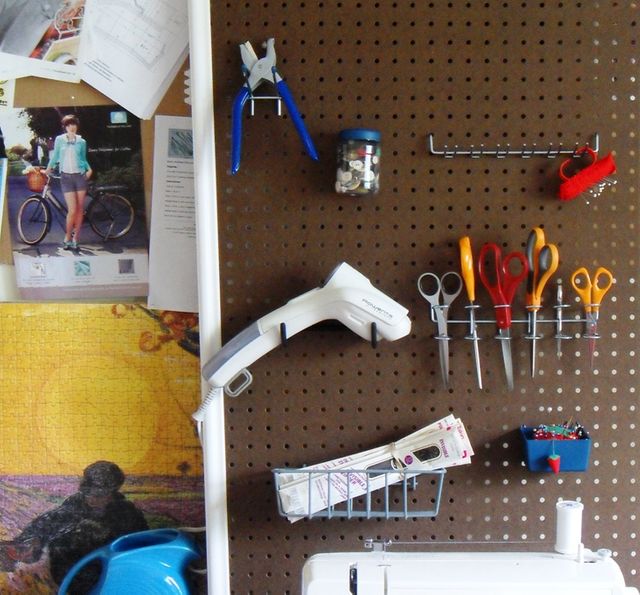 It's not yet painted or even fully framed, but it was too tempting to start placing tools on my new pegboard.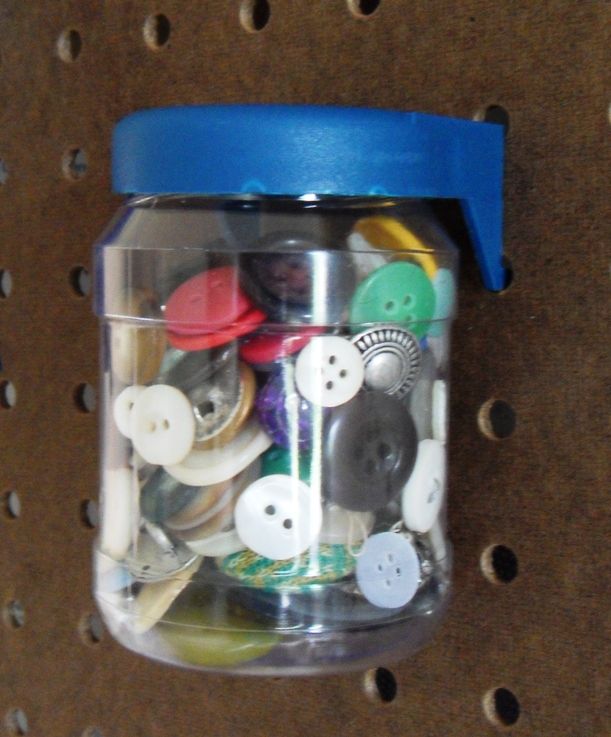 A pegged cap fixes a jar to pegboard. Fill it with buttons, beads, or any other small notions you please.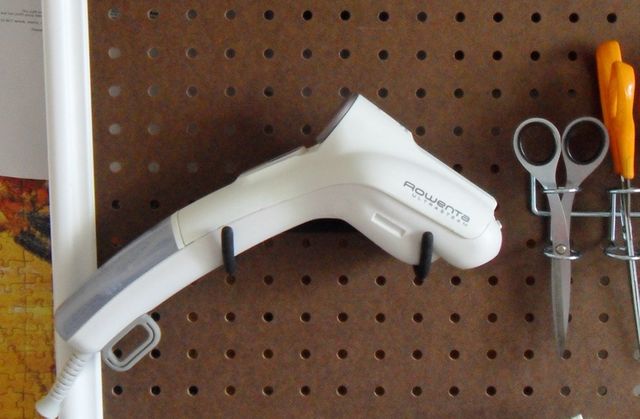 This double, foam-coated hook was intended for a power drill. I prefer to keep a steamer handy.